Name:
Amaya Hitomi Miyuzaki
Nicknames:
Rin
Most commonly she is addressed as Rin, mostly due to people not realizing it isn't her name, but people have found the nickname suites her quite well due to her distant disposition anyways.
Amaya/Maya
Her other, far less common, nickname. The only people who call her this (or her real name) are her old guild mates and her celestial spirits.
Kiddo
Mainly used by Moru and Zoe in a teasing manner. They both know Rin hates the nickname.
Onee-san
Ayumi is the only one who calls Rin 'Big Sister'
Alias(es):
The Celestial Wolf, Celestial Demon
Both of Rin's aliases have something to do with both her appearance and her demeanor. Her more common title, The Celestial Wolf, is mostly in part to her guild mark but is also partially because of her tendency to work alone. Her other, less common, title of Celestial Demon is mostly due to her ruthlessness in battle and partially due to her red eyes.
Age:
27
Description:
Rin looks quite young for her age, most assuming she's in her mid-teens. Her spirits think this is due to how often she used Moru's powerful healing magic when she was younger. Despite this Rin is pretty average size-wise. She reaches 5'5 and weights 101 lb, technically underweight for her height. Despite this she is still quite shapely, her measurments being 33-22-34 She has extremely long, raven black hair that reaches down to her mid-thigh which she usually wears
down
but on occasion will put up into a
ponytail
. Though she left her birth guild she still sports their
mark
in the form of a tattoo at the top of her right cheekbone, slightly under and to the left of her eye, about the size of a ring.
Clothing:
Traveling/Job Clothes
When Traveling Rin always wears the same thing since it usually gives her a 50-50 chance of being recognized. She feels it allows her to make her presence known if someone wants to ask for help but also keeps her from drawing too much attention.
Normal Clothes 1
,
Normal Clothes 2
When she isn't on jobs these are two of Rin's favorite casual outfits.
Semi-Formal Clothes
Rin is actually quite fond of fashion and takes great pride in her appearance. She bought this purely out of self-indulgence.
Formal Clothes
Having bought this on a job to infiltrate a party thrown by a dark guild Rin couldn't bring herself to get rid of it.
Location and Color of Guild Crest:
N/A
---
Magic Type:
Celestial Spirit Magic, Music Magic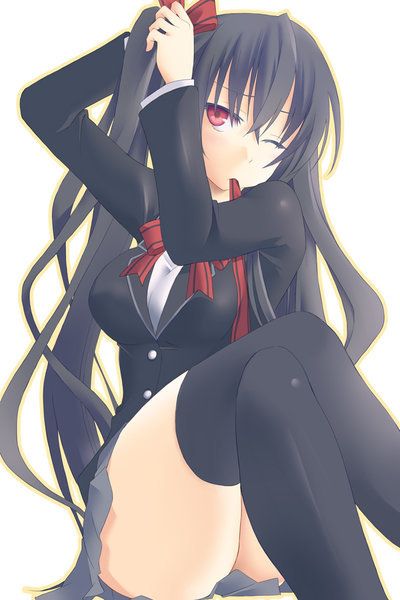 Magical Tools
Celestial Bow
An extremely powerful weapon from the Celestial Spirit Realm. Rin has only successfully summoned this bow once.(For a comparison this is 50 times more powerful then the Crystal form of The Arrow spirit.)
Lapis Celestial Gate Keys
The Rooster, The Horse, and The Sheep
Silver Celestial Gate Keys
The Phoenix and The Arrow
*See Below For More Info on Rin's Spirits(More will be added)*
Magical Spells
Celestial Spirit Summon
The ability to open a Celestial Spirit's gate.
Azure Spirit Dual Summon
(Rin has not yet mastered this spell)

The ability to open two Lapis Key Gates at once.
Music Spells
Deep Sleep Lullaby, Warrior's Chant, Lament of Sorrow, Joyous Anthem, True Love's Ballad
Forced Gate Closure
Due to the strength of Rin's Spirits forcing their gates closed takes major magic energy, especially when its against their will
Star Dress
(Rin is unable to use this spell since she doesn't have access to her Second Origin)

A Celestial Wizard can use this spell to fuse their spirit's power into themselves. Their clothing with change based on the spirit and the spirit's mark will appear somewhere on the wizard's body.
Wizard Ranking:
Under Contemplation
Team:
N/A
---
History:
Born and raised in a guild called Wolf Spirit, which is based in Dawn City, Rin had a pretty normal childhood for a wizard's daughter starting out. Wolf Spirit, while small, was a well-known guild full of hard working mages. Her mother's family had always been members of Wolf Spirit, her mother being a B-Class Wizard in the guild, and her father was a very powerful S-Class wizard who had joined Wolf Spirit after his old guild was disbanded. Not long after her father joined Rin's parents got married and a year later Rin was born.

Growing up, Rin's father was always gone on jobs, providing for her and her mother. While she was at the guild Rin was often asking about her father. As a way to keep her out of everyone's hair her mother taught her how to cook eggs when she was five and the next time her father came back from a job she cooked for him. After seeing how happy her father was eating the food she cooked she took on the hobby full-time. She was constantly in the guild kitchen cooking and her talents grew as she got older and taught herself further. When she turned 7 in return for her cooking in between jobs her father started teaching her how to use sound magic. While she easily learned the basics she didn't find it interesting enough. Just as she was going to quit someone else in the guild who used Guitar Magic offered to teach her how to play. As her interest in music grew Rin's magical strength because known, particularly after she put the entire guild to sleep on accident after playing them a lullaby she wrote.

Shortly after her 12th birthday her father didn't return from a job he had left on, despite promising to be back on time. Worried, Rin was constantly bugging her mother and once her father was over two weeks late her mother went after him. A month later one of Rin's guild mates returned bearing news of her parents death. Despite recovering them they refused to let her see the bodies and her mother's gate keys were all that was left of her parents. After that Rin gave up cooking and refused to touch an intrument, only able to remember the looks of love and happiness on her parents faces when she did either. During this time she also refused to take or go through her parent's possessions, in which were her mother's two Lapis Keys.

A few months after her parent's deaths, one of her guild mates returned from a job with a blue key which Rin took great interest in, it seeming familiar. Intrigued, she started reading every book available on keys which eventually led her to a book on celestial spirit magic. It was then that Rin realized the key seemed familiar because of her mother's own Lapis key. Almost 6 months later she finally found a book the contained mention of the Lapis keys of the Chinese zodiac and the way to open the gates. Opening the gate of the Horse Rin met Moru, though she technically already knew him. Moru being one of her mother's spirits Rin had grown up around him.

After much pushing from Zoe, her mother's other celestial spirit, and Moru Rin took on her first B-Class job in Wolf Spirit at the age of 14 and returned without a scratch on her. By the time she was 17 she was an A-Class wizard widely known as the Celestial Wolf, due to her tendency to work alone and her magic type.
When Rin was 19 she was badly injured in a battle during a job and as a result her guild master gave her an ultimatum. She was either to join a team or leave the guild. In result, Rin left her life-long guild and became a rouge wizard, traveling across Fiore. Since she put most of her time into jobs that she felt were important, usually taking down monsters or dark guilds that were terrorizing innocent people, she grew quite the name for herself. During her travels Rin has traveled across all of Fiore and, feeling like she could make more of a difference in a guild, has now decided to see if Fairy Tail would accept her.

Personality:
Due to her past Rin has two different personalities, the one she shows to the world and her true self. While it is obvious that Rin is a caring person due to the Jobs she takes it's quite hard for most people to see that side of her. Rin tries to keep everyone but her spirits at a distance, using a cold glare and silence as a way to avoid interaction with others. A lot of people take this as Rin thinking she's better than everyone else and Rin's bluntness doesn't help. Despite her intentions this seems to have only added to the mystery and therefore increased her 'following'. Sorcerer Weekly, on the rare occasion one of their reporters has bumped into her, has done a few spreads on her which also didn't help her case.

Truthfully Rin is a caring, fun-loving,and loyal person. She values her spirits highly and loves them all like family. Much to her surprise, Zoe once went behind her back and gave a Sorcerer Weekly reporter a statement. "Rin is a wonderful wizard. She is fully dedicated to helping the innocent, though her stubborness keeps her from making any friends." That spread also included the tidbit that Rin has a bit of a temper as the reporter witnessed Rin grabbing Zoe with a few choice words and dragging her away from the reporter. Rin is extremely stubborn, which shows in how long she was able to stay out of a guild with Zoe's constant nagging. Her temper is another problem entirely, while she can usually keep it under control there are times when she can't. These are particularly if someone insults her spirits or her capabilities or if she witnesses someone mistreating others. Rin is very impulsive, never being one to sit idle when she could jump forth and take action.
With all her flaws her spirits love her immensely, almost as much as she loves them, and it strongly attests to her good character and kind heart.
---
Strengths: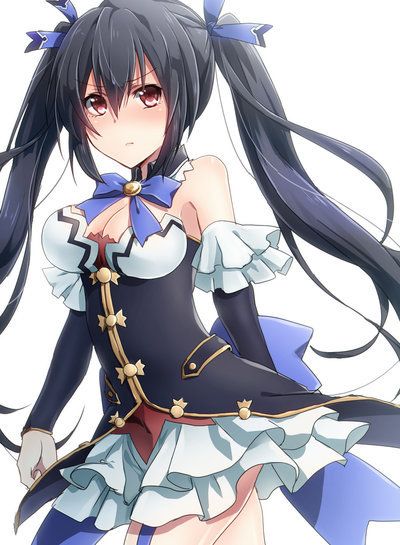 Massive Amount of Magical Energy
Due to both the capacity for magical energy she inherited from her father and the amount of training she's done Rin has a extremely large amount of magical energy at her disposal.
Expert Archer
When she was a young wizard and wasn't as experienced in controlling her magic, and could only open one Lapis gate before she ran out of magical energy, Rin decided to learn to fight to help her spirits and when she spectacularly failed at that she took up archery.
Often Underestimated
Due to being a girl and her youthful appearance most of her opponents underestimate her, giving her an advantage.
Durability
On more than one occasion Rin has taken a beating during a fight and despite the pain she always pushes through.
Master Equitour
Due to a few failed attempts at riding Moru in an emergency they decided it would be best for Rin to learn how to ride a horse. She is quite skilled at it now.
Weaknesses:
Close Combat
Her magic and combat style all being long-range Rin's glaring weakness is her inability to fight enemies in close combat.
Intellect
Rin has always been energetic and has never really taken an interest in learning or reading so she mainly relies on her street smarts and experience.
Instruments
Rin's Music magic is strongest when she mixes her voice and a magical instrument but since she's opposed to using her Music magic she doesn't keep any with her.
Stage Fright
While playing an instrument in front of others doesn't faze her Rin has never sang in front of others. This, mixed with her refusal to carry an instrument with her, ultimatley makes her music magic useless.
Attractive
While most would see this as a strength Rin strongly disagrees, finding any excessive attention more bothersome than anything else.
Refuses to Join a Team
Due to what happened to her parents Rin refuses to join a team, afraid that she'll lead them to their deaths.
Fears:
Letting Others Grow Close to Her/Losing the People she Cares For
Rin pushes everyone away cause truly she's scared of those she cares for getting hurt.
Being a Disappointment
Her father was an amazing wizard and felt great pride in Rin's magic capability. As such, she often fears she won't prove to be as amazing a wizard as her father thought she would be.
Excessive Attention
While a few stares and whispers don't bother her having the main focus of a room being her seriously freaks Rin out. Mainly because she thinks they are judging her and she doesn't have the self-confidence to think the judgment is good.
Hobbies:
Cooking
Something her mother taught her, she has rarely done it since her parents passing, often preferring to eat out.
Archery
After one of her spirits got injured and she was unable to do anything Rin took up archery and actually quite enjoys it.
Music
Rin is a quite talented singer and can play the guitar, the flute, and the piano.
Habits:
Humming
Something she does when she's distracted, bored, or in a good mood.
Arrow Counting
When Rin gets nervous or can tell a there will be a fight soon she'll unconsciously move her hand back to trace over the fletching of her arrows.
Tapping
Rin is an energetic person so if she's sitting down doing nothing her hands tend to move on their own.
Writing Lyrics
While she doesn't play music anymore Rn will still occasionally come up with lyrics for a song which she will write down in a journal she keeps with her at all times. She has been known by her spirits to sometimes do this in the middle of a conversation.
Making Soup
Any time Rin comes into contact with someone who's sick she will break her rules against cooking and will make them soup, leaving it for them anonymously. This is because her mother made the soup for her when she was sick and when she was taught the recipe she promised her mother to use it to help others.
---
---
---
---
---
Family:
Kazuki Miyuzaki - Father - Deceased
Sakura Miyuzaki - Mother - Deceased
Any Other Relations Unknown
Other:
Rin keeps a non-magic bow with her at all times. She usually leaves it strapped to her back along with a quiver of arrows.[/left]
Rin's Celestial Spirits
The Rooster
Name: Xiao-Hong; Called: Zoe or Red
Appearance
Personality: Zoe is an extremely caring and intelligent person. Being her mother's celestial spirit she and Rin already knew each other, Zoe being like an aunt to her. Though Zoe is a bit flamboyant at times she is reliable and honest which has helped her and Rin develop a close relationship over the years.
Powers/Abilities:
Time Magic - This gives Zoe the ability to speed up, slow down, and stop time. These affects can be for an entire area or a singular object/person. In most cases, if a person is caught in her time-stopping magic they will not remember it and therefore it would seem they were beaten in the blink of an eye. When she is altering time in general the affected parties will usually notice it.
Sleep Magic - By using her magic Zoe can cause others to fall asleep or wake up. Due to it's form of use she is unable to target a single person, causing everyone to hear her whistling to fall asleep and everyone to hear her screech to awaken. The volume of her voice is what dictates this ability and how strong it's affects are.
Kyusho-Jutsu - A form of martial arts primarily focusing on the ability to disable, paralyze, or even kill by the striking of certain pressure points.
The Horse
Name: HēiMǎ ;Called: Mamoru, Moru for short
Human Appearance
,
Horse Appearance
,
Human Wing Magic Appearance
,
Horse Wing Magic Appearance
Personality: Moru is a very assertive and opinionated person. He loves to be the center of attention but that comes second to getting what he wants. Despite his assertive nature when it comes to his desires, Moru is very easy-going. He's easy to get along with, as long as you don't disagree with his interests and opinions, has an upbeat, friendly personality. Moru is also quite a bit protective of Rin, having been her first Celestial Spirit.
Powers/Abilities:
Transformation Magic - With his Transformation Magic Moru is able to switch between his horse and human form with ease.
High Speed - A Caster Magic that gives the ability to move at extremely fast speeds. Moru mainly uses it in human form to add to the impact of his melee attacks.
Wing Magic - Moru can form wings out of his magical energy allowing him to fly and use the feathers as projectiles.
Healing Magic - Using his magical energy Moru can heal the physical injuries of others. Due to this Rin added the conditon to their contract that he couldn't open his own gate to heal her unless her condition was critical, Rin not wanting her body to be dependant on Moru's magic to heal.
Telepathy Magic - While all spirits have the ability to speak telepathically with their Key Holder Moru is the only one of Rin's spirits who can speak to others as well, though he mostly uses it while in horse form.
The Sheep
Name: Shu-Ling ;Called: Ayumi
Appearance
Personality: While Ayumi is a Celestial Spirit she acts more like a little kid, very excitable. Despite her childish tendencies Ayumistill has a serious side and is very confident and dependable, both being useful traits in battle. She cares very much for Rin and that shows in her loving/clingy nature. Often being considered weak due to her spirit animal and gender Ayumi is very defensive of her abilities. She always puts others before herself and is never afraid to face difficulties.
Powers/Abilities:
Requip: The Olympians - This magic allows Ayumi to equip various armours that are themed after the Gods of Greek Myths.
~~~~~Zeus:
https://s-media-cache-ak0.pinimg.com/736x/66/ff/30/66ff302a490c47b5ed9987e90262ca80.jpg
~~~~~Poseidon:
https://s-media-cache-ak0.pinimg.com/736x/23/20/9d/23209d5c1e3f6d002cf41f8ef4b92e14.jpg
~~~~~Hades:
https://s-media-cache-ak0.pinimg.com/236x/9f/4e/90/9f4e900ce01e90dec1f1c7c946b7d128.jpg
~~~~~Ares:
https://s-media-cache-ak0.pinimg.com/236x/47/85/11/478511cc713478c07a2d0b91e1d19176.jpg
~~~~~WIP:
~~~~~Hermes:
http://i70.photobucket.com/albums/i89/Rei_sama/Anime%20girls/zakki47.jpg
~~~~~WIP:
The Fire-Bird
Name: Phoenix ;Called: Flames
Normal Appearance
,
Secondary Appearance
Personality: Flames has the mentality of a puppy. Excited, Playful and Loyal Flames is an adorable fire-using spirit.
Powers/Abilities:
Spark - The ability to use his magic to engulf his body in flames. Usually only useful to provide light or create fire.
Fireball - The ability to exhale a ball of fire.
Flaming Talons - The ability to concentrate his magic around his talons to create extremely hot flames before physically attacking an opponent.
Enrage - This allows Flames to take on his secondary form making him more powerful. Sadly, when he uses this spell after his gate closes he turns to ash and is reborn. This leaves him unable to be summoned for a few days.
The Arrow
Name: Sagitta ;Called: Gita
Normal Form
,
Fire Form
,
Water Form
,
Lightning Form
,
Ice Form
,
Light Form
,
Crystal Form
Personality: Gita is a very grumpy spirit and will often shift into whatever element HE fees will best suit the situation, despite anything Rin will say.
Powers/Abilities:
Forms: Normal-
Attacks of Magical Energy, Usually half as powerful as the Elemental attacks.
,Fire, Water, Lightning, Ice, Light, and Crystal-
Makes a concentrated,Lacrima 'arrow',out of the user's magical energy. This is twice as powerful as it's elemental attacks.
Telepathy - Since the Bow and Arrows have no face this spirit communicates telepathically.
Shift - The Spirit shifts it's form to create different attacks. The bow can only do this 4 times in a fight and each form can only be used for four shots.
Elemental Arrow - This Spirit is more like a Magical Item, acting as a conduit for the mage's magical power. Whatever Elemental form the bow is in is what type of attack it will create.
Magic Accuracy - The spirit will use it's magic to guide the attack to it's target. It can only do this between attacks, if Rin draws the bow again it can't guide previous attacks.
---
---
---
Chinese Zodiac Celestial Spirits
Spirit~Name~Gender~Owner
---
The Rat~Shu-Ying~Female~N/A
The Ox~Niú Su~Male~N/A
The Tiger~TBA~~N/A
The Rabbit~TBA~~N/A
The Dragon~Qing Long~Male~N/A
The Snake~TBA~Female~None
The Horse~HēiMǎ~Male~Rin
The Sheep/Goat~TBA~Female~Rin
The Monkey~TBA~~N/A
The Rooster~Xiao~Hong~Female~Rin
The Dog~TBA~~N/A
The Boar/Pig~TBA~~N/A
---
FC
Noire