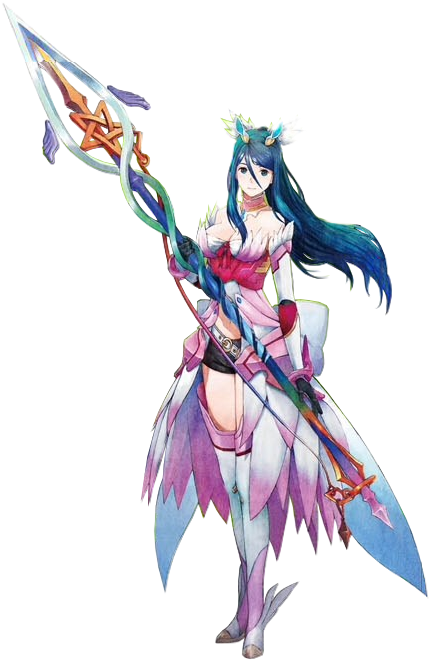 Nicknames:
Cold Steel, Wyn
Age:
27
Description:
Standing a little taller than most women, Wynter is more athletic looking with royal blue hair matched with a set of eyes of the same colouration. She looks like she'd be able to easily last in any fight she'd manage to get into. However, her eyes are deceiving, having been very well trained along with her mind, almost as if she can see all around her area with depth and perception, nothing seems to escape her well trained sight. Though said long hair often can get in her way at times.
Magic Type:
Airspace and Requip (Knight)
Magical Spells/Tools:
Wynter has plenty of spells and weapon combinations at her disposal, here are a few:
Ishtar Gate:
(Weapon exchange) Wyn switches from one weapon to another
Green Armour:
A Variation of the knight Requip magic that allows Wynter to change between four forms, Caliburn, Masamune, Aegis, and Gungnir. Each form having it's own strengths and weaknesses.
Houken:
(Weapon Conceal) Through use of Airspace magic, Wyn can conceal her weapon from normal eyesight. You can still see her hands though.
Carnwennan:
(Teleport) Using her Airspace, Wyn can send herself through said airspace to disappear temporarily before reappearing elsewhere, though limited to short distances.
Absolute Destiny:
A spell that Wynter made herself, using her Airspace magic she sends several orbs to surround the opponent, before going in herself, ending with explosions.
Flourish of Steel:
A skill Wynter can only use in Caliburn and Masamune sets, it involves her airspace and most of her weapons, where she uses everything at her disposal, weapons wise, to slash, bash, and impale the enemy, though it takes a while for Wynter to be able to change weapons again.
Wizard Ranking:
S
History:
Wynter was born to the noble Vellant family to Somerled and Yaoyi Vellant. Wynter grew up rather quietly in terms of events in her life. As she was being raised though, she undertook training from her father to fight with many weapons, such as swords, spears, and what-have-you, along with how to "see" other's attack as they begin, while her mother had shown her magic gradually. Though, that never stopped Wynter from trying to achieve her dream to be a knight, just like the ones right from her books, even learning Requip magic with seeming ease. Though as she learned Requip, a second magic surfaced, Airspace. Using this magic, Wynter went from someone with simple Requip magic, to having a distinctive style that even surprised her father, as she could use said Airspace to hide her weapons, which allowed her to almost switch weapons without anyone being able to notice, though he managed to see through the magic through experience with said magic, and especially the positioning of her hands and stance. Though it didn't stop Wynter, as she had began to learn how to almost predict attacks through his training, and could even move and counter those whom would otherwise be unseen in a fight, needless to say, she was slowly learning how to be a true knight.
Yet, things started to change, much like the seasons, Wynter grew and changed, even taking up a job in a nearby village to be one of the guards and protectors, since there were few guilds nearby. That's where Wynter learned what it truly takes to be a knight, helping people through any means almost, settling disputes, and especially protecting people from both others, and themselves. That fact never rang so true until one fateful day, Wynter was on her normal patrol, though the day seemed normal, things went awry, as she went through the marketplace, a rather large group of Ruffians came through, and began looting and pillaging, of course, they outnumbered the four guards of this little village vastly, though Wynter led an attack against the ruffians without realizing how truly strong they were. Especially their leader, Metrios, whom had powerful magic surrounded around the earth around them. It was a one-sided affair, with Wynter being quickly defeated, and on the edge of death, then something happened.
Wynter felt something within her snap, she wasn't sure what had happened until she noticed her armour had changed, she had summoned different equipment and especially armour, the Knight Requip, or something of the sort, maybe her own variation, though as she rose, the appearance of her armour felt and looked more different than she even expected, especially with the crescent shape she saw on the helmet that covered her head better. Though the fight wasn't over, and once again, she cloaked her weapon. It didn't take long for the fight to end in Wyn's victory. Though the village hailed her as a hero, Wynter knew deep down that her journey had just begun, and that she had more to do.
As she traveled across the land, searching far and wide for her next goal, she stumbled onto a, rather interesting guild,
Fairy Tail
. With many battles under her belt, she decided it would be best if she joined, and thus, truly begins Wynter's journey.
Personality:
Wynter holds herself admittedly high, being confident in her skills to the point that she considers herself a little better than others with the same magic, though still humble about her accomplishments, she still keeps herself at peak of her strength. Yet she's still reserved and tactful, choosing not to engage in the pointless drunken brawls that have happened, and even being the one to stop them most often, along with her reserved nature, Wynter's much wiser than she both looks and by her age. She's experienced a lot and often offers a willing hand to those whom need it. Needless to say it almost seems that she holds herself to a code that a knight would, and remains ever poised to be sent out on any mission, no matter the size.
Strengths:
Strong demeanor || Wynter possesses a demeanor of pure strength, which has it's benefits when in combat and bluffing.
Adaptable Magic || Because Wyn can change her equipment and form at any time, she can adapt to the situation around her.
Willpower || Wynter's willpower is unshakable, few things can break it, though when it does... Be Cautious.
Perceptive and Patient || Allowing her enemy to show their hand first, Wynter is able to sit back, and let them reveal themselves, before countering where their weaknesses are.
Houken || Hiding her weapon gives her a big advantage in a fight, as often the opponent has no idea what her weapon is, it's reach, and how dangerous it is.
Weaknesses/Fears:
Knight's Honour || Wynter has a code she works within, which can be exposed and even exploited against her.
Variations || Her Green Armour ability is her greatest Strength and Weakness, as it takes a short time to change her armour and form, and each form has it's strengths and weaknesses.
Limits with Houken || Wynter's skill with Houken, while great, is only limited to her weapon, leaving her hands exposed, allowing for opponents to have a guess as to her wielded weapon, along with that, she can only hold it up so long while being attacked.
Siesmophobia || Wynter has an abnormal fear of Earthquakes, she has a few guesses as to why, but just cannot stand them easily.
Brash || Under all that reservedness and willpower, lies Wynter's brash attitude, she's trained to think and look before she leaps, though at times she just acts on impulse.
Electricity || Wynter is an unfortunate lightning rod, and most of her abilities offer no help against electricity, and her equipment helps even less.
Range || Wynter has very limited resources when it comes to ranged fighting, it's easier on her to be up-close and personal.
Nobility || One could use her Noble lineage and family name against her quite easily.
Habits:
Training || You will seldom find a day where Wynter isn't training.
Tapping || Wynter often taps something when she's sitting or stressed.
Humming || When she's related enough, Wynter tends to hum a little tune, it helps others around her to relax as well.
Bumping her head || When Wynter messes up, she tends to bump her head repeatedly, usually at the top front side of her head.
Human Shield || Wynter tends to be impulsive and often throws herself in front of allies while they're being attacked.
Family:
Mother || Yaoyi Vellant ||
Alive
Father || Somerlad Vellant ||
Alive
Location and Color of Guild Crest:
Royal Blue
Emblem on the top of her left hand and/or Glove (depending on her armour)
Team:
"Do I count as my own team?"
Other:
Wynter is very good at making tea, cannot hold her liquor well, and typically puts a chrysanthemum on her armour.