---
❝

You have your problems. I just don't care about them.

❞
---
---
---
| Full name |
Ari Tunnelly
| Gender |
Female
| Age |
18
| Mage Type |
Legal Mage: Caster Magic
Sound Magic is a Caster-Type Magic involving sound.
This magic allows the users to perceive, generate and manipulate any type of sound, attacking the opponents with sounds of various intensity. The caster can create powerful sound waves from any part of their body or anywhere in the nearby surroundings, making it effective for mid-range to long-range combat. Depending on how much sound is generated, and the pressure in it, Sound Magic can easily deafen the caster's opponents. In addition, the sound waves can even be strong enough to destroy buildings with ease and can kill multiple people.
---
---
---
| Eye Color |
Cyan Blue
| Hair Color |
Pale Blonde
| Height |
5'0"
| Weight |
99 lbs.
| Skin Tone |
Pale Apricot
| Distinct Markings |
TBA
| Physical Description |
Ari is almost child-like in stature, other than her big personality. At first glance, she seems more like a 10-year-old than an adult, other than her 'overly developed' chest and get to know her and the way she talks, you'll know she isn't a child. Her hair is amazingly long, ending around her bottom, and is a pretty pale blonde. Ari's eyes are a cyan blue that shine no matter what mood she is in. But when she cries, there are an even deeper blue, very elegant. Her thin frame makes her look sickly, along with the paleness of her skin that has a light apricot/peach tint to it. Ari is anything but sickly, in fact, she is never really sick, not that she knows of anyways. It seems as though she has a permanent scowl stuck on her flawless face. Mainly due to the fact that she really has a hatred for people in general, except for her Master. It doesn't take much to anger her, but when she does smile, her entire face lights up and she is even more beautiful than before. She also has a habit of wearing rather revealing clothing or exotic outfits.
---
---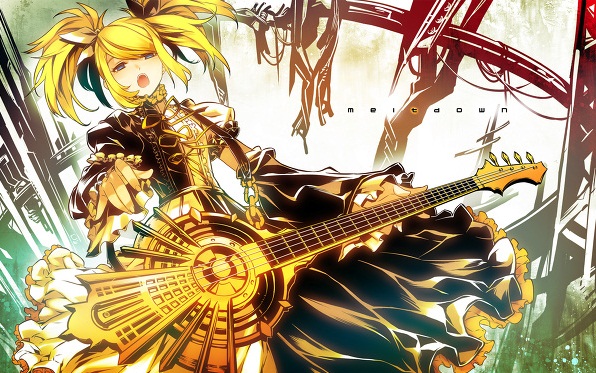 | Powers |
✔Howling: The user sends forward several musical notes that emit a loud screeching noise, causing the opponent great damage.
✔Disturbed: The user brings musical notes up from the ground beneath the target that produce a loud screeching noise, dealing great damage to the opponent.
✔Sound Wall: The user manipulates the sound in their immediate vicinity into a wall of pure pressure, which simultaneously protects the user and destroys portions of the surrounding area.
✔Sound Palm: Through touch, the user transmits a sound shock wave from their palm to the target's body, sending them flying.
✔Enchantress: A variety of songs that can take control of non-Mages. Specific songs make those controlled to specific tasks.
✔Sound of Nature: Melodies that control the elements. Much like Enchantress, different tunes make the controlled do different things.

| Weapons |
✔Symphoniam-Ari's customized guitar that is used only for her Sound Magic
✔Her wireless microphone that uses magic to amplify her voice and broaden the effect of her spells.
| Likes |
♥Music
♥Dark/Night
♥Forests
♥Black
♥Fighting
| Dislikes |
✖Annoying People
✖Water
✖Light/Morning
✖Tiredness
✖Transportation/Crowded Places
---
---
| Personality |
Ari is at heart, a very kind girl. But due to her childhood, she developed a hate complex towards almost every person. She may seem innocent at first, but get to close and she just might bite your hand off. Jokes make her angry, she wants to send over everyone she meets over a cliff, and the light just makes her want to massacre everything in sight. It is a wonder how so much hate could fit in a tiny body. It is rather difficult for her to make friends, with her attitude and whatnot, but if you're lucky, she is an amazing friend. If your in her friend zone, she would do anything to protect you.
| Theme Song |
Still Swingin' - Papa Roach
---
---
| History |
The first memory Ari had was waking up in an alley, dirty and cold. At about the age of 3, she began a life of thievery during the night to make sure she could eat. She made her home in the woods near Magnolia to sleep during the day so no one could find her. She earned the nickname Night Crawler or just plain old Crawler, a menace to the town of Magnolia. It didn't seem long before a very young traveler, Posco, arrived to Magnolia and took her with him to train with an old Mage master. She worked hard day and night, mostly night, to make sure she wouldn't fall behind her new found brother, but sadly, couldn't keep up with his 'natural' skill.
Only a few days after Ari's 9th birthday (or what her and Posco decided to be her birthday) Posco left to join the guild in the town she was thought to be born and lived for a while. Fairy Tail, she hated the name. They had taken her brother from her ... but she decided to run away from her Master and train on her own in the woods where she spent a lot of her nights. That was where she found Suna, a dog that could magically grow wings. Suna helped Ari train everyday, even used himself as bait to make her stronger. Often, when other Mages would pass through the woods, Ari would challenge them and Suna would say, "If you beat her, you can have me." Not all Mages would want him, so they would simply battle her. But the ones that did want him never won. Ari didn't have an unbelievable winning streak, but when it came to Suna, she never lost.
The day she turned 18, she decided that it was time to join the guild her brother was now the Master off. But with her personality, it might be a little harder to join a family-like guild
|Thoughts on Other Characters|
Posco: She loves him dearly, but never shows it, seeing as she thinks he abandoned her. If anything, she beats the snot out of him every time she sees him.
|Anything Else|
Like Posco, Ari has a smoking habit that she picked up in her travels.
---