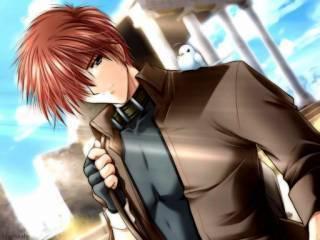 ---
"As long as there is light and justice in everyone's hearts, there will be heroes!"
---
---
---
| Full name |
Takeshi Souma
| Gender |
Male
| Age |
23 years old
| Mage Type |
Legal Mage; Holder Mage
---
---
---
| Eye Color |
Brown
| Hair Color |
Brown
| Height |
6 feet and 10 inches
| Weight |
180 lbs.
| Skin Tone |
Pale White
| Distinct Markings |
Has a large crystal embedded on his chest (his "Crystal Driver") and at least a dozen smaller ones forming around it. His guild mark is at his right shoulder and also on the said large crystal.
| Physical Description |
Takeshi looks like a dull, everyday person. His eyes and hair share a dark brown tint that stands out from his cream-colored skin. Though he may seem ordinary, he is gifted with great strength. He also has a large crystal on his chest, like his ancestors. His ordinary appearance makes the perfect cover-up for his alter-ego, the Masked Ranger. In this form, Takeshi's muscle mass increases and his main crystal shines through the red-and-white suit.
Though there isn't much Takeshi may seem to do, he is an exceptional motorcycle racer, which has seemed to increase women's interest in him.
---
---
| Powers |
Card Spells-Takeshi uses simple cards and spells that only require one card. They usually summon creatures or the elements or enhance Takeshi's abilities.


Hero Change!-only seems to work on Takeshi. Enables its user to transform into a Hero depicted in the card's picture.
Resulting appearance:

The Masked Ranger armor Takeshi currently uses. The guild mark isn't visible, but it shines when he activates Finisher.
All rights to Tsuburaya Productions

Blade-will either:


generate a sword that strikes a target, or

equip the caster with a sword.

Shoot-equips the caster with a gun.

Defend-will either:


create a temporary force-field to protect a target, or

equip the caster with a regular-sized shield.

Fast-speeds up a target.

Steel-hardens a target and makes it invincible for a short time. The said target becomes silver in color and is immobile during that short time.

Flame-will either:


Send a wave of flames to a target, or

enables the caster to temporarily be able to cast Fire Magic spells. (one minute)

Aqua-will either:


Send a tidal wave towards a target, or

enable the caster to temporarily be able to cast Water Magic spells. (one minute)

Root-will either:


Send a large, strong root to constrict the target, or

enable the caster to temporarily control plant life. (one minute)

Flash-will either:


Unleash a blinding flash of light, or

enable the caster to temporarily be able to cast Light Magic spells. (one minute)

Thunder-will either:


Electrocute the target, or

enable the caster to temporarily be able to cast Lightning Magic spells. (one minute)

Shadow-will either:


Temporarily make the surroundings night-like, or

temporarily rid a target of sight, or

enable the caster to temporarily be able to cast Shadow Magic spells. (one minute)

Wind-will either:


Create a devastating tornado, or

send a powerful gust of air towards opponents, or

enable the caster to temporarily be able to cast Wind Magic spells. (one minute)

Card Dimension-turns a target aside from the caster into a card. Main article here.

Weapon Mode-creates a weapon out of a card (or cards), granting the weapon appearance, aesthetics, and effects based on which card/s was/were used.

Various Summon Cards-either:


rewards the caster with abilities and powers of the being in the card, or

summons the being in the card.

Trick-will either:


generate illusions of the caster's liking, or

temporarily change the caster's appearance.

Finisher-enhances the caster's attack power for a single attack, usually a kick.

Copy-enables the caster to wield a weapon or use a certain ability of a target. The card must be activated while the target is performing the ablity or holding the weapon for the spell to succeed.

Ride-summons a motorcycle. It can be activated in unison with other cards so that the vehicle gains new abilities.


Advanced knowledge in Martial Arts

Enhanced physical abilities (jump, punch, kick, etc.) while wearing any of the Masked Ranger suits.

| Likes |
Motorcycles

Racing

Peace

Being Heroic and Chivalrous and all

Working in a team

| Dislikes |
Working alone

Being forced to fight his allies

Liars

Backstabbers

Traitors

Fair-weather friends

---
[font=Comic Sans MS]

Welcome to my Life
---
| Personality |-Takeshi is a relatively happy and exceedingly eccentric person, despite his tragic past. He easily copes with other people and is very empathetic. He tries to resolve conflict among friends and is thus called a peace-keeper. Takeshi is someone who wants to be friends with everyone, in a good way. He won't expect anything in return for a past favor he did. He immediately tries to help his friends, even if it means risking himself. Most of all, he is loyal to his friends.
| Theme Song |
The Touch - Stan Bush
---
---
| History |
Takeshi is the sole surviving member of a clan of mages who were known for having special crystals on their bodies that enhance the effects of spells. After his parents died defending their home from bandits, who were eventually defeated and caught by members of the Fairy Tail Guild. Even when he had no home or family, Takeshi spent the next decade training in the arts of Holder Magic, like his ancestors before him, and became rather exceptional at it. He is shown to be able to create Magical Cards, but this requires great amount of mana and correct materials for effects. After practicing and perfecting his cards, Takeshi rose to becoming an Urban Legend as the "
Masked Ranger
", a hero who uses Holder Magic to defeat bandits and thieves around Magnolia Town.
Takeshi wearing an early version of the
Masked Ranger
suit. Unlike the one he uses now, which can only be used when he summons it using the card
Hero Change!,
he wears this one manually. He still uses this, but not too often.
Seeing that he now wants to be with other like him, Takeshi packed his possessions, loaded them on the sidecar of his motorcycle, and zoomed off to Fairy Tail Headquarters to become one of them.
|Thoughts on Other Characters|
|Anything Else|
The full name of this character is derived from the given name and surname of the first and latest Kamen Riders respectively

This character's Magic Type and alter-ego is heavily influenced by Kamen Riders, but his Hero Form is based on Ultraman

Weaknesses


The large crystal on his chest is a big weak spot
It takes time for the crystal to activate his cards, usually three-seconds.
The reason Takeshi still uses an early version of the Masked Ranger suit is because the latest one begins to use up his mana after 3 minutes. As much as possible, he fights for 2 minutes.
---