Fairy Tail is a guild created by the first guild master, Mavis Vermillion. Ever since then, the guild has been recruiting worthy members and growing as the years pass. At first, it started out like any other guild, small, perhaps even unknown to most people because of its new reputation among the land of Fiore. Still, as months and years went by, its name grew and people began to note them.
The special members of this guild have been accepting quests and missions to help others in need. Obviously, for a price, but that wasn't always the reason. Mostly it was because they cared for the people in their homeland, and they wanted to help their beloved guild. Although some already have families, Fairy Tail is considered to be their second family if not their only one.
For years and years, even with the many hardships that they face, their guild's legacy continues down through the generations, child by child turning into an adult through the years and still their loyalty shows to the same guild, especially since the guild crest is still shown on their body somewhere. Some may have their own personal problems, and everything else of that sort, but that doesn't matter because everyone, once in the guild, is a family to Fairy Tail.
The Mages
There are certain types of people in the guild of Fairy Tail, regardless of age or gender that go underneath the classification of mages. Mages have certain powers, perhaps some specializing in things like fire, or water, lightning, etc. But things go into more specifics than just that... There are a few types of mages actually; Dragon slayers, God slayers, mages that use magic from inside their body, and mages who need to use some sort of physical item to direct their magic from.
Dragon Slayers
First, let's start with the dragon slayers. These few and rare individuals are born or raised by a certain dragon, whether it be an ice dragon, fire dragon, lightning dragon, etc. They are raised by it, and are taught the unknown magic of a dragon slayer. These types of people are almost the most powerful you'd be able to find, but they have yet to control and restrict themselves from destroying everything with the power they hold.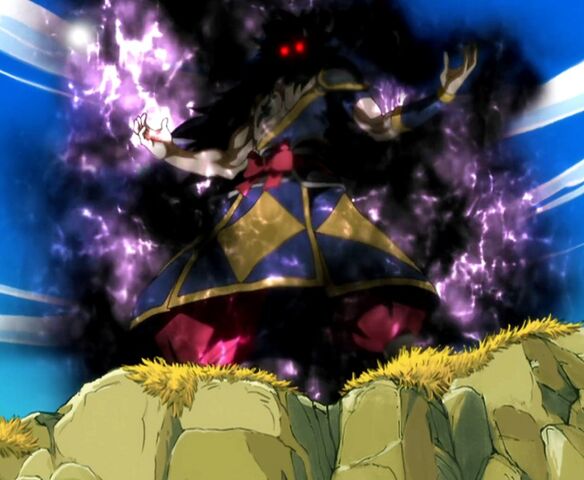 God Slayers
Now, there isn't much known about God Slayers, and there are very few in the land at the moment. It's considered as a lost form of magic, one that is ancient which is why it is very rare and difficult for a mage to handle. God Slayers are very similar to Dragon Slayers, but like Dragon Slayers very little is known about them, and are even rumored to be more powerful than a Dragon Slayer.
Caster Mages
Caster mages are the types of mages who generate magic through their body without any need of a weapon or item to guide it. They aren't as rare as Dragon Slayers, in fact, they're just about half of the population of mages like Holder Mages. Depending on their will, their form and strength of their magic; it will shift to how the mage feels at the moment. For example if a mage is weak, or isn't in a proper mood to cast magic, their magic will most likely be weak. Yet even if someone were to be encouraged and confident, it doesn't always mean their magic will be strong.
Holder Mages
Finally, there are Holder Mages. Holder Mages, almost opposite of Caster Mages, use an item of some sort, whether it be a simple pencil or something like a sword, to guide their magic and into reality. They have the same rules that apply to them, but the bad thing about Holder Mages is that, without their item, it is either impossible, or nearly impossible for them to use their magic.
The Ranks
Next, there are the ranks in Fairy Tail. Did you expect it to end there? Sorry, unfortunately not! But don't worry, this is much simpler. At the top, there is, obviously, the guild master who rules the entire guild. Then, there are S class mages. They often take hard and very important tests of ability to make their way to the top of a guilds rank, and are the most powerful and skillful out of the entire guild other than the guild master. Finally, there are just plain and regular mages. Nothing's bad about them of course, but they are the least experienced, and can qualify for S class when the Guild Master thinks they are ready.
The Quests
Also, there are two kinds of quests, S class quests, and regular quests. This shouldn't be very hard to understand since only S class mages can take S class quests, and regular mages can only take regular quests unless an S class mage joins them on the other type of quest. And there is one more kind of quest, but this one only S classes can take, and they are even more dangerous. SS class quests, the most dangerous, and only the most experienced and strongest of the guild may partake on these quests. They often go alone but usually SS class quests aren't taken due to their danger level.
The Parties
No, not the parties you'd go too obviously. This is a party as in a group, or a team. Fairy Tail is consisted of certain parties, whether they're in a small group of two, or even a huge group of 10 or more. The number is unlimited, and those who group together are often close friends and usually go on quests and missions together like a family group.
The Characters
Now here's what we've all been waiting for! Sorry for the whole introduction, that's for those who haven't watched the anime or don't fully understand! Anyways, moving on!
There will be a total of 3 Dragon Slayers, 4 S class mages, 2 God Slayers, and unlimited regular mages! I'd rather keep to the original gist of the Fairy Tail guild so like the anime/manga there will only be 3 Dragon Slayers and 2 God Slayers.
*Note I don't want anyone sharing the same type of magic. If a type of magic is already taken then choose a different one. Though depending on what the magic is I might let two people have the same type just on different levels. The same goes for Ranks, if your character started off an NPC or Villain they will start from the lowest Rank even if as an NPC or Villain they were strong individuals*
Guild Master
Polarisbear12
||
Anaida Quincy
|| Take Over: Bestial Soul
God Slayers
Byte
||
Aaron Luminare
||Light
Lufia
||
Miyuu Minato
|||Magma
S Class
Kestrel
||
Hannah
||Seidhr Magic:Animal Possesion
Flexar
||
Seto Takahashi
||Shadow Make
SilverInk
||
Elizabeth Valdine
||Blood Magic
Regular Mages
Polarisbear12
||
Roxie Albernet
||Requip: Guitar
Nekohina
||
Shinzaemon Yamamoto
||Territory&Heavenly Body Magic
Legacy14
||
Virgil Noir
||Dark Écriture
Guild Parties
*Unlimited Parties*
*Groups of 3-4*
Skelly
Code: Select all

[center][size=400][u][font=FONT OF CHOICE]NAME HERE[/center][/size][/u][/font]
[center][img]IMAGE HERE[/img][/center]
[hr][/hr][hr][/hr]
[left][b]Age:[/b]AGE HERE
[b]Gender:[/b]GENDER HERE
[b]Mage:[/b]MAGE TYPE HERE
[b]Element/Type of Magic:[/b]ELEMENT/MAGIC TYPE HERE
[b]Rank:[/b]RANK HERE
[b]Crest Location:[/b]LOCATION HERE
[b]Weapon:[/b]WEAPON IF ANY
[b]Height:[/b]HEIGHT HERE
[b]Weight:[/b]WEIGHT HERE
[b]Party:[/b]PARTY HERE
[right][img]IMAGE HERE[/img][/right]
[b]Appearance:[/b]APPEARANCE HERE[/left]
[hr][/hr][hr][/hr]
[right][b]Personality:[/b]PERSONALITY HERE[/right]
[left][img]IMAGE HERE[/img][/left]
[b]Likes:[/b]LIKE HERE
[b]Dislikes:[/b]DISLIKES HERE
[b]Flaws:[/b]FLAWS HERE
[b]Talents:[/b]TALENTS HERE
[b]Fears:[/b]FEARS HERE
[hr][/hr][hr][/hr]
[center][img]IMAGE HERE[/img]
[b]Bio:[/b]BIO HERE[/center]
[hr][/hr][hr][/hr]
[left][b]Other:[/b]OTHER HERE[/left]
[right][img]IMAGE HERE[/img][/right]
[hr][/hr][hr][/hr]
Rules
1) Reservations will last for 48 hours only. If you need more time, let me know and I shall give you an added 24 hours. If you do not submit a character within the time frame, your spot will be opened up for others to take. Also, please place your reservations in the designated thread when making a reservation. This will allow others to see who has requested what, should I be gone and unable to update the front sheet. I
will

not

accept WIP's
unless there is text there already and you have a good reason.
2) Please write like you would if you would have to be graded on your posts. I'm not going to accept characters if you don't have a basic grasp of English grammar, this applies to posting as well. If I notice that you are constantly misspelling words or use incorrect grammar I will ask that you leave should you ignore my first warning.
3) Please do not join if you think you might not be able to keep up or if you're the type to go half way then leave. If two weeks have passed without a word from you, I will send out a pm. If you don't answer it within a week then I will remove you from the roleplay, put him/her aside, or make them an NPC.
4) Check OOC regularly and make sure you are doing what it asks for (if anything) before you post, or for anything in general. That way you don't end up doing something completely against what I had asked for in the OOC and then you're stuck with a GM who is irritated thinking that you ignored what she said.
5) Swearing I know is a habit most of you have. I do it myself but I can't expect you to suddenly go cold turkey can I? Just please censor yourself. I would appreciate minimal cursing, if you must cuss at all.
6) One-liners are UNACCEPTABLE. If you can't write more than a stinking paragraph please do not apply for this role-play. And this means and applies to crappy assed posts that don't really help with the story. Write what your character thinks, feels, does, etc. and don't be lazy try to advance the story; I know some have a hard time writing something but don't leave it to the next person to handle. Also this is a literate role play so I expect at the very least two-three good sized paragraphs, if you can write more then by all means do so.
7) God-mode is inactive. If you are going to control another's character I need that character's owner to tell me in OCC just so it's official, that or pm if you must. If I think you are godmodding I will remove you from the role-play should you ignore my first warnings.
8) I am not new to role-playing. I have been role-playing for a decent amount of time and although I do not consider myself anywhere near professional, characters are to be as detailed as possible. This is a given to most role-plays and if you cannot give me details via a character sheet, how do I know you will be able to put out in the role-play? This might seem unfair or whatever, but all I ask is that you give me details. And please, for the love that is all, do not create a Mary-sue/Gary-stu. I know that it can be a bit difficult to not create one, but please do refrain from doing so. If I suspect a Mary Sue is in our midst, I will warn you once about the areas that need correction and if they are not fixed after that then I'll have to insist you leave.
9)If you're going to make a completely new magic then please make sure you explain it thoroughly in your character sheet. You may edit the Character Sheet however you see fit so long as you supply all the requested information about your character. Please do not make a character's personality, bio etc. that already exists, try to go for a unique character so that we may have a diverse character set.
10) Please obey the rules I have set up and we shouldn't have a problem. If, for any reason a rule cannot be obeyed, or you find yourself in a conflicting situation, remove yourself from it or ask for assistance. I do not bite and I am more than willing to lend a hand should you ask for it.
11) Remember who the GM's is here. Our word is law, if you can't handle someone giving you truthful feedback that ends up asking that you change a lot, then don't join this role-play.
12) To show that you have read everything show two things, one is to add "FT Forever" in the box labeled Other in your CS. The second step is to write your reservation in the text color you will be using, along with the magic type you plan on using (I'm not too strict about this, if your ideal magic changes make sure to inform the group) and the actual color or color code so no one else uses it.
121 posts here • Page 1 of 1