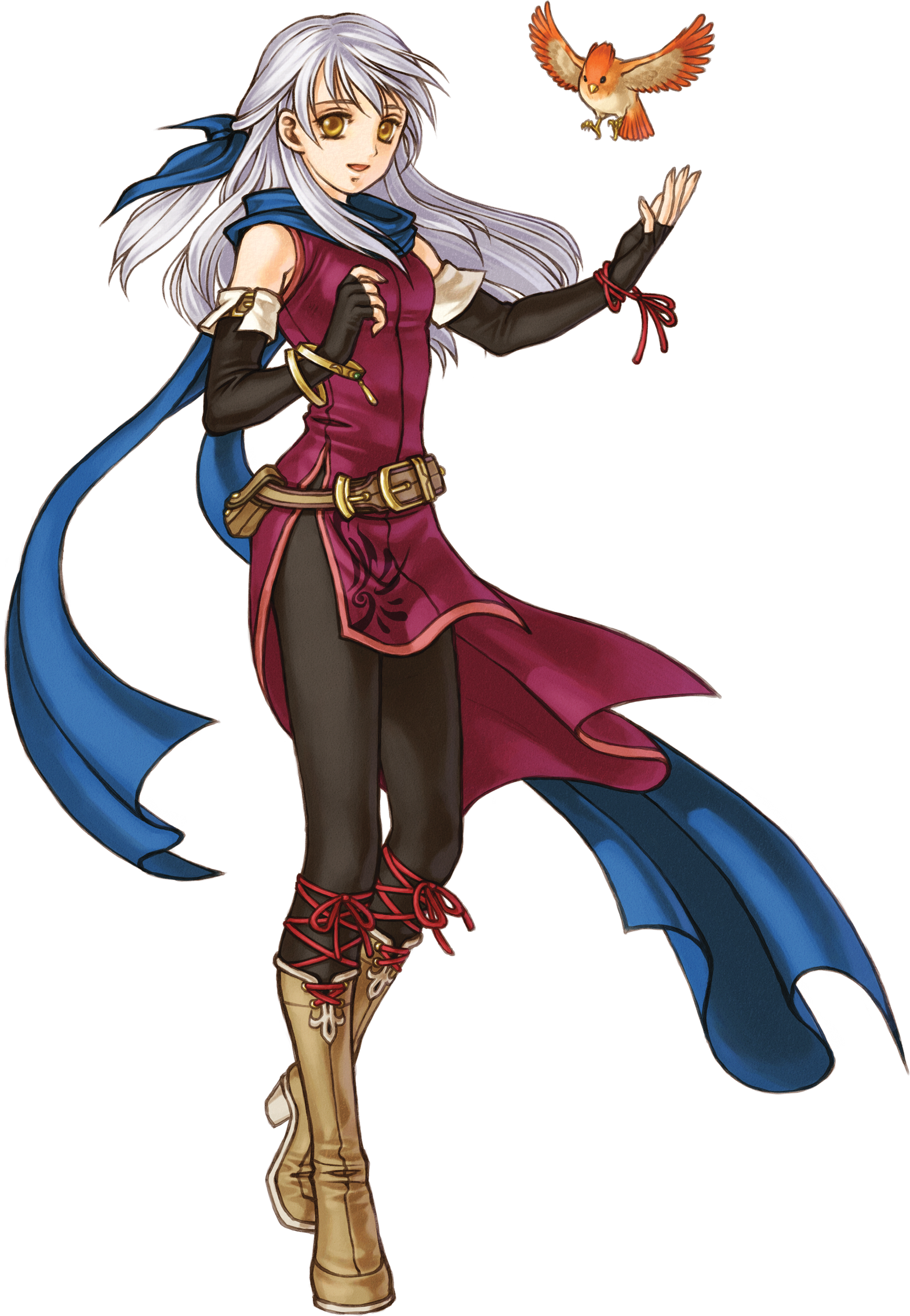 ---
---
Age: 19
Gender: Female
Mage: Caster type
Element/Type of Magic: Caster Type//God Slayer//Magma


Volcanic Storm

: Miyuu causes basically small eruptions on the surface of the ground allowing for large chunks of molten rock, burning rocks, and magma pillars to rocket out from the earth. It remains enclosed in a relatively small area for the greater damage to the opposition. Usually used to defend Miyuu in emergencies.



Lava Burst

: Basically, what happens is Miyuu creates a rock that is somewhat molten, and can fling it like a meteor at a distant foe. Or she can throw it up and cause it to be like a meteor. Her third option is that she punches (Or kicks) the rock and sent it flying in a spread of smaller bits and pieces of molten rocks.



Armageddon

: Miyuu's strongest attack, she bascially causes the crust around her to explode with pillars of magma, causing basically an Armageddon, destroying a huge area in her giant storm of Fire and death. It more or less destroys the area causing there just to be a scorch mark left excluding her. Though she has little control of the spell and only uses it as her general destruction of an area.



Volcanic Impact

: Miyuu strikes the ground with a great force, causing the magma layer to ripple and shake the crust, and possibly even breaking it away. Though this causes general destruction.



Magma Plume

: Miyuu creates a bolt of magma that she can throw, causing a small pillar of magma to fire up, can be used as an attack or to propel Miyuu into the air for a different attack. Causes very little collateral damage with the pillar since it was artificially created.
(I will add more as she learns and all. And I am accepting more ideas. I'm lacking them.)
Rank: B Rank (Her control is iffy)
Crest Location: Her left eye in a yellow lighter than her eyes.
Weapon: She carries a staff, and a bag with books. (Yes those books are used as weapons at times)
Height: ~170cm (translation: 5'6" and some change)
Weight: 61 kg (About 135 Lbs with some change)
Party: TBA


Appearance:For being a small person, Miyuu is not one to really take may hits, not saying she's one hit and down, but her body is more build for speed than defense. Yet she is quick to gaze around an environment with her golden eyes. With her clothes, she prefers her dark Magenta tunic, embroidered with a little decorative design, with her always common blue scarf that has on it's ends, a crest signifying her family's heritage, she's no noble, but her previous ancestors were. Amongst the tunic she wears, she usually has either her black tights, or a more warmer pants on which she tucks into her boots, which she ties almost to her knees. Needless to say, her clothes offer little protection as to the cold, though they help her with remaining flexible and extremely flexible. Though her tunic hides something, underneath her ribs, lay a scar that spans her whole front and is at least six centimeters wide, she hates talking about it, and usually ignores questions about it if it is seen. With her body's lack of defense, Miyuu makes up for it in any situation involving combat, with her speed and rather, her offense with her own magic.
---
---
Personality:When it comes to Miyuu, She is distrustful of people right off the bat. Not saying she's not willing to lat someone help her, more, she tends to see people as liars and cheaters. Not to say she's completely shut off from the world, but is slow to warm up to people and quick to judge and even hate. Though once one gets through her outer shell, they see a different Miyuu, one whom is kind and caring to all she can. Though she won't let you take blame for her actions, she can't and won't let you take fault for her. Nor will she allow you to sacrifice yourself for her, she'd rather take the blame head on and accept whatever she deserves. Yet in combat, is where her life on the streets pay off. She wasn't raised fighting, but she quickly learned how to in her own defense, that's to say, she never wishes to be the one to provoke a fight, rather she tries to defend herself and those whom are closest to her. Though, in the long run, her defense causes her to barricade herself in a (hypothetical) wall of ice that is very slow to come down to see who Miyuu truly is.
Likes:
+ The cold
+ Books
+ Tea
+ Birds
+ Cooking
Dislikes:
- Being lied to
- Her Distrustfulness
- Peppers
- Being overheated
Flaws:
// She's unwilling to rely on anyone but herself
// Her own kindness
// Miyuu lacks any good ability to swim
Talents:
~ She is really agile
~ Her own style of combat
~ Miyuu is really good at cooking
Fears:
/@/ Being alone
/@/ Entrapment
/@/ Being lost
/@/ Losing her allies
---
---
Bio:
Miyuu grew up in a rural part of Fiore, as in, her closest neighbour was well over a few hundred meters away. Thus a young Miyuu and her three siblings, her older brother, and younger twin brother and sister duo. Though their parents, were there for the first few years, it soon became evident that they were careless. As Miyuu's older brother and her grew older, parent interaction became less and less until finally, they disappeared on a mission they were on. This finally answered a deep sort-of anger for Miyuu, since her parents abandoned the four of them, leaving the kids to their own devices at the young ages of 13, 12, and 8. Miyuu and her older brother both had to bring themselves up "by their bootstraps" as some put it. As her older brother, Yansei worked around in different shops and factories, Miyuu worked mainly in taverns and restaurants making distinctly less than her older brother, but making enough that her pay made a difference. That lasted for about a year for Miyuu, until she, and only she was adopted off the street by the Minato family, whom after seeing her one day at a restaurant, got the right to take her in. Thus she was whisked away, rather, kicking and screaming, by her new parents as her brother Yansei, and younger siblings could only watch her be dragged off to live a possibly better life.
-- Two years passed in a blur to Miyuu, it was more of her regaining the strength she lost from her starvation, and her becoming a little less hostile to her new parents. Which that didn't take long, since she was told that her siblings were being taken care of by a friend of the Minato's. Thus she complied and soon was given most of what she wanted, and knew no such thing as hunger again. Though she never really fit into the higher class living. She spoke, ate, and acted like a commoner, with an accent too, she worked mostly at a farm, where she picked up a slight farm-girl accent. Which she has never really gotten out of, it lingers with her past, along with her knowledge of the harshness of the world. Yet something set her apart, she had no magic to speak of. At least until one day, about two more years later, she was about in where she grew up. It was nostalgic almost, her previous memories flooded about her, both the good memories, and the horrid ones. Though soon she saw someone she didn't expect, Yansei. He was still thin and looked pale when he found Miyuu, out of curiosity, she asked what had happened, what Yansei had said, caused Miyuu to snap. Yansei told her of what the Minato family said, that all three would be helped. They were never helped, and later into the months the two twins had perished, according to Yansei, by starvation. This caused Miyuu's magic to flow with the same rage as her element. The ground shook as she tried to suppress her own rage, within seconds, plumes of magma shot from the earth in a violent eruption, Yansei, having magic of his own, chose to flee while he could. It was basically an eruption of both emotion and magic as Miyuu realized that the two she care for more than her own existence had been taken from the world she lived in. It only lasted a few minutes, but, the damage was massive. The home they lived in was eradicated, along with the other homes nearby. Miyuu looked about seeing the destruction of her own magic, Yansei, fearing to lose his sister had rushed over, being spared from any harm, and told her something that shakes her to this day,
"Leave, Don't come back for me. I'll cover for your blame."
--She did so, not knowing what she was doing at all, having blanked. Though, knowing that, that day was the last time she saw Yansei. She traveled about after that... Though a year later, when Miyuu was eighteen, she stood in front of a Guild House, having never really seen one, she went in. Only to come out with a new mark in her left eye, that of Fairy Tail. Her next year, though adventurous, passed by and she was happy again.
---
---
Other:FT Forever
---
---