---
---
---
---
~Favorite Song~
Enter Sandman || Metallica
~Favorite Candy~
Air Heads
~Favorite Movie~
The Covenant
~Favorite TV Show~
Ancient Aliens
~Favorite Animal~
Wolf
~Favorite Color~
Blood Red
---
---
---
---
---
---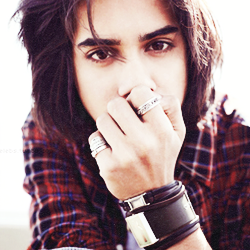 ~Name~
Mason Wolfe
~Nickname~
None
~Age~
18
~Parents~
Big Bad Wolf and the mother is unknown
~Royal or Rebel~
Rebel
~Gender~
Male
~Race~
Indian
~Sexuality~
Straight
---
---
---
---
---
---
~Hair Color~
Dark Brown
~Eye Color~
Brown
~Height~
5'10"
~Tattoos and Piercings~
None
~Birth Date~
February 9th
---
---
---
---
---
---
~Personality~
Trickster || Hot Tempered || Flirtatious || Speaks His Mind
~Likes~
❖ Music
❖ Singing
❖ Dancing
❖ Mysteries
❖ Playing Pranks
~Dislikes~
❖ People who can't take a joke
❖ Liars
❖ Talk of Destiny
❖ Cats
❖ Competition
~Fears~
❖ Finding his mother ❖ Disappointing his father
❖ Commitment ❖ Showing he cares
---
---
---
---
---
---
~History~
When Mason was born, his father told his mother to leave and never come back. The two of them had a very rough relationship and he knew that if he left Mason with her then she would give him up. Because of this, all through Mason's life he was told stories about how his mother treated his father and never once wanted to meet her. While growing up Mason was taught how to control his wolf-like instincts, mainly so he wouldn't kill anyone accidentally. Mason's father is the only person he seems to care about, along with what he thinks of him. No one else ever seems to have that big of an impact on Mason's life. Mason gets his joys from playing pranks on other students and sometimes even the teachers.
The only thing he doesn't seem to understand is why they have to follow in their parents footsteps. Shouldn't they be able to write their own stories, be who they want to be? Every time anything about his destiny is brought up, he zones out and doesn't pay a single bit of attention to it. In his opinion, nobody wrote his destiny for him, he writes it himself.