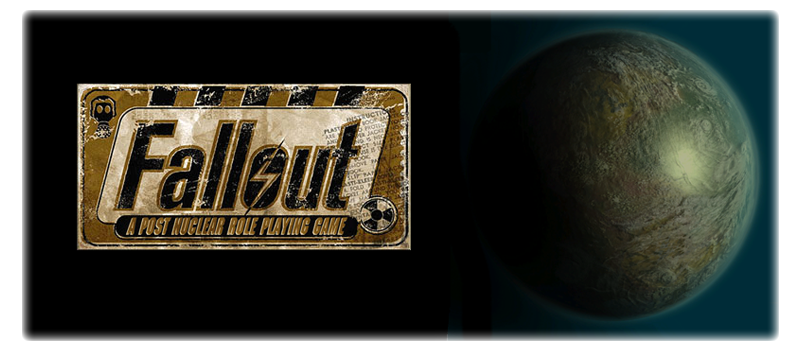 -->
War... War never changes.
<--
And it was war itself that would bring about our end... and rebirth.
In the year 2077, the world's nations had long been at war for the few remaining natural resources on Earth. On October 23, 2077, the United States, China, and other nuclear-armed countries bombarded each other with a rapid exchange of nuclear missiles and bombs lasting for only two hours. The destruction caused by the brief nuclear war was staggering; more energy was released in the early moments of the war than in all previous global conflicts combined.
Two decades later, the Vaults, over one hundred protective underground shelters built by the U.S. government before the Great War, began opening for various reasons, releasing their residents to what remained of the old world: a barren, irradiated wasteland. It didn't take long for people to realize that this new world was very different from what they once knew. Mutants roamed the wastes, murderous raiders killed off unsuspecting wanderers, and the remnants of mankind were barely getting by.
You have been born into this harsh new world as an untainted soul, part of one of the varied races and factions of the Western Wasteland of the United States. As you grow, you will adapt to the wasteland and carve your own niche in the desert. But a mysterious new force has arisen and is kidnapping people all over the Wastes. Rumors spread of armored soldiers with advanced technology and flying ships emerging from and vanishing over the ocean, coming only to take more prisoners. Any who resist... are killed.
As a resident of the Western Wasteland, it is you who will decide the fate of the Wastes. Will you track down and eliminate this bizarre new threat? Or will you ignore it entirely and go about your life? Choose wisely, Wastelander, but remember this: No matter what you do, or how far you run, war will always follow until you either turn to face it or are devoured unknowingly. And we all know that war... well, war never changes.
___________________________________________________________________
-->
Rules of the Wastes
<--
1. Use some common sense when doing things.
2. Courtesy OOC is required as well.
3. Be literate. This means I'll accept spelling and grammar mistakes every now and then, but no 1337-speak. Type out full words and have at least a paragraph a post. That's it!
4. No godmodding!
5. Be as active as you can! If you're going to be out for a bit try and let me know.
6. Feel free to get romantic with your fellow Wastelanders!
7. You may have a maximum of two characters at once.
8. You can injure people a plenty, but only monsters or NPCs. When dealing with other people's characters feel free to engage in a gunfight but mae sure you get the permission of the character's owner before you go dealing out serious injuries.
9. Keep OOC chat in the OOC section of the RP.
10. Check the OOC often. Wasteland events, plot updates, and other important news will appear there via the local Wasteland radio station!
-->
S.P.E.C.I.A.L. Rules
<--
These rules are all about creating your character!
1. You can have a character starting from only one of the places under the 'Places' tab.
2. Remember that not everyone can come from a vault!
3. Visit this article:
http://fallout.wikia.com/wiki/Skills
and pick one skill from Passive skills, two from Active skills, and two from Combat skills (except for the 'Firearms' skill). List them somewhere in your character's profile as their main skills.
4. The minimum age for a character is 17 and the maximum is 50.
5. Specify if they are a human or ghoul.
6. You may start with two weapons, ammo, clothes, and as many other kinds of items as you want. However, make sure to be realistic. Don't go around carrying 100 stimpacks and 75 packs of Rad-X!
___________________________________________________________________
THE FOLLOWING SECTIONS ARE UNDER CONSTRUCTION
___________________________________________________________________
-->
Factions
<--
The New California Republic (NCR)
- The New California Republic (NCR) is a democratic republic of states in California with holdings in Nevada. The capital city of the New California Republic is titled a town that is also named NCR, previously known as Shady Sands. The Republic is dedicated to restoring order and progress to the Wasteland, as well as old world values such as democracy, liberty, and the rule of law. However, much of the NCR is beginning to succumb to bribery and corruption, despite their honorable goals...
The Brotherhood of Steel
- Composed of former members of the U.S. government's military and scientific branches, the Brotherhood's one and only goal is to acquire and repair all remnants of advanced technology that may have survived the Great War. They have the second-most advanced cache of technology in the Wasteland (right under the Enclave) and exercise it frequently. High-ranking Paladins wear their infamously powerful Power Armor and wield powerful energy weapons, but lower-ranking troops wearing normal combat uniforms are also common around Brotherhood bunkers and outposts.
They tend to ignore and act hostile towards Wastelanders, seeing them as unfit to wield their tech and as 'fools and rock-bangers.' However, rare exceptions are sometimes made when someone has proven their worth to the Brotherhood, and they are then inducted into the order and taught to wear Power Armor and given access to their powerful weapons. Wanderers should be wary of approaching these isolationists, especially if they happen to be carrying any valuable tech on them.
The Enclave
- A mysterious remnant of the old U.S. government who has been gone since their defeat at the hands of the legendary Chosen One. However, rumors are circulating that there may yet be some sort of remnant holding out somewhere in the Wasteland...
Raiders
- Bands of humans who have become reckless, savage murderers. Their only goal is to survive in the Wasteland no matter the cost, and so they kill and loot the corpses of anyone who isn't a member of their gangs or small marauding groups.
Tribals
- Tribals refers to the name given to rural inhabitants by those still living in urban areas. They have shrugged off many modern ways of living, and returned to a simpler hunter-gatherer mentality. Tribals often look upon the traders and occupants of cities with disdain, viewing their way of life as "scavenging the dying corpse of the old world." Despite the fact that tribals are generally healthier and in better physical condition than their urban-dwelling countrymen, they are viewed with disdain and often hostility. It is not unknown for tribals to be captured and put to work as slaves.
Due to their abuse by the people of the Wastes, tribals have come to treat most wastelanders as a threat towards their villages. They often live far out from cities and towns, sticking to their own villages, and are fiercely territorial. Though they fight with primitive weapons, such as spears, shields, and bows and arrows, they can still effectively hold their own due to the large numbers of people living in their villages who are willing to fight for their land. Often wanderers who stumble upon their territory are given warning to leave before being attacked.
Caesar's Legion
- Caesar's Legion is an imperialist organization of slavers led by the charismatic, cunning, and powerful Caesar. The legionnaires are a well-organized, jingoistic fighting force that mainly operate east of the Grand Canyon and in Arizona. The Legion is comprised mostly of reconditioned tribals and their young offspring. Recent rumors tell of Legion scouts being spotted within California, giving rise to suspicions that the NCR may soon be forced to fight a war on its home turf.
The Shi (Chinese Remnant)
- The descendants of a chinese spy submarine that crashed off the coast of San Fransisco during the Great War, the Shi now control a majority of the city of San Francisco and are led by a mysterious 'Emperor'. The Shi aren't hostile to any outsiders, since San Fransisco is surrounded by dangerous bands of raiders and wild beasts, and to survive they search for, modify, and sell high-tech weaponry and armor to those who are strong enough to make it to the city. They are at war with a group of religious fanatics called the 'Hubologists'.
New Khans
- Many years ago, a well organized and equipped group of raiders called the Khans plagued the Wasteland. However, after being decimated by a single Wastelander, a lone survivor of the Khans named Darion built a shack over Vault 15 and made the vault in to the home base for his new raider gang, now called the New Khans.
Wastelanders (No Faction)
- Wanderers of the Wasteland who hold no allegiance to anyone but themselves. They often wander from town to town, keeping mostly to themselves except when in search of some food, drink, or shelter. More often than not they are well armed and skilled due to years of living in the Wasteland.
___________________________________________________________________
-->
Playable Races
<--
Humans - Humans are the most prominent race in the wasteland, most having survived the nuclear fallout in some way or another and have emerged to repopulate the wasteland in recent years. Some humans are prejudice against ghouls.
Ghouls - The ghouls were people caught above ground during the explosion that decimated the U.S.. These people have been heavily affected by the nuclear radiation, having had most of their skin peel off and expose muscle and organs. They often speak with a gravelly voice, though there are rare exceptions, and can usually withstand radiation and live much longer than the average human.
___________________________________________________________________
-->
Map of The Wasteland
<--
(Note: Only the locations under the 'Places' tab of the roleplay will be available to visit, not every spot marked on the map.)
http://games.thehawkonline.com/fallout/ ... rldmap.png
___________________________________________________________________
Please use The Vault if you need any more information concerning the Fallout universe!
Please refer only to the sections about Fallout 1 for items and enemies and Fallout 2 for most anything else, as the time of the roleplay is set during Fallout 2 and on the west coast, not the east coast like Fallout 3.
http://fallout.wikia.com/wiki/Fallout_Wiki
0 posts here • Page 1 of 1
0 posts here • Page 1 of 1
Arcs are bundles of posts that you can organize on your own. They're useful for telling a story that might span long periods of time or space.
There are no arcs in this roleplay.
There are no quests in this roleplay.
Here's the current leaderboard.
There are no groups in this roleplay!
Welcome home, Promethean. Here, you can manage your universe.
Arcs are bundles of posts from any location, allowing you to easily capture sub-plots which might be spread out across multiple locations.
You can create Quests with various rewards, encouraging your players to engage with specific plot lines.
Settings are the backdrop for the characters in your universe, giving meaning and context to their existence. By creating a number of well-written locations, you can organize your universe into areas and regions.
Navigation
While not required, locations can be organized onto a map. More information soon!
There are no groups in this roleplay!
By creating Collectibles, you can reward your players with unique items that accentuate their character sheets.
Once an Item has been created, it can be spawned in the IC using /spawn Item Name (case-sensitive, as usual) — this can be followed with /take Item Name to retrieve the item into the current character's inventory.
Give your Universe life by adding a Mob, which are auto-replenishing NPCs your players can interact with. Useful for some quick hack-and-slash fun!
Mobs can be automated spawns, like rats and bats, or full-on NPCs complete with conversation menus. Use them to enhance your player experience!
Current Mobs
No mobs have been created yet.
Locations where Mobs and Items might appear.
You can schedule events for your players to create notifications and schedule times for everyone to plan around.
Add and remove other people from your Universe.
The Forge
Use your INK to craft new artifacts in Fallout: Post Nuclear Warfare. Once created, Items cannot be changed, but they can be bought and sold in the marketplace.
Notable Items
No items have been created yet!
The Market
Buy, sell, and even craft your own items in this universe.
Market Data

Market conditions are unknown. Use caution when trading.

Quick Buy (Items Most Recently Listed for Sale)
Newest
Trending
Most Followed
Built by the inhabitants of Vault 8, the sprawling Vault City is one of the smallest, safest, and most isolationist settlements in all the Wasteland. Heavily protected and surrounded by large walls, Vault City is one of the cleanest and medically advanced places around. Too bad they don't let anyone inside the city except its current inhabitants.
Though New Vegas may be bigger and more intact than New Reno, the biggest little city in the world still has two successful casinos, a booming drug trade, and is run by mafia families that, though they keep the city safe, are quick to 'whack' anyone who tries to disrupt the flow of business.
Inside of a dark, radscorpion-ridden cavern lies a broken door leading to the insides of Vault 13. Within, intelligent Deathclaws and humans live side by side, surviving off the vault's tech but having no idea why the vault was abandoned when they entered it long ago...
A massive, wide open desert and all that remains of the West Coast after the Great War. It's filled with various mutated creatures and vile roaming bandits, so have a gun ready and some stimpacks close if you want to make it out here.
Discussions
Topics

Replies
Views

Last post
Most recent OOC posts in Fallout: Post Nuclear Warfare
This is the only Fallout RP I have managed to find....are there any active ones out there?
(former post, im blanking it)
This actually looks really interesting, but I agree on the character sheet dealio.. I am interested :D I love Fallout.
malaizy wrote:crabnek you need to establish some kind of character sheets/ simple combat rules etc.

put some work in dude! I wanna play my character.
This. The last Fallout RP I saw on here had incredible depth and thought put into it. What's the story? Where are we? When does this take place? What of the Brotherhood of Steel? The Enclave? Are we Vault Dwellers? Are the Vault Dwellers in our area in a city like Fallout 2's Vault City? Character sheets, rules, regulations, atmosphere, etc. All of these need to be addressed! I'm sure those of us who are interested would be willing to help you with this process, so there's no reason for you to skimp out on it.
crabnek you need to establish some kind of character sheets/ simple combat rules etc.

put some work in dude! I wanna play my character.
:( not even with big guns XD got it :D
I'm going to add a 'character creation rules' section to the main page soon, but for now you can pretty much do what you want. As far as age limits are concerned... the minimum age allowed is 17. We can't have any kids running around in a dangerous place like the Wasteland after all!
Yeah in short thats my question. Going in at it is fun but...It's easy to go overboard XD And knowing me I'd make my character somewhere between the ages of 8 and 14 XD
Do we need to follow a specific character sheet or parameters, or is it all up to the writer? I haven't used this system yet so I'm about as green as you could possibly get.
:O fun

Any age limit to the characters??? I can is are make 12 year old??? or 10 year old???? XD
This is the auto-generated OOC topic for the Fallout Roleplaying Game.

Ask any questions you may have here!