Basics
Name: Alex Fetherheart
Gender: Male
Age: 18
Race: Human
Ethnicity: Caucasian
Eye Color: Deep Blue
Hair Color: Brown
Sexuality: Straight
Physical Descriptions:
Weight: 170
Height: 5'8
Body Type: Athletic
Hair Style: [see picture]
Appearance: what you see but with more gun's and armor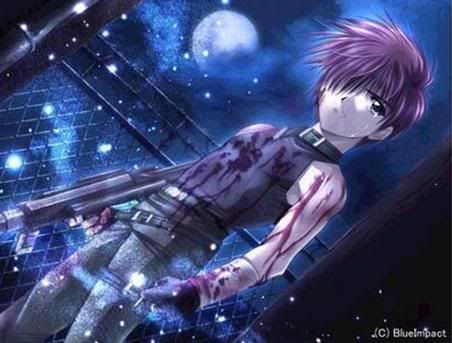 Personality: do to his upbringing Alex is a good guy and a hard worker. being new to the wasteland has not dimmed his sprite's. he is the tip to smile and go out of his way to help others as long as it is not at too grate a cost to himself, he may be good but he is no saint. Alex is not much of a leader but more of a center piece, people tend to gather around him because of his will and passion, as well as the fact that when he sets his mind to something it wont help him. but int the end Alex will do some cruel thing's if he has the right motivation. he is rather good with women but will not take advantage of them, he wast a real relationship and wont stop untell he finds one
Likes: helping people, profit, friends.
Dislikes: death evil bad dreams
S.P.E.C.I.A.L. [distribute 40 points]:
#4 Strength
#9 Perception
#6 Endurance
#7 Charisma
#5 Intelligence
#9 Agility
#10 Luck
Skills
science
Small Gun's
Medicine
Speech
Barter
Perks
mysterious stranger
Light step
cyborg
Toughness
Lady killer
intensive training X10
Gear: Combat Armor, drum magazine combat shotgun, Chinese assault rifle, scoped .44 magnum, combat knife, pit boy.
Background: Untell recently Alex was living happy as a clam in vault 665, untell raiders finally managed to crack the seal. there was a bloody battle and most of the vault member's died defending and killing the raiders where all dead. Alex has been out in the wast for about one month now and is looking for a group he can team up with.