Basics:
Name: Daniel (Dan) Jericho
Gender: Male
Age: 29
Race: Caucasian
Eye Color: Brown
Hair Color: Bald (Brown)
Sexuality: Straight
Physical Description:
Weight: 195
Height: 6'1''
Body Type: Stocky
Hair Style: Bald
Appearance: Relatively tall, muscular, average-looking facial features but piercing eyes/glance. When unmasked, he retains a neutral expression and carries several battle scars on his face.
Scars: Knife scar across the left cheek, small burn patch above right eye
Tattoos: N/A
Piercings: N/A
Clothing: is seen usually in his hooded/masked cloak which conceals his light armor as well as most of his weapons (except his Sniper Rifle) and identity, as well as providing some camouflage.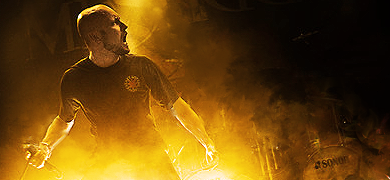 Personality: Dan, through much hard experience, has learned to put his own safety first in his Wasteland life. He doesn't hesitate to help those whom he deems worthy, but also will not risk his own life or limb for needless or dangerous charity. Dan has a brilliant mind, but often struggles to connect with other people around him. Towards strangers he is generally kind but reserved/cautious, and is very good at reading the intentions of those he encounters. Dan uses his emotional distance to his advantage, as he is able to judge a situation without having his judgment clouded. Despite this, those that he does allow into his inner circle of companions find him to be a loyal friend, excellent tactician and warrior. Amongst his dislikes are arrogance and dishonesty, although they have often become a way of life in the Wastes.
S.P.E.C.I.A.L
Strength: 6
Perception: 10
Endurance: 7
Charisma:3
Intelligence: 7
Agility: 3 (+1) (Intense Training Perk)
Luck: 4
Skills:
Combat: Guns, Melee Weapons
Active: Repair
Passive: Barter
Perks: Gun Nut, Commando, Sniper, Impartial Mediation, Scrounger, Toughness, Thief, Life Giver, Strong Back, Lead Belly, Little Leager, Intense Training, Silent Running
Dan is equipped with light grade plate armor that can absorb blows from explosive shrapnel and several kinds of small arms (exception being the larger calibers). With his lighter armor comes increased quickness and noise discipline, which as a seasoned scout is essential. He conceals his plate armor with a tactical vest, covered by a hooded cloak with a face shield
.308 Bolt Action Sniper Rifle (12x Ballistic Scope) (200x .308 Rounds)
Range Finder (Laser)
Remington 12 Gauge Compact Shotgun (20x Slugs) (30x 00 Buck)
Glock 9mm (x40 9mm Rounds)
Tomahawk
x2 CS Grenade, x4 Smoke Grenade, 2x Frag Grenades
Dan's primary weapon is his bolt action .308 sniper rifle equipped with a 12x ballistic rifle scope, as well as a range finder. This allows him to engage targets quickly out to 500 meters, and even farther with some added calculations. His secondary weapon is his Remington 12 Gauge Compact shotgun, which he stows under his cloak and uses for his mid-range (w. slug rounds) or close range (00 Buck rounds) encounters. He stores much of his ammo on bandoliers and his tactical vest, which is draped around his light armor. For his survival equipment, Dan always travels with tomahawk mounted on his survival rucksack which includes spare ammo, healthpacks/stimpacks, rations and camping/cooking materials. Dan also employs the use of smoke and CS (tear gas) grenades, which allow him to make an escape or disperse crowds of enemies (with use of his gas mask).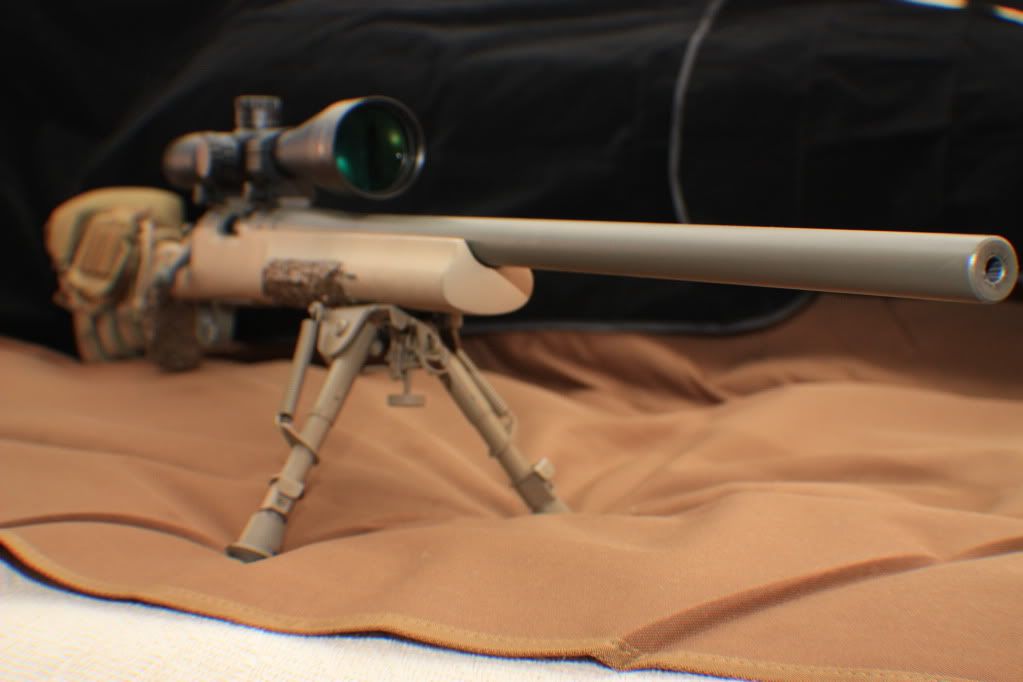 History: A former Army scout and sniper prior to nuclear war, Dan gained acceptance to a vault (#615) as he agreed to use his skill in combat to protect dignitaries and local leaders in his home state of North Carolina. Despite his best efforts and many enemy kills on his part, Vault 615 was overrun years later by Feral Ghouls on the prowl for food. Dan was able to escape from the massacre, and afterwards launched an unsuccessful attempt at finding his parents and girlfriend who lived in Columbia, South Carolina. Based on the evidence he discovered in his home town, the likelihood of their survival was virtually non-existent. After returning to the ruined Vault 615 to recover his gear and rations, Dan then struck out North on I-77, a road that led straight back to his birth state of West Virginia where he first heard the radio broadcast from the Reix group and is currently on his way to meet them.