Name: Bartholomew B. Wolf
Gender: Male
Age: 16
Race:Human by the looks of it.
Appearance:
Forms:Right now it seems he looks human. The stories however, say that he can take on the image of a humanoid wolf, or a wolf like dog.
Main Power/skills: Manipulation. Through words and aliva supposedly, he brings out the worst in people. Through fear and a signature bite, it wouldn't be wrong
to believe that like a werewolf, he changes people. Though through a scientific notion, there is no actual evidence to what he actually does to people. All that's known is that he can make an orthodox, straightedge person, completely mad. For better lack of words.
Secondary Power: Aside from his intellect, there are also cases that show he is fast and strong. There have even been stories that question if he can actually die.
Personality:
Without meds - Doctors diagnosis- Seeing as the boy can take on different personalities depending on his... er, prey (as he calls them), I have given him a hard diagnosis of psychosis and schizophrenia. He takes no care in human life. He takes no care in peoples actions. Only living to change the world into a chaotic place, he gives no care for even the law. Though, it seems he does fear something. It has to do with his history. Though he keeps his lips sealed on what it is exactly that he fears. I do have one guess though. In one tale that he has been tied with, he met another person who shared his mental digressions, though not as radical. After hitting the boy with his usual tricks, in an attempt to change him like he usually does, it seemed he had failed. This caused him to kill the boy himself. I take it, as he isn't the type of case that usually enjoys killing his prey, but instead watching what they do after he is done, he killed him because he didn't have any power over him. That is one conclusion I came up with. Another, would be saying that he killed the boy because he couldn't change him for the worse. The last, which wouldn't be hinting to a weakness at all, would be to say he killed the boy out of boredom. Though that in itself would hint that he doesn't like people that already have contorted personalities.
With meds- It has been my most prideful moment, to say that while on his medication the conversations I've experienced with the boy are more of the norm. Instead of talking in circles, the lad has actually been able to answer my questions, no hint of persuasion in sight. He no longer seeks out people to tell lies to. Nor does he seem to have any plans of scarring someone to the point of their own insanity. Seems the rumors were true about him being able to be bound. It does scare me though. That is, to know that there is a normal boy within the past monster. Especially since it seems that we had to get him to the point of being a walking corpse to get him this way. Though, he seems to be stable for now, there could be something underlying his new tired eyes.
Fears: It is hard to determine what his fear is, especially on the medication currently.
Weakness:Medications and a silver bullet? Maybe even a knife? Anything that can cause pain is definite. Though it seems he has little power over the already insane.
Likes:Watching people crack. Watching other people harm others. Talking people into murder and manipulating his own victims into becoming masochist. Mind games. It seems like his most favorite person here is Jeff. Though he can't manipulate him in the slightest, his story of how he became the infamous person he is today is dreadfully welcoming to Bart's interest.
Dislikes:Oh course the medication. People that seem to be so insane, yet don't want to hurt anyone. (It's hard to make a crazy person Crazy.) Those who see themselves as good.
Equipment:His mouth seems to be his most deadliest tool, for more than one reason. He uses any type of weapon, that would hurt his prey, but not kill them. Fear.
Do you have living family members? If so who are they?:They're nonexistent. At least, ever since he killed them.
Where are you from?: Some place with woods, where they say wolves don't exist
Brief Background: Warning: This story is long, detailed and complicated. For it tries to realistically combine all of the myths this boy is tied to.
Born to a loving mother and father, it seemed from the moment they first laid eyes on him, his parents dreamed of nothing but great deeds done by their son. Though, like most new parents, they weren't exactly ready for the endless nights of wake that came with most newborns. His cries were like the howls that cluttered their nightmares. Drastically speaking of course. He was always their loving son during the day though. For it seemed that during those hours of light that he was most calm. In fact, they have never heard him whine or cry during the hours of day. Only those of night. At first it seemed like he was acting as a normal babe would, though once it became an occurring thing over the years, his parents soon began to think he was faltered in some way. During his childhood, they could here screams and wails coming from his dark room. When asked he refused the nightlight. It seemed that whatever was happening to him at night didn't bother him much.
The man and his wife decided to reach out to the church to get further help for their son, not knowing that this would only start his true story. In fact the story of the
WOLF INSIDE
, was the first notion of his legend. Though it seemed that it was due to his own psychosis that the story involves him turning into a wolf. Through actually believing that he was a creature of devilish intent, he actually mustered up the monstrous strength needed to slay the people in the church. No one knows why he also killed his parents, but they do know that afterwards, no one had seen the boy, ever again.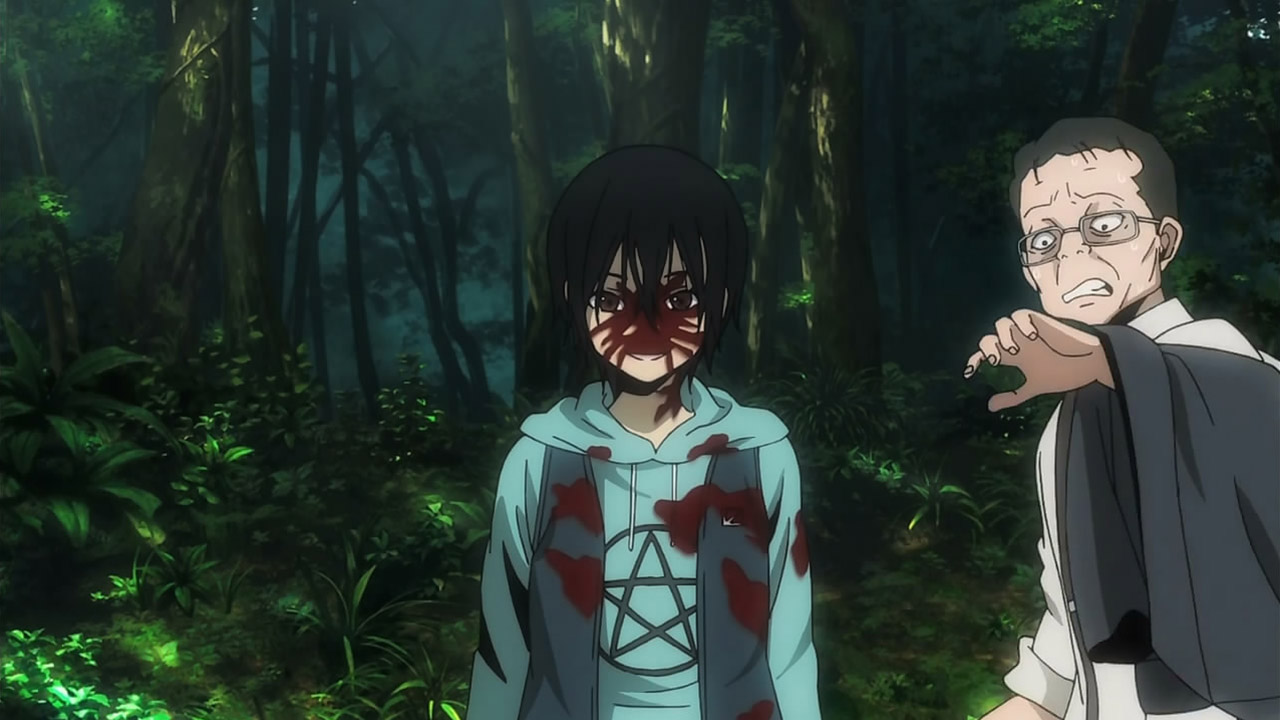 At least until the story tells. Where people from town were ordered to hunt and capture him. According to the story, he was slain that day. Though if he was, how did his story continue. It was all actually a lie. Fabricated through one man and told unto the next. As you would expect from this lie, it came back to haunt a mass number of people. For the boy had been working. Working on sharing his "gift" with the world. Now from this one story, a mass number of humanoid wolf stories form. Even in the supposed place he died, there could be found numerous tales of numerous wolves. All on hind legs. The true beast known as humans being shown for who they really were. That town is no longer heard of. Therefore his birthplace will be forever forgotten.
However, he will never be a lost memory. He was much too loud with his actions for that. Still just beginning his growth, the boy wasn't born evil. No. Not in the slightest degree. Though he killed his parents for putting him through that scary ceremony in the church known as an exorcism, he had no ill intent against them. It was the beast inside. He had no control. So the following years, he began to gain control. With control however, came the knowledge of his true power. A power which he started off using for good.
There is a tale that said there were
No Wolves in the Stillwood
. His new location at the time. The reasoning behind this was none other than one man who had killed off most of the wolves. He thought that because he managed to stop before those wolves became extinct, he was actually giving respect to the dead wolves who made him filthy rich. Right there, that logic, it baffled the boy. How can someone kill any living thing, and get rich off of it. What type of disrespect were humans capable of. It drew many questions. These humans who walk around and act innocent. They turn a blind eye to the hurt and pain of anyone else who isn't human. That...That wasn't right. So, he imagined the wolves. He imagined how they must have been hungry without a pack of their own to help them hunt food. He looked for these remaining wolves and tried to reach out to them. It went just about as well as you would think. Of course the wolves were thin. They were also scarce in numbers. Maybe two or three here and there. It was a miracle that they were even alive. So weak that they couldn't even keep up with the small animals they once fed on, and it could have been tricks being played on in his head, but the boy could have sworn the wolves were begging him for help. They wanted to eat and live and he was the only one who could help them. He was part wolf so it was only right for him to help them right? The humans who killed them off and put them into that position for their survival. Well now it was time for the wolves to use humans for their survival. It was easier done than he would've thought. The humans didn't even blame it on him and the wolves when their family, pets, and whatever the wolves felt like taking went missing. Sure people died, but who were you going to blame without any wolves in Stillwood?
Though his rage wasn't fed, even with saving the wolves. There was one man who was still in his way. One man who actually knew that there were actually wolves in Stillwood. So, whenever you here the story of
The White Wolf
. This is the tale from his history that defined him. Of course one of his wolves took whatever they wanted from the wrong place, but it was all part of his plan. The man did exactly as he was thought to do. He said he wouldn't kill another wolf, but because of a cow, he had decided to break that promise. It was disgusting to see how fast he changed his script. The boy himself went to the mans house that night, along with his wolf, the one that use to be hungry. The one that he fed. The one that was now stronger. The boy walked the wolf through the means of the trap. It was actually as if the wolf was his pet and just along for the ride. The man didn't expect that he was actually the one who was being hunted this time around. The boy had told him that it was because of his own sins against the wolves that things had turned out the way they were this present day. Yes. All the missing people and animals. All of the death. It wouldn't have been possible without the man and his killing of the wolves. The boy didn't exactly know how fragile a human mind was at the time, but his charisma and way of talking, weighed heavy on the man. The same man who already felt sorry for the wolves. Now he felt sorry for himself. By letting his guard down, the boy unleashed the white vengeful wolf onto the murderer of his kind and forever disappeared from the area.
More time passed and now the boy tested out how to break humans as he broke the man. Though it seemed most humans were harder to break than the man. One could say he was already broken. So, the boy did what anyone would do. He targeted loners. People who cut themselves off from the world, but still you wouldn't suspect to harm others. After a few test with them, he came up with an overall display of human madness. The thesis being, "All humans are capable of great evil." Yeah. They just needed a push. A push was what he was going to give in his project that he named,
The Big Bad Wolf
. The name and definition should be clear. The basis of it is, like a were-wolf changes people into a beast themselves, by making it symbolic any type of madman should be able to do the same thing. Including him. He had done it before, he just needed to do it again. So, skulking in on a man who seemed to love a girl from across the street. Though the girl didn't know him, he was going to get his chance to be with her. Oh yes, the boy talked this guy into thinking that all he had to do was go in there. The girl would comply if she came close to death. He even bit the man with the guarantee that his disease would spread, and, if you read the story, you know what ends up happening. The girl did better than he had expected. She turned into a complete masochist. A devilishly dangerous one. Yes. The man passed on his madness to her. No. The boy had passed on madness to them both. It was the most heart rushing thing to know that you had that type of power. He was the Big bad wolf. He was the changer. The controller.
A bite. Something so simple and brain altering. Maybe there was no actual power in it, but it felt good to bite people and be bit yourself. So good.
How we finally caught this kid was something actually unexpected. It was probably the only instance where he had messed up a calculation and also the only instance where a wolf or at least an actual one by named wasn't involved.
You ever heard of the
Smile Dog
? Maybe you haven't. It's in our files too. Like all the stories. Though this one isn't as majorly complicated as the rest. Though he seemed to be involved. Yeah. He made small talk with a boy his age showing him a picture of the dog and telling him some scary story behind it. It was something so simple, but all seeds of destruction start off that way.
He monitored the boy and saw that something had changed about him. He was just a little scared of it, but had talked about the story with others. Nothing major yet. It even went viral. It wasn't quite the reaction that the boy wanted from it. Though, he loved that more people were interested by the day. Though it seemed the kid he told didn't want to let others know about it after awhile. Maybe he got tired of it, who knows? Who cared? The only thing the boy cared about was what it was doing to one boy who seemed to have a mental history of sorts. Within days he was commissioned to a hospital because of it. So interesting he was, the boy had to see him, though it seemed the kid was seeing the dog everywhere. Even when looking at the boy. We still don't know why the boy bit the kids through out. We don't even know how the bite mark resembled a dogs. Though, something we do know, is that the boy made a mistake that day. Giving his face to the cameras and his saliva to the doctors. He was caught almost instantly.
Bart B. Wolf. If that's even his real name. He will be reformed, and he will become a normal kid again. Not some wolf.
Orientation:English and Iranian
Crush: TBA
Favorite Food:Nothing taste better than human flesh. Though he never ate enough of it to get full.
Are you taking your medication as required?: Yes, for the time being.