Fast Food Mafia
A serious, satirical role play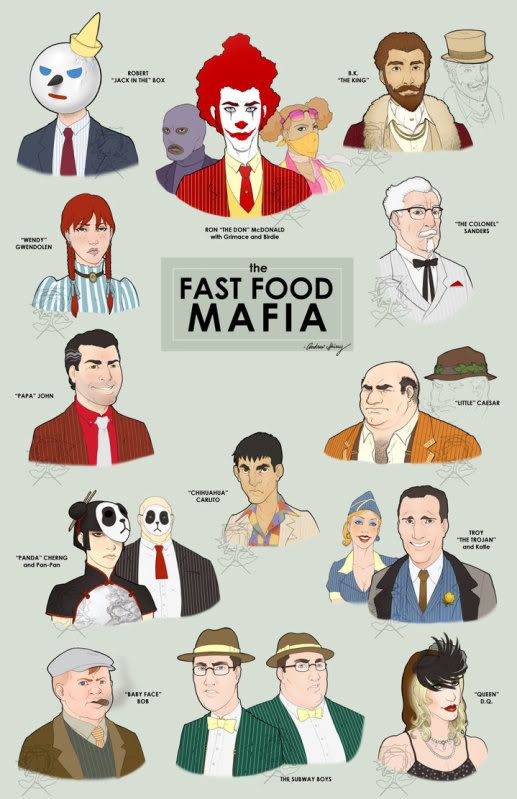 The Idea
I was joking with some friends, and I remembered I saw a picture on DeviantArt that fit this idea. Because this idea seemed "different," and funny. I decided to make an RP based on it since we see these businesses everywhere we go. This RP is going to play out serious, but there will be elements of comedy. So if you think you're interested just by gazing at the picture, keep on reading.
The Story
The Fast Food Mafias have been fighting and guarding the ghettos of the world. Some of them have even made it into towns, cities, and international countries. The battle for territory has gone as far as lawsuits, black mail, and bloody war. In the end, there is one mafia that still reigns supreme, and that's McDonalds.
Ronald "The Don" McDonald has managed to fight off every rival that has dared to face him over the years, until one day, a new enemy invaded the territories of the Fast Food Mafias. The way it dealt business was frightening. It won the ghettoes and spread into towns within weeks. Customers influenced by the Go-Green trend were now buying organic produce and other groceries at
low-prices
. The menace was none other than: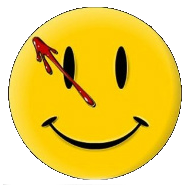 Walmart…
The Fast Food Mafia's businesses were dwindling and soon their territories were being overrun by smiley-faced gang bangers. The weaker mafias were perishing and although the more formidable businesses were pleased with the results, they feared that the corporation would soon grow to be too powerful.
A meeting was called, forcing the Fast-Food Mafias to set aside their disputes. They would need to unite if they wanted to destroy Walmart and once again reclaim their territory.
The Characters/Mafias
McDonalds
Ronald McDonald
Grimace
Hamburglar
Birdie
NPC Minions
Jack in the Box
B. K. "The King"
The Colonel
Wendy
Papa John
Little Caesar
Taco Bell
Dairy Queen
Chik-fil-a
The list goes on.
You will select one of these businesses and make a character off of it if one isn't a given. Your character must maintain their mascot-look. However, for example, if you chose "Chik-fil-a" and wanted the character to be a cow, they don't have to actually be a cow, but they can if you want. This is supposed to fun, silly, yet serious for laughs, so use your imagination and have fun with it. Players can choose to work under the same business as another player as a hitman, collector, etc. You are also welcome to create minions for your gang.
Weapons
The weapons in this game are going to be products of the business you chose. For example, McDonalds will have burger bombs and fry guns, but they hurt just like actual weapons despite them resembling food. Papa John may throw pizzas that explode or are as sharp as knives. Again, be creative. They can be modeled after actual weapons, but they must be silly.
Character Sheet
Code: Select all

[b]Name[/b]:
[b]Alias[/b]: A nickname or known name.
[b]Age[/b]:
[b]Gender[/b]:
[b]Height[/b]:
[b]Weight[/b]:
[b]Basic Appearance[/b]: This is where you can write what isn't seen in your visual. Also, if you can't find a visual for your character, then you can just have a written description.
[b]Visual Appearance[/b]: This is not a necessity. If you find one, then you do. If you don't, it's quite all right.
[b]Business[/b]: What mafia is your character from?
[b]Occupation[/b]: What is your character's occupation in that mafia?
[b]Basic Personality[/b]:
[b]Weapons[/b]:
[b]Current Story[/b]: What have they been doing all this time and what is their current story? What do they hope to achieve?
Rules

1. Do not OOC in the IC. OOC in the OOC please. No OOC bubbles please.
2. Be sure to post in the correct area. There may be several places being created as the story line progresses.
3. Fill out your profile. I do not want a five second profile. Take your time and fill it out or I won't accept you.
4. Reserve. Be sure to reserve the character you want. If you don't, then someone might take it.
5. Respect the players around you. If there's a problem, please bring it to me, I'll handle it. If it escalates, then we can simply request Moderator Assistance.
6. This RP is supposed to be fun. So have fun. I can only do so much as a GM. You the player can only make this game fun for you.
7. Communication. Please, please, please let me know if you're going to be absent. Let me know if you're going on vacation, if you don't feel like posting, etc. Just keep us in the know. Do not just disappear. If you are going to be gone for a long duration, you can let me know and I can make arrangements that will allow you to return and resume the game.
8. Posting. The story line will not move forward unless I the GM move it forward. I will be controlling the events. So if nothing is going on, then interact with other characters and just do something. Do not try and go ahead of everyone.
9. You are only allowed to post up to three times a day. This is to make sure the RP isn't going too fast for we all have lives and don't have time to be posting every 10 mins.
10. Grammar, Spelling, Description, & Detail. The basics of writing. Please use them. Use a spell check. Your writing can affect the game and how other players view you. So if you make an effort, and at least try, that is good enough.
11. 200 words minimum. No one-lining. I do not like one-lining. I don't think there will be anything in this RP that will influence someone to one-line. If you find yourself tired or not in the mood to post, if you can't think of anything to post, then don't post. Do not post for the hell of it. I guarantee if you do that, your post will be crap and you'll kill your mood. It's self-defeating. If you're stumped, talk in the OOC. Ask your peers for help. They may give you some ideas.
12. Have fun. This is supposed to be fun, silly, and serious to a point. Let's have a dramaless game.
Taking place in...
6 posts here • Page 1 of 1
6 posts here • Page 1 of 1
Arcs are bundles of posts that you can organize on your own. They're useful for telling a story that might span long periods of time or space.
There are no arcs in this roleplay.
There are no quests in this roleplay.
Here's the current leaderboard.
There are no groups in this roleplay!
Welcome home, Promethean. Here, you can manage your universe.
Arcs are bundles of posts from any location, allowing you to easily capture sub-plots which might be spread out across multiple locations.
You can create Quests with various rewards, encouraging your players to engage with specific plot lines.
Settings are the backdrop for the characters in your universe, giving meaning and context to their existence. By creating a number of well-written locations, you can organize your universe into areas and regions.
Navigation
While not required, locations can be organized onto a map. More information soon!
There are no groups in this roleplay!
By creating Collectibles, you can reward your players with unique items that accentuate their character sheets.
Once an Item has been created, it can be spawned in the IC using /spawn Item Name (case-sensitive, as usual) — this can be followed with /take Item Name to retrieve the item into the current character's inventory.
Give your Universe life by adding a Mob, which are auto-replenishing NPCs your players can interact with. Useful for some quick hack-and-slash fun!
Mobs can be automated spawns, like rats and bats, or full-on NPCs complete with conversation menus. Use them to enhance your player experience!
Current Mobs
No mobs have been created yet.
Locations where Mobs and Items might appear.
You can schedule events for your players to create notifications and schedule times for everyone to plan around.
Add and remove other people from your Universe.
Orphanage
By marking a character as abandoned, you can offer them to your players as pre-made character sheets.
Head of the Docks Dealers and allied with the A&W's family.
The Forge
Use your INK to craft new artifacts in Fast Food Mafia Wars. Once created, Items cannot be changed, but they can be bought and sold in the marketplace.
Notable Items
No items have been created yet!
The Market
Buy, sell, and even craft your own items in this universe.
Market Data

Market conditions are unknown. Use caution when trading.

Quick Buy (Items Most Recently Listed for Sale)
None
Discussions
Most recent OOC posts in Fast Food Mafia Wars