---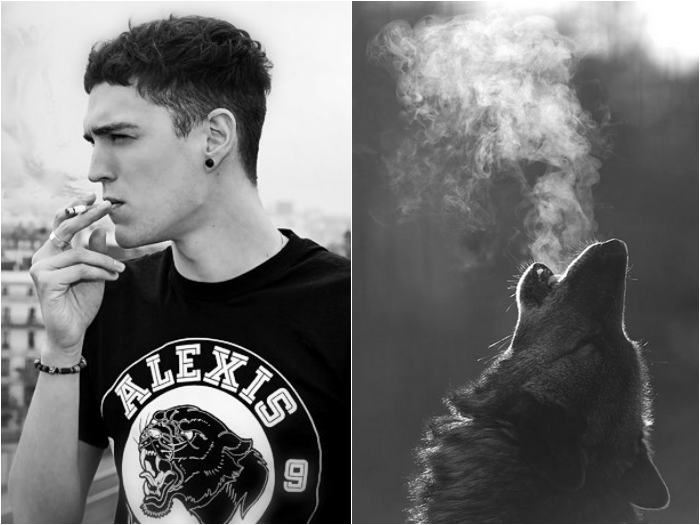 "Demons" || Imagine Dragons
|| "And she screamed, your selfishness has robbed you of the man you could have been." ||
---
|Name|
Travis Jeffrey Mercer
|Nickname(s)|
Mutt, Trav, Travesty, TJ, take you're pick.
|Gender|
Battle of the Bulge
|Birthdate|
February 12, 1992
|Race|
Loup-Garou, aka the Werewolf
|Role|
Boy Numero Uno
---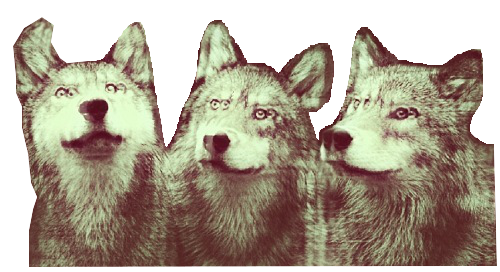 |Eye Color|
A set of stormy grey optics just so happen to be one of the few distinct human traits he retains during the change.
|Hair Color|
Black and unkempt. The top remains shaggy with some slight curls while the sides are kept shaved nice n' short. His fur is the same shrouded color, albeit much longer and much thicker.
|Body Type|
Lithe and athletic, this youthful Were tends to favor agility and dexterity over brute force - his frame both naturally or otherwise is built to suit his preferred style of movement.
|Standard Dress-up Attire|
Fitted jeans, band t-shirts, colored hoodies, and canvas sneakers - though, he goes through clothes quicker than he'd like to admit, given his circumstances. He's probably naked about as often as he's fully dressed.
|Height & Weight|
6ft 3inches & 174lbs - give or take. Any other calculations regarding size are hazy at best, you'll have to settle for the visual aid of 'Wolf-Bear' and make whatever assumptions you will from that.
|Birthmarks, Tattoos, and Scars|
Crashed his bike into a barbed wire fence as a kid, thus his hands are littered with tiny little white flecks of old scars. His left arm sports a colorful tattoo sleeve, and a few other ink designs are speckled about his back, hands and chest. Otherwise, mucking about as a wild animal tends to earn you some pretty mean physical souvenirs, and Travis hasn't the mind to really keep track of which ones are old and which ones are still healing.
---
|Brief Description|


At a glance, Travis is rather average looking to the unobservant person. He's slightly above average height, average semi athletic build, an he's got an average, if not occasionally scruffy face. There's definitely something intimidating about him though, or maybe several somethings. For one thing, his stormy grey eyes are naturally narrow giving a dagger effect, which adds to his already intense stare. For another, his stance and expression always have a predatory undercurrent, even if he appears to be completely relaxed. Much like a lion will appear at ease right before it pounces and sinks its teeth into your throat. With a set of expressive brows, you're more likely to figure out what he's thinking by observing his wide variety of hand gestures, body language, and mannerisms than anything else. Ultimately, the boy's pale skin and untamed raven colored locks complete the picture of the average looking but not so average male.



|Personality|


Travis is a bit of a contradiction, not only being two-natured in the sense that he quite literally has has two distinct forms, but in other ways as well. For instance, he's the kind of guy that may seem relaxed and lazy, but it would also be obvious to a perceptive person that he's alert and ready to act. Impish, he likes to pretend that he's rude and snarky at times, but then he'll readily do things for you if you ask. He moves like he has all day to do something, seeming lethargic and unmotivated but when it really counts, he's frighteningly fast. No warning, no hesitation, when action needs to be taken, he goes for it. His humor is dry and sarcastic in such a subtle way that it's hard to pick up on unless you've been exposed to it a couple of times. His humorous comments come with a completely straight face, and no matter how absurd some of them may seem, it's hard to discern if he's really joking, unless you're just good at that kind of thing. He's confident, even arrogant sometimes, but doesn't have much pride, though he likes to pretend he does.
---
|Likes|
✔ Thunder Storms
✔ Morning Runs
✔ Spontaneity
✔ Fantasy/Fiction Novels
✔ Sketching
✔ Bets/Dares
|Dislikes|
✘ Shitty Horror Flicks
✘ Rap Music
✘ Being Cooped up
✘ Lies/Liars
✘ Bad Hygiene
✘ Goody-Two-Shoes
|Strengths|
Fierce, Loyal, Brave, Protective, Agile, Clever.
|Weaknesses|
Stubborn, Impulsive, Brash, Hot-Headed, Judgemental, Sarcastic.
|Fears|
Drowning - fell through the ice skating a few years back. || Hospitals - aka being experimented on like some sort of freak of nature. || Fires - they strike a cord that make him anxious and irritable.
---




|Family/Relationships|


Father - James Mercer || Expired || Former FireFighter, and small time business owner.
Mother - Anastasia Mercer || Living || Housewife, late night waitress, addict.
Sister - Delilah Mercer || Living || Elementary school student, dog-lover.
Best Friend - Tess Riley || Living || Ex-Girlfriend, long time friends, distraction.
Best Friend - Simon Marshall || Living || Best mate, long time friend, lookout.

- - - - - - - - - - - - -

Alpha - Jackson Perry || Living || Owner of 'Perry's Hardware'.
Beta - Miashell Donahue|| Living || Jackson's Wife, and life-long mate.
Delta - Sean Pry || Living || Firefighter, family friend, and would-be-father figure.
Gamma - Vince Lawler || Living || Perry's Employee, son-of-a-bitch.
Gamma - Lara Deveroux || Living || College student, Camp Counselor, Travis' crush.
Omega - David Hansen || Living || Highschool Dropout, newly changed, thought to be 'Missing'.




|History|


Born to more-functional-than-most parents, Travis' childhood was relatively bland and uneventful. He was your average shithead little kid, who got into your not-so-average shithead kinds of trouble. It wasn't really until fifth grade that life at the Mercer household went a little haywire. He remembers it well, hearing his name being called in during the middle of recess. He was pretty dicked off about it too, but begrudgingly little Travis obliged and trotted inside. There, in the principal's office, the one with red wall paper and slick white tiled floors, was where he heard the news. Mom was there holding back tears, and all the teachers had 'the look' smeared across their faces. The one that blatantly meant something bad had happened, and boy was that the understatement of the year. As it were, one of the old mill's down the road had had a fire, and dad was on duty. Funny too, he even remembered hearing the sirens during class but hadn't thought much of it as kids tend not to do. Regardless, he was told that something in the building had collapsed, and that his father had been killed. It wasn't until years later (when his mom was on one of her valium highs) that he learned that his father's legs had been crushed, and instead of some painless death, he'd been trapped. Still that day, little Travis didn't just stand around. Refusing to believe the story, he turned and ran. Ran out of the building, down the road and towards the mill where one of his father's colleagues Sean snagged 'em by the jacket while he screamed and hollered. Long(er) story short, Miashell Mercer fell into a bit of a funk. She took to sleep aids and anti-depressants, eventually getting hooked on the stuff. During this lovely time, Travis enjoyed puberty sans a father figure.

Hitting the well-known rebellious stage at full speed, he wasn't exactly happy when mom met 'Frank' and got pregnant with his younger sister. Delilah was born about the time he entered high school, and starting dating long time diaper buddy Tess. Ever the enabler, Tess helped fueled Travis' angst streak and together, along with Simon - they became rather adept at running mediocre cons. Small time shoplifting, pickpocketing, and theft became commonplace. Skipping class was easy, but avoiding a doped up mother was child's play - and thus, Travis and crew were known to fall off of the grid here and there whilst up to their typical shenanigans. It just so happens that on one of these late night excursions, the three muska-fuck-ups had a little run it with the local werewolf pack. (Who knew?) Bitten, dazed, and confused Travis couldn't figure out how or why he'd woken up at Sean's house. The man, who'd been distant ever since the accident, was nothing if not tense. He explained the whole 'werewolf' story and Travis could only laugh at him in disbelief. When the full moon came around a couple weeks later however, he was certainly howling a different tune. Having since been initiated into the pack, Sean's been helping him and his family out more than usual. Almost like old times, he now visits both Anastasia and Delilah and as a result, Mrs. Mercer's down and out status has been on the rise. However, six months or so in, and there's talk of other 'Supernaturals'. Witches, Warlocks, Angels, and Shifters - oh my! Apparently due to some conflict, he and another member of the pack were on patrol duty and had to go scout out the surrounding area for intel. Not really up to speed on what the hell that meant, Travis veered off track, following the scent of something he couldn't quite place. He'd been told to be careful, but it was dark and foggy and as a result a false sense of confidence had him sniffing around some back yard with herbs, and plants he'd never seen before. Needless to say it was much to his surprise when the home's inhabitants came at him wielding words instead of weaponry. Next thing he knew - he was locked in a basement.



|Other|


Travis' skin is warm, and almost always running a fever. This is due to the fact that his body's internal functions work in irregular ways compared to most pre-pubescent men. The excess heat aids his muscles with the change, and it also coincidentally gives him a really high metabolism.
---