I feel no emotion.
Everything bottled up inside.
I feel no emotion.
But on one special day I cry.
When that date comes near.
The pain is to much
for me to endure.
I cry and hide,
Sheild myself away.
So that someday,
The pain will go away.
I feel no emotion.
But on that dreadful day.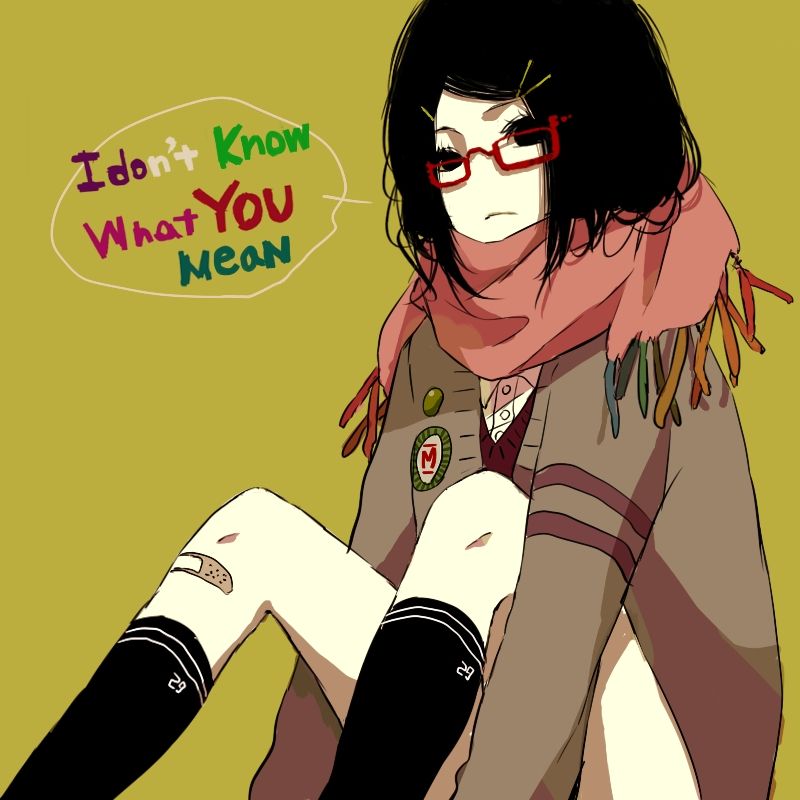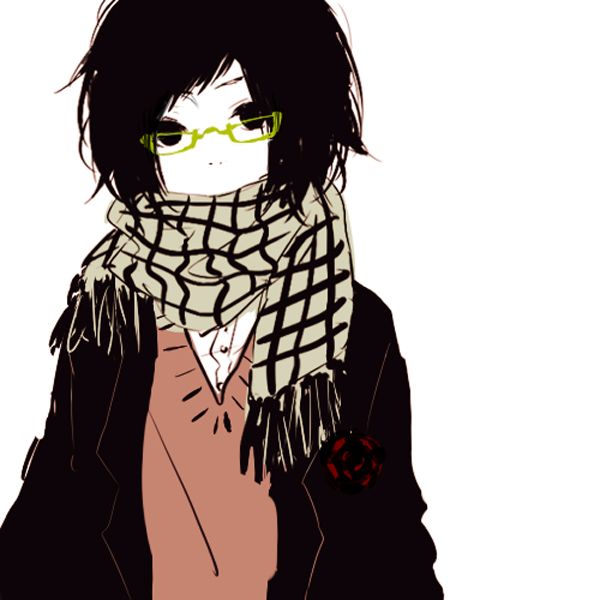 Name:
Eve Erimentha
Meaning: Life, Collector Of Thoughts

Appearance:
Eve has short scruffy black hair that doesn't even reach her shoulders. Sometimes she will put a few pins in her hair if it starts to get in her eyes. Her eyes appear to be a coal black from a distance, but really they are just dark brown. Covering her eyes are glasses (which she has more than one color of.)

Eve wears a scarf everyday no matter the weather, and usually wears clothes that tend to be on the baggy said as well as mismatching. The only thing she cares about is if the clothes are comfortable or not. Eve also has many small scars from falling all the time.

Eve stands about 5 feet 1 inches which is tall for her family. Her build is pretty skinny, and she doesn't have any noticeable muscles.

Theme Song: WIP

Age:
16

Role:
Girl 1

Race:
Human

Gender:
Female
Personality:
Eve really doesn't feel any real significant emotions most of the time. She just thinks they are troublesome, and annoying so she just bottles them up and stores them away. She is really quiet and collected.
In truth Eve can get a little crazy sometimes. It only happens when someone annoys her, or tries to hit on her when she barley knows them. For example if a weirdo comes along that Eve doesn't even know and they start hitting on her this is what would probably happen...
Guy: "Hey there your kind of cute."
Eve's head whips around giving the guy a horrified look. "What did you say." She whispers darkly her eyes growing with anger along with her brows creasing.
Guy:"Umm your cute." He says with a slightly timid voice.
Eve starts to breath heavily, and starts screaming. Her face in utter rage as she lunges for him her nails aiming for the guys eyes.
So that's just a little preview of what will happen if a guy is creepy toward Eve.
Likes:
+Her computer
+Vanilla Scents
+Scarves
+Arizona drinks
Dislikes:
-Guys hitting on her
-Having Long hair
-Mexican Food
-Slow internet
History:
Eve for apart of her life was stuck in a mental home because of her freak outs. Her parents thought she just had anger management issue, but one day she hospitalized a boy for asking her to the dance. They had to go to court to debate on whether or not she would go to juvenile hall, or the mental home. Lucky for her it was the mental home because they actually had internet there.
Eve was surprisingly happy in the mental home. They taught her how to somewhat contain her emotions, and rethink a situation. Sure she got drugged up a bit, but at least she had her own room with her own laptop. Eve was given a private tutor, and she had a lot of free time to do whatever she wished.
In her free time Eve developed a best friend named Claire. They did almost everything together for about a year. Later on Eve found out that Claire was bipolar, and at first she didn't think much of it. But then later Claire got depressed, and stopped coming out of her room. Eve thought it would pass, but it never did. A month later Claire has committed suicide alone in her room. That took a big blow on Eve cause' she thought it was her fault for not helping Claire in her time of need.
About six months later Eve had gotten to go home, but as soon has she started walking out of the mental homes door she was sucked through the portal.