"Here is a riddle for you..."
In daytime I lie pooled about, At night I cloak like a mist.
I creep inside shut boxes and Inside your tightened fist.
You see me best when you can't see, For I do not exist.
~Darkness~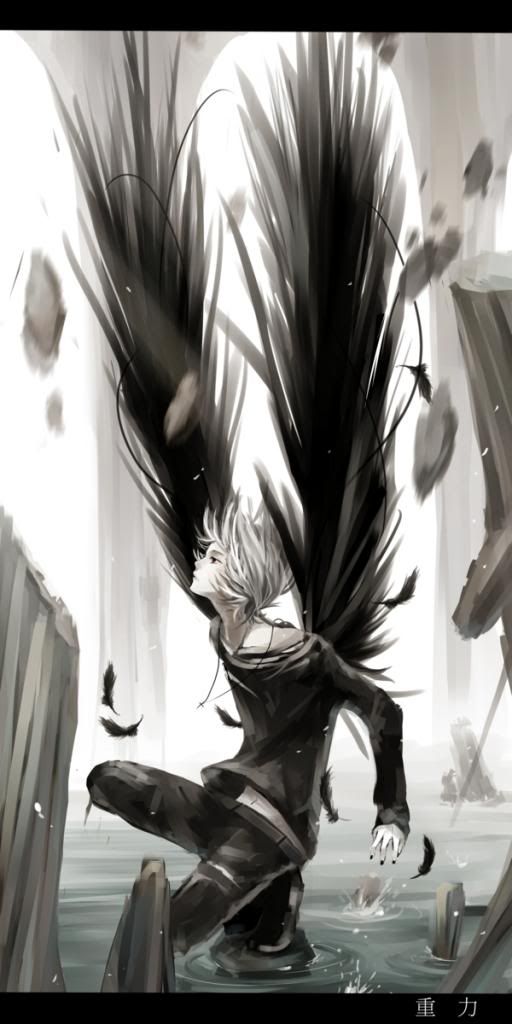 Name:
Nell Ohanzee
Meaning: Light, Shadow

Appearance:
Nell has layered silky white hair that falls to his shoulders. Almost matching his hair Nell is extremely pale do to lack of vitamin D, but at least that makes his skin very smooth.

Nell stands about six feet tall, and has a lean build that is weaved with muscles.

Nell has memorizing light blue eyes that stand out well on his pale face. Along the bridge of his nose, and under his eyes he has blue markings that almost match the color of his eyes.

Nell has soft black wings that span 6 feet each, and are very bothersome to tend to. He also has black curved horns.

Theme Song: WIP

Age:
19

Role:
Boy 5

Race:
Hybrid

Gender:
Male

Personality:
Nell is what I call silent but deadly. (Joke intended) He walks very quietly, and will often scare people. He is also known to tease someone to the breaking point, and will be very clingy to his prey. Most people find Nell intimidating, and so they tend to be on edge in his presence. Though his light appearance Nell's aura is dark and mischievous. Usually he is overly happy on the outside, and when he is mad he will have a to big of smile on his face. Nell has three brothers in his family he is the middle one, and people have come to label him as the 'creepy one' when talking about him.

When it comes to a love life Nell has had many girlfriends. Most of them are dumped within one week. Nell see's girlfriends as a teasing toy, and when that toy becomes uninteresting it gets thrown away. Most people feel guilty about breaking up with someone, but Nell doesn't mind it because most of the girls he dates just like him for his money. And now that the humans arrived he see's them as very interesting creatures.

Nell is also might I add VERY selfish towards others. He could not share to save his life.

Likes:
+Teasing
+Ice cold baths
+Tea
+Bitter Candy
+Blue
+Water

Dislikes:
-Hot Spaces
-Anything to sweet
-Shiny Objects
-Fire

History:
Nell grew up in a family with three brothers, and two overly loving parents. His parents often treat him like he's a little kid, and will pamper him. Nell thinks it's EXTREMELY embarrassing in front of other people. Over the years of being overly cared for Nell had grown spoiled and a bit of a brat. He has never shared anything in his whole life. Even as a toddler when another brother started playing with his toy he'd kick them until they gave it back. Nell would have everything from girls to amazing food within a matter of minutes if he wished for it. He's brothers were also fairly spoiled as well, but not nearly as much as him.

When the human girl first appeared Nell had his whole room redecorated, from furniture to carpet and wall color. Plus he sent butlers to pick up information on what the girls liked. Right now his heart is set on the throne.

Powers:
Nell has the ability to manipulate water. But it has to be already there. For example if there is humidity in the air he is able to draw the water out of and use it as he wishes.