Boredom: The birthplace of insanity.
Fate, that giant being who lives on a whole different plane of dimension, it's purpose for existence truly is for nothing. It created humans and the life that is now seen on Earth out of sheer boredom. The only reason life was created by Fate's lucky guess at using Chaos to create the lovely creatures that evolved into modern day specimens. The intricate human body and its intense emotions were all to entertain Fate. Although, Fate eventually started to get bored with the day to day, average one-souled-people. Fate has lived forever which has caused her to have some form of dementia. She has no stable form or personality, her emotions are wild and can cause horrific things to occur or wondrous things.
Fate often grows bored of her new creations fairly quickly, so she adds more and more new ones. They tend to have both similarities and differences with other species. Personally, her favorite specie were humans, they entertained her the longest(a few thousand years). She can enter their dreams and give them hints of a idea they may later on use to invent something life changing. She has toyed around with the idea of making a human vessel that Fate can enter and interact with the living while still be in the other dimension. It wasn't until she created demons did she decide to create the body. Oh the wonderful things Fate is going to do on Earth.
Fate-
Unmei Kanjō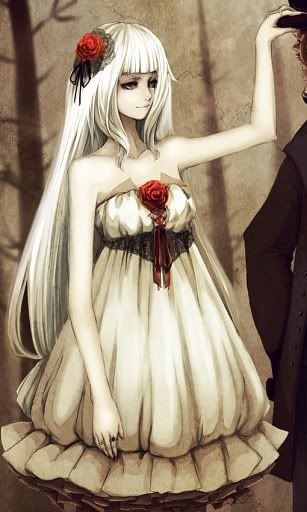 With Fate's lovely ability to manipulate Chaos matter into these abstract concepts known as "souls", she was able to pour five, very different souls into one body, a female, although, not all the souls are meant for a female body. Some were originally planned to be put into feline bodies or gangly, skinny bodies or muscular, giant bodies, instead they all ended up in female with albinism. Simply to cause more problems for the human.
Ever since the human was born, the souls split up the amount of time each had to interact with the outside world. While the soul wasn't in complete control of the body, they lived inside her head and had an image of what they would have looked like had they been placed in their proper bodies.They laughed and argued, becoming very close to each other, creating strong bonds. They created a building within their host's mind to "live" in when it wasn't their turn to have control over the body. This building resembles much like an apartment complex, each soul is able to live in their own sort of apartment. With furnishings that were created from using the left over Chaos in their body. This setting is never stable and often changes depending on how the souls feel. They can even make it rain or snow if one of them chose for it to happen. When they don't have control over the body, they don't need to eat or drink anything. They can bring things from the real world into the mind as long as they have seen it. They have quite a bit of control over their environment inside the mind, unlike in the outside world.
This harmonious arrangement continued until the human was 16. Until the 5th soul. . .started to "change" forming the personality it would carry for the rest of it's life and many lives after that, souls end up many different physical bodies. After the 5th went through it's final transformation, it began to plan. The demise of the other souls, so it wouldn't have to share, like any sensible soul would do.
Perhaps if they ever met Fate in real life and knew who she was, they would be able to convince her to give them their own bodies and let them live normal lives. But they don't know she has a body of her own now.
Soul 1-This soul is the original soul for the albino human.
Mara Orianna
Soul 2-You may come up with anything.
Ian
Soul 3-Will get killed by soul 5 so it is a minor character.
Azalea
Soul 4-You can do whatever with this one.
Crimson Grey
Soul 5-Becomes psychotic and attempts to destroy all of the other souls.
Azryel
Along with this multi-souled human, Fate created inky nothing, containing a faint resemblances of a human silhouette, to knock humans down a level on the food chain they've sat upon for many centuries. These creatures are referred as demons by the humans, even though their intent isn't necessarily "evil", the only way for them to survive is to devour humans. They've been around as long as the five-souled human, humanity has attempted to create weapons in order to protect themselves, but so far the only, useable weapon against them are UV rays. Walls do keep the creatures out so as long as humans aren't out at night they won't be attacked. These walls only keep demons out if humans are in them and live in them. The demon would have to be touching a human who lived in that particular house in order to enter it.
These demons have as many intense emotions as humans and have the same brain capacity as humans. They are often views as monsters because they have to kill one human a month in order to keep for completely disintegrating. Demons live off of the soul's energy it emits when leaving its physical body. They also gain the memories of the soul they release. Other than the energy, they don't have to eat or drink, demons get all the sicknesses humans contract, but can't die from them. They can only suffer.
The only reason humans don't know what a demon truly looks like is because they are all petrified of light, unfortunately for them, humans don't realize they are exactly like them because of their inability to see demons in the dark. Humans often act hostile towards demons because the killings and they often search for them during the day and lock demons up in prison or labs. The demons who end up in this situation normally disintegrate.
The only way for a demon to reproduce is with a human, so birth ratings are extremely low what with how much humans fear and despise them.
Demon 1-Has never spoken to a human before and is terrible frightened of them.
Ayumi Mikai
Demon 2-Very curious about the creatures of light, has attempted to overcome their fear of light.
Minoru Sato
Demon 3-Simply wants to survive.
Taken by Cayleen
Demon 4-Escaped from prison after humans had thrown the demon in, despises humans.
Malice
Demon 5-Falls in love with human 3.
Voltain Stoneheart
There can be more demons if these roles are filled up.
Human 1-Has been friends with the human with five souls.
Human 2-Who is this human? Why does the person know so much about, well, everything. This genius is also very manipulative and hates humans, the human is trying to genetically become a demon. Weird huh?
Human 3-An aspiring artist who falls in love with a demon.
Muryo Atisuto
Code: Select all

[right][color=#YOUR HEX CODE][size=150]FULL NAME HERE[/color][/size]
[img]DIRECT IMAGE URL HERE[/img][/right]
[b]Species/Role[/b]

(Soul1-5/Demon1-3)

[b]Gender[/b]



[b]Age[/b]



[b]Appearance[/b]

(Written please~)

[b]Personality[/b]

(No 2D characters)

[b]Skills[/b]



[b]Phobias[/b]



[b]Bad Habits[/b]



[b]Likes[/b]



[b]Dislikes[/b]



[b]Goals[/b]



[b]How they view souls/demons[/b]



[b]What they think of how their lives have been[/b]



[b]Other Important Details[/b]

~No god-moding
~PG-15 (due to death and cursing)
~300 words per post
~No arguing in the ooc tab and please keep all the ooc's in that tab
~Have well thought out characters
~Reservations last for 72 hours
Taking place in...
Arcs are bundles of posts that you can organize on your own. They're useful for telling a story that might span long periods of time or space.
There are no arcs in this roleplay.
There are no quests in this roleplay.
Here's the current leaderboard.
There are no groups in this roleplay!
Welcome home, Promethean. Here, you can manage your universe.
Arcs are bundles of posts from any location, allowing you to easily capture sub-plots which might be spread out across multiple locations.
You can create Quests with various rewards, encouraging your players to engage with specific plot lines.
Settings are the backdrop for the characters in your universe, giving meaning and context to their existence. By creating a number of well-written locations, you can organize your universe into areas and regions.
Navigation
While not required, locations can be organized onto a map. More information soon!
There are no groups in this roleplay!
By creating Collectibles, you can reward your players with unique items that accentuate their character sheets.
Once an Item has been created, it can be spawned in the IC using /spawn Item Name (case-sensitive, as usual) — this can be followed with /take Item Name to retrieve the item into the current character's inventory.
Give your Universe life by adding a Mob, which are auto-replenishing NPCs your players can interact with. Useful for some quick hack-and-slash fun!
Mobs can be automated spawns, like rats and bats, or full-on NPCs complete with conversation menus. Use them to enhance your player experience!
Current Mobs
No mobs have been created yet.
Locations where Mobs and Items might appear.
You can schedule events for your players to create notifications and schedule times for everyone to plan around.
Add and remove other people from your Universe.
The Forge
Use your INK to craft new artifacts in Fate's Boredom. Once created, Items cannot be changed, but they can be bought and sold in the marketplace.
Notable Items
No items have been created yet!
The Market
Buy, sell, and even craft your own items in this universe.
Market Data

Market conditions are unknown. Use caution when trading.

Quick Buy (Items Most Recently Listed for Sale)
Discussions
Most recent OOC posts in Fate's Boredom