Fade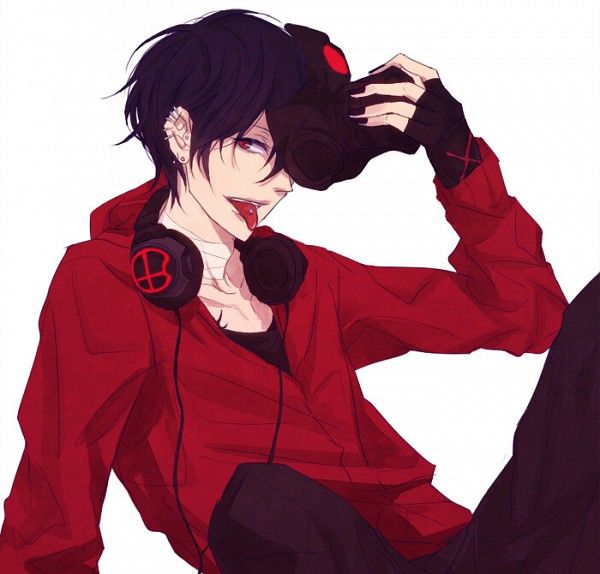 Role
Experiment 6
Age
15
"..."
Gender
Male
"Obviously.."
Number Code
9856300
"No need to memorize.. but I hate the number."
Partner
Marionette
"She is useful.. a bit... touchy"
Instructor
Twitch.
"Take care of me.."
---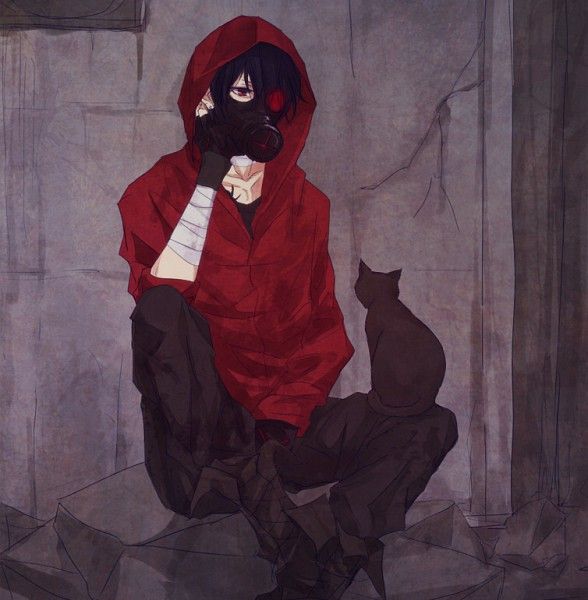 Personality
Fade usually can not be read in emotion because of his the mask that hides most of his face.. But truthfully there isnt much to read. His face rarely has a smile, usually only a worried or bored gleam in his eyes. So true to his expressions, his personality is just the same. He is considerably quiet and doesnt really do much according to many, except sit down and do strange things. But when he does take off his mask, he can be rather energetic and happy, well unless he is with a person he respects and trust. No one really. Well not now. So basically, he is quiet, expressionless, distant, and calm. Though with his friends, he is more smiley, energectic, yet still quiet. Well a little wild, and mature in a way. Cussing every once in a while.
But with his enemies.. He could be scary. He can grow dark and some say "insane" Fade isnt afraid to attack physically or mentally for he has the initiative to survive. And if you mess with those he care for, he will grow pissed. His moves are faster during his time of rage, and he lacks control, which is one of his weakness. Other then that, he can be cold hearted and doesnt mind if someone who betrays him dies. Also he usually is very smart, and will focus on survival, for instance, He plays on both sides, so that whoever wins, he will have an advantage. Which people take as cheap, but in his eye and the history he lived up too, he sees it as smart, and wise.. So basically he is looking after himself and wanting to survive, but he is also enjoys experience.
Crush/Relationship Status
TBA // Single
"Is that really important..?"
Are You Broken?
It is not sure. He appears to be with him, but he just enjoys the fun of it.
"But that's a secret...shh.."
Power
Fade is able to control the shadows, to the point of manipulating another with it. Though he never really uses it, because he doesnt see the need too. So people believe that he cant use it, or he doesn't know how too. But he does, and when he needs it, he is pro. He uses it like a puppet master, and its very hard to dodge his attacks, because he uses your shadow more then anything. Though as many think, he cant use it most times of the day, but he can. At night is his strongest time, along with sun down and sun set. With a simple flick he can do many things, and instead of offense, he could do defense as well. Along with some other things, such as personal use, and to even make a room pitch black by spreading his own shadow around. He can stretch it like rubber, and solidify it like a shield as well as camo.
"...."
Skills
[+]
Agility/Speed
[+]
His powers [Once he gets it]
[+]
Acting
[+]
Resistance/Immunity
[+]
Strength and Knowledge of fighting - Fade had experience with fighting in his past, so it comes to him naturally when to twist a neck.[/list]
Weakness
[+]
When he rages, he has lack of control and direction, so even if his strength boost, his use of intelligence lacks.
[+]
He lacks a sense of direction and grows lost easily. Not like he cares though.
[+]
Chemophobia -
the irrational fear of chemicals
[+]
Pistanthrophobia -
The fear or uncomfortable feeling to trust someone
Appearance Description
Fade appears pretty intimating and dark with his dark hair and eerie gas mask that gleams red. Though without his mask, he can be rather handsome with soft features that can appear masculine in a way. His eyes are the most noticeable, which are crimson red and narrow that can look really glaring. Although he can look strange with his worried gleam or a little sad. These two orbs are the only thing that gives off his emotions, because if you look closely, it always has a gleam. But its hard to find. So he appears emotionless.
His hair unlike his bright red eyes, is a mute black, that isn't really taken care of. Its messy, plush and curled a bit. The bangs are long so he hasent really take a hair cut, but it looks good on him. The strands fall past his hair, and the ends clings to his neck because of the grows short in the back.
Fade also has a few piercings on him. 7 on the ears, 5 hoops, and 2 studs. They have no real purpose just something he took on as a young pre-teen. He has another one on the tongue that is never really seen, unless he takes off his mask, but still rarely for he lacks speech.
For his body, he keeps fits, but with his clothing on, he looks lean and lanky. His red hoodie hides his masculine features, along with his tattoos. His black pants are rather loose, so they cling to his hip bone, and show tips of his tattoo which is on his hip bone. His two tattoos is lines of flames, that are black, which are on his hip bone and chest which climbs up his neck. He also wears a fitting black shirt under his red hoodie, that peeks out slightly, along with his hoody. For shoes, he wears army boots, that are easy to move around in and can take on many terrain. And because he is often moving about and rather independent, he holds various of belts, that hold some weapons and other medical items, such as gauze and alcohol, etc. Other protection, is the thick gloves on his hand that has stitching of a red X, this isn't for show though, its all for safety, along with his gas mask. You don't know when anything is going to happen.
Another thing is, is that Fade appears to lack sleep. Because usually he looks weary, and tired, but if his lack of sleep is true, no one knows. And other accessories that changes frequently, is his gauze that wraps around some parts of his body when injured. But the ones that are permanent, are the wraps on his neck and upper wrist of his right hand. He trains frequently so there is always more growing.
"I'm perfectly unique."
Extra Images
Full Profile
---
History
Fade lived with a pleasant family. He had a nice father and mother, along with a little sister, who was around 7 if he remembers. They were all humble, and sweet despite they're lack of money. Yes, his family was poor, and they lived in bad conditions. So he took on a quiet and rather miserable personality, unlike the rest of the family. But he loved them with all his heart. Because of his love, He took on a job, which for his age and his lack of money, he had to stick with a dangerous job, because no one else will take him. It was at a company that made poison and chemicals for weapons, that was used for supposed "government" purposes. But he didn't mind, all he cared was for the money so he can pay his family's bills. How he thought was "If I do my job, Ill be fine, dont get nosy with anything else.." But what happened to him wasent his fault. While he was working, he was passing by his bosses office, hoping to ask something, but he saw something horrible. Inside the crack of the office, he saw the boss dead, and being kicked around by what he thought were gang members. Surprised and scared, he ran away quietly, only to hear bits of this.
"Stupid old man.. should have accepted with a hassle.."
But Fade at the time didnt care, all he did was went back to work, and looked at the clock, for the time he was supposed to leave his shift. But right before he left, the whole factory was shut down, and what next happened too quick for him to take in. Bodies dropped down like flies from bullets that shot everywhere, and the only thing Fade did was by instinct.
He dodged and ran for his life hoping to live to see his family. But he saw something that stopped him in his tracks. This gang or whatever was rich...they had money spilling out of bags, and everything. If he got that... his family would be able to survive.. He was careful with his cards though... he didnt dare bring in his family into his sins. Finding a way to talk to the leader, he got accepted into the gang. How? He wasent sure, but he didn't care at the moment. With them, even if they did horrible sins, he gained knowledge of fighting and money.
fade showed potential, and even though this all started because he wanted to please his family, and protect them, it was all over when he came home one day.
It was his sister's 8th birthday and he wanted to come home from his gangs work, so he made up lies for a couple of days so he could get away without exposing his family. But his "trusted" gang find out and went along with his lies, before this day. The rooms were filled with his family's blood, and his sister was brutally beat but was sent to the hospital, expected to die. With the looks of it, it appeared to be a normal murder in the ghettos, but Fade knew who the cause was. With a rage, and his potential power, he killed the gang members with a price of a few broken parts, but he didnt care. He had nothing left except for his nearly dead sister. His family was innocent! He did everything for them...he dirtied himself for them. The gang promised not a touch on his family if he worked for them. and he was naive to follow.
He grew cold, and lived on the streets, gaining ranks and wisdom of street life. Soon he was just another cold killer, other gangs respected him, and he gained money from this for his sister. Soon, he took her out of the hospital and stuck her in a house that no one knew about. He couldn't expose her to the dirtied world... but that was his downfall. One day, when he killed another leader for his sister' money, he came home and with backed turn, he got shot. He fell, and was shocked.
"who?"
As he fell, he saw someone familiar with a gun. His sister.. Behind her was a few other gang member that were in the evil group that started it all... "Damn.." With a grim smile he caught himself, and despite another shot, he raced forward with the last of his rage. All he remembered was his satisfied fill, as he stared into the fearful eyes of familar innocent orbs. With a shot, the orbs remained frozen, and with the last bullet in the barrel, he held it to his head. Bang. He died. Or so he believed. The next time he woke up, he was somewhere else.
"...You don't need to know.."
Crime
Well from his past, he got into bad business and the bad group. He sold things for moneys, killed people! It was all for his loved one, but even so he sinned without a care. He didnt mind if blood soaked his hands, and he still doesnt. But he doesnt do it for others now, he does it to survive, for he lacks trust. He killed, sold, but never betrayed.
"Its over and delt with."
---
Other
[+]
He hates Betrayal and
Will
hold a grudge
The [K I L L]
What if I wanted to break
Laugh it all off in your face
What would you do?

What if I fell to the floor
Couldn't take all this anymore
What would you do, do, do?

Come break me down
Marry me, bury me
I am finished with you

What if I wanted to fight
Beg for the rest of my life
What would you do?

You say you wanted more
What are you waiting for?
I'm not running from you

Come break me down
Marry me, bury me
I am finished with you

Look in my eyes
You're killing me, killing me
All I wanted was you

I tried to be someone else
But nothing seemed to change
I know now, this is who I really am inside

Finally found myself
Fighting for a chance
I know now, this is who I really am

Come break me down
Marry me, bury me
I am finished with you, you, you

Look in my eyes
You're killing me, killing me
All I wanted was you

Come, break me down
Break me down
Break me down

What if I wanted to break?
What if I, what if I, what if I
Bury me, bury me