Fiore
Role
Instructor Three
Age
15 Years Old
Gender
Female
Number Code
TBA
Partner
TBA
---
Personality
Fiore keeps quiet about her private matters, and keep her emotions locked inside a box. On the inside, she is a thunderstorm of emotions. She gets angry within seconds over little things and hates humankind. Her misanthropy leads her to dislike discussions with others but she loves father. She understands him more than anyone else, she feels like. She feels that way because she believes that human's are faulty. They make too many mistakes and are way too rash with their actions and emotions. She firmly believes in Father's punishment and is determined to stay within his good graces. That's all she has known since she got amnesia from those scientists and experiments. Father's authority and strength reinforced her own spirit and he is who she looks up too. Someday, she wishes to completely shut out her rebellious instincts and emotions and become cool and collected like Father. If that means sacrificing her emotions, she's willing to do it. As for her romantic desires, they are ignorable as her devotion for father makes it nearly impossible for her to see anyone as worthy.
Crush/Relationship Status
TBA / Single
Are You Broken?
Fiore is completely with Father. She hates the broken and irrational.
Power
She has the ability to pass through solid matter by passing her atomic particles through the spaces between the atoms of the object through which she is moving. In this way she and the object through which she is passing can temporarily merge without interacting, and each is unharmed when she has finished passing through the object. This process is called "phasing" or quantum tunneling and it renders her almost completely intangible to physical touch. Fiore passes through objects at the same speed at which she is moving before she enters them. Since she is unable to breathe while inside an object, she can only continuously phase through solid objects (as when she travels underground) as long as she can hold her breath. The use of her abilities also interferes with any electrical systems as she passes through by disrupting the flow of electrons from atom to atom, including the bio-electric systems of living bodies if she concentrates in the right way. This typically causes machines to malfunction or be destroyed as she phases through them, and can induce shock and unconsciousness in living beings.
While phasing, she does not physically walk on surfaces, but rather interacts with the molecules of air above them, allowing her to ascend and descend, causing her to seemingly walk on air. While phased, she is immune to most physical attacks, and has inconsistent showings of some resistance to telepathy. The density of some materials (such as adamantium) can prove harder to her phasing, causing her to be severely disoriented or experience pain if she tries to pass through them. She can also extend her powers to phase other people and objects. Currently, she is able to phase at least a half a dozen other people (or objects of similar mass) with her, so long as they establish and maintain physical contact with her. She can extend her phasing effect to her own clothing or any other object with mass up to that of a small truck, as long as she remains in contact with it. Kitty can also make objects intangible by maintaining contact with them. A few setbacks are that some energy attacks or magic-like attacks can damage her because as she phases, her atoms are simply separated into small enough molecules that objects pass through. However, fire or electricity might cause a problem.
Skills
Fiore is extremely flexible and light on her feet. She isn't athletic in the sense that she is physically strong but she is like a gymnast. She can do plenty of flips and evasions during combat and because she has these capabilities, Fiore is able to move and avoid attacks more so than anyone else. Her other domestic skills include cleaning and gardening.
Weakness
Fiore has a phobia of animals and guns. Her first phobia is because she feels like she would lose her humanity if she phased through one of them. Also, guns scares her severely because she's afraid that she wouldn't be able to phase fast enough one day. Her minor phobias include phasing into the earth and losing father's love.
---
Appearance Description
Fiore has beautiful platinum hair that appears soft and silky although it feels silkier than soft. Her eyes, surrounded by thick eyelashes, are the color of amethyst although in some lights they can appear oddly red. Her plump bottom lip and thin upper lip gives her a suitable pout for her usual blank expression. Her cheeks and face are clear of any acne or pock marks and this is consistently seen on the rest of her body. Her body is lithe and slim, however without any real curves that an woman would have. Her only noticeable curve is the curve in between her hips and waist. Fiore wears whatever clothes that Father approves of. Overall, she's a mysterious sort of beauty with no real womanly quality.
History
Fiore grew up with a bipolar mother. Her father left when she turned five, unable to live with her mother. Fiore didn't realize her mother had a problem until she brought friends home from school. They told her that her mother had a problem and was crazy. Fiore defended her but looked it up and talked to her mother about it. That was the first time she had been hit by her mother. Sure, they had gotten into fight but her mother had never gone so far as to lay her hands on Fiore. From that day on, the abuse increased. Her mother never covered her tracks so it wasn't long until the school counselors were knocking on her door. Her mother told her to make them go away and Fiore, unable to resist the authority she was used too, let them in. Her mother threw a fit and she killed the female counselor in a fit of panic. Her last memory haunted her as she was spirited off to juvenile detention.
Fiore glanced up at her mother's red face. She was angry again. What had she done? Fiore turned to the counselor standing in the middle of the living room who was glaring fiercely at her mother. "Claudia, everyone knows what you're doing to this child." Her mother's fists tightened and Fiore fidgeted nervously. "I haven't done anything to her she didn't deserve." Fiore frowned, hearing Claudia's teeth grind as her emotional state rose to dangerous levels. If the counselor pushed her mother any further, Fiore feared that her mother might try to hurt the nice lady. The lady, named Dorothy, stepped closer to Claudia. "This doesn't need to become a problem. She'll be put in good hands."

The resounding slap echoed and created a ringing noise in Fiore's head. Fiore had closed her eyes but as she opened them, she realized that she was unhurt. "Mommy?" Claudia's eyes snapped to Fiore. "Shut your mouth. Your always talking. Always. You understand the trouble you put me in right?" Fiore flinched and nodded compliantly. "I'm sorry mommy. Please forgive me." Her mother's eyes narrowed and Fiore recognized a look she had seen in the mirror plenty of times. It was a rat-like expression where the eyes darkened and the desperation for escape and violence swirled in the depths, where the facials muscles tightened and the lips thinned. Fiore glanced to the woman who was holding her face and staring at Claudia, the upright woman who had assaulted her. One thought ran through her head. 'Get rid of the problem, be happy.' Fiore rushed forward and leapt onto the woman and wrapped her tiny hands around her throat. She squeezed with all her might and felt her nails sink in. Claudia was wailing in the background but she didn't feel anyone come to pull her off.

When the police came, they pulled her off the cold woman. Claudia had run many hours before and one of the neighbors had reported seeing her run. Fiore didn't resist, staring at the dried blood under her fingernails.
After that incident Fiore remained in the juvenile detention center. She returned to the outside world but sadly, one more incident occurred at school. One of the other classmates had mood swings whenever her monthly came around. Usually this bothered Fiore but she never said anything. One day, the girl came up to Fiore and started yelling about the drama she was causing by being an emotional disturbance. Fiore, urged by the panic and distress she felt grabbed her plastic knife from her lunch tray and murdered the girl brutally. There was no way to pin the blame on anyone else. Fiore had sliced the girls throat, continually cutting to actually pierce with the plastic knife. She also cut the girl in other places, like the abdomen, thighs, breasts, and eventually pushed the knife into the vaginal canal. Fiore couldn't remember why she cut the girl there afterwards but felt it had something to do with her birth. It was after this incident that she found Father.
Crime
She murdered a woman by strangulation out of love for her bipolar mother. Afterwards, she committed her next crime of murder by killing a classmate with a plastic knife. The place the plastic knife ended up was grotesque and the cuts were abnormal so the court didn't rule in her favor.
---
Other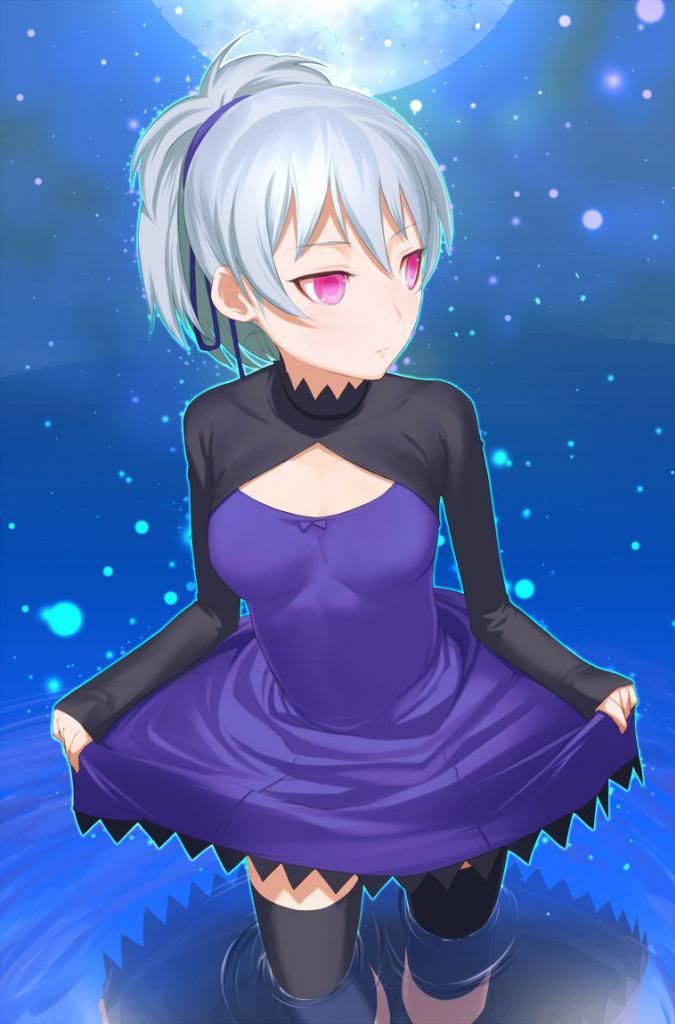 Other Images:
Fiore's Devotion
Bare Expression
Fiore's Sketch
October - Broken Bells
So you showed me around your town
To hell again and back
Our love sucks
Already made all the friends hand off

I know it might seem odd
Because your not the only one
I remember my self as a lonely child
So I was
And you've got me wrong
You've got me wrong

(Ground your sense of worth
Cos the spark of morning burns
And all of your searching eyes
Could scold your tender mind)

Remember what they say
Their's no shortcut to a dream
It's all blood and sweat
And life is what you manage in between

But what you don't know
Is you're too young and eager to love
Seething eyes
So you're about to get into
The ditch that you opened up

(Ground your sense of worth
Cos the spark of morning burns
And all of your searching eyes
Could scold your tender mind)

Sister's allay
and leave you behind
You want it sewn
I cut the light
of a lot of mood

Sister you know enough
But for now just let it go
Don't run, don't rush
Just flow

Through the give and take you had to learn
How to cross the coals and not get burned
But you're really just a little girl
Playing in the park until the sun goes down

sometime you want to rise
One did it's our desire
No doubt you think you braided your own hair
So you're all grown up

Should you want to cross the line
Which way do you want to fly?
Pretend that love could help you find your way
But you got me wrong
But you got me wrong