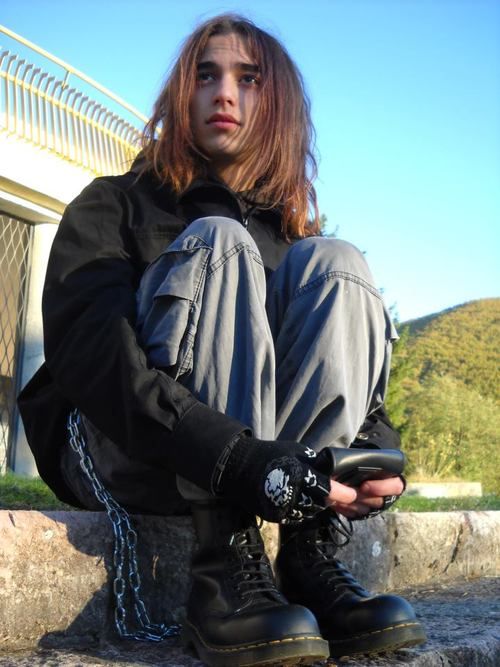 Age:
Seventeen
Looks:
Collin stands at the average height of 5'11, is thin only weighing 140lbs. He has long hair just past his shoulders that at this point has several different colors fading from it from the several times he's dyed his hair, originally it's dark brown but he has put in black and blonde before. Now that his natural color is coming through he looks like someone messed up giving him highlights, with splotches of blonde and black dispersed throughout his hair.
He typically wears large baggy pants and jeans, with t-shirts that are somewhere between black and grey typically themed with metal bands that he likes. He hardly ever wears white t-shirts claiming they make him look paler than he already is. Collin never goes any where without his trip chains, black Doc. Martin boots, and fingerless gloves. If you can get past his 'heavy metal' wanna be rock star style you can tell he's actually a pretty handsome guy. But that's something he really doesn't care about, he wears what he wants and if someone doesn't like it... they don't have to look at him.
Personality:
Over the years of dealing with a dad that doesn't stay around long enough to remember your name, a mother who works two or three jobs to try to make ends meet, and two younger siblings who constantly fight and argue you become kind of numb to the world around you. In Collin's case it has boiled down to him do what he needs to take care of himself, and his younger siblings, all while trying to live his dream of one day becoming a rock star. If that means stealing some money from his job at a corner convenient store so he could buy some food to have in the house before his mother gets paid that's what he has to do. However his generousness only goes so far, the world could come down to one thing and he would never do it, and that would be a starving family over selling his electric guitar.
Collin is very musically inclined and taught himself to play guitar by ear, he was in a band called
The Earwigs
before everything blew up in his face. He's addicted to cigarettes and smokes pot on occasion if he doesn't have to buy it, and loves drinking rum but once again he doesn't like to buy it himself. He's band mates always called him a 'cheep bastard', and he would just laugh and comment how that, that is how he still has money at the end of the month by mooching off of everyone else. Collin has a very nonchalant attitude towards everyone, he doesn't feel like he has to prove himself to anyone, he has a problem with authority figures especially men, and the only person that has ever been able to get him to do anything that he was told to do was his mother Julia.
Reason for being sent to Fickleberry:
Collin was caught by his boss stealing money from the register at work, with the added offense of possession tacked on when they found less than an ounce of weed stuck in his shoe. After his mother pleaded with the judge not to send her only son to a juvenile detention center, he was given the ultimatum to go to Fickleberry or go to Juvie. It was an easy choice in his opinion, his only regret was putting his mother in a tight situation not having any anyone to take care of his little sisters at home now she had to pay for a babysitter cutting into her already over stretched budget. Other than that he doesn't really give a damn as long as he isn't locked up, he just hopes that he can find somewhere, where he can practice his guitar.