Name
: Aria 'Aura' Katryiana
Age
: 17
Gender
: Female
Aeon-Mark
: Mark of Anima
Class
: Black Mage, Upgrades into Arcanist
Job
: Helps study ancient texts in the library. Assist with spell devolpment, offers herself as a test dummy for spells.
Appearance
: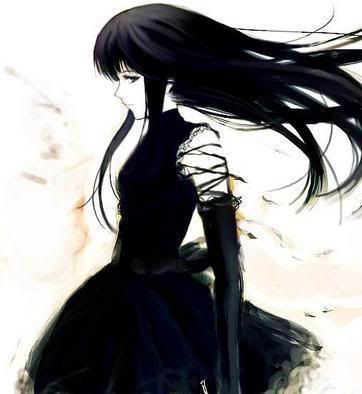 Due to her job, she's a lot more pale than others, staying indoors most of the time. Her long, dark hair is usually combed back, to keep it out of her eyes. There are multiple scars and burn marks around her body, hidden by her clothes. Wears black gloves, reaching to her elbows, and has a silver necklace around her neck, and a ruby ring on her ring finger.
-
Height
: 5'5
-
Weight
: 125 lbs
-
Eye Color
: Sea Blue
-
Hair Color
: Black
Armor
: She doesn't wear much that could be considered armor, but she wears a black dress, fitted to her body perfectly, with tight black gloves rolled to her elbows. All of the clothing is jet black.
Weapon
: Ring of The Demon Mistress – increases the potency of Black Magic
Skills/Magic
: Aero- Fires a sharpened shaft of wind at the target. Extra damage to creatures with tough skin/ armor
Blizzard- Makes ice rise from the ground , piercing the target from the ground. If target is airborn, the ice then launches into the air like a missle. Cannot change direction.
Thunder- Fires a bolt of lightning, that arcs towards the target. More damage to metal objects
Overdrive
: Demon Mistress' Rage- during this, a black like cloak envoys Aura. Triple Casts any three spells at once, and does this twice, for a total of 6 spells. Once upgraded into Arcanist, she gains an additional 3 shots.
Personality
: If there isn't something Aura is afraid of, it's death. She goes near the brink of death for the sake of advancement, having both black and barely tested white magic tried on her (she got poisoned from a poisons gone wrong once. Good thing the healers were there) she does this so others wont have to die, or feel the pain. In fact, she brushes small pain off as growing stronger.
A studious individual with a desire to learn as much as she cans, and attempts to master whatever she learns. Aura tries to make friends, but a lot of people are scared of how she looks, and of what she does. What if she's contaminated? What if she sacrifices us? She's often heard behind her back.
Due to this, it's hard for her to smile, or talk to others, and keeps her emotions bottled in half the time
Bio
: Her mother died shortly after giing birth to Aura, the healers suspecting a sickness that had taken place in her lungs when she had gave birth. Aura was taken in by a family that had lost one of their daughters.
One day, while playing around, discover something shiny in the sand: a red ruby ring. She asked around and, when no one claimed it, claimed it for her own. She went in to learn black magic, after she was found looking at an old book on spells, and actually UNDERSTANDING them.
It was when she turned 14 that she decided she would help more directly, volunteering to have spells tested on herself. She's been poisoned 3 times, been knocked out 10 ten times, and been drained of energy to where she could barely move on a number of occasional, to getting paralyzed by a reflected thunder spell. She's no stranger to pain, an insists its to help society. There were loads of protests. But Aura was able to shut them up.
Because of this, people are afraid to come near her, afraid she's been contaminated, or that theres a spell lingering in her skin that will burn upon touch, as well as other riducouls things, causing her to stay inside most of the time. She helps on whatever way she can, though its hard when most consider you to be an outcast