Name
:
Kries Dairu
Age
:
20
Gender
:
Male
Race
:
Al Bhed
Class
:
Gadgeteer classes into Machinist
Job
:
Manages, repairs and creates machina.
Mark
:
Mark of Ixion
Appearance
: Kries is not that special in his initial appearance. He is neither tall nor short nor incredibly thin nor stocky. He doesn't consider himself that attractive either although he views himself different than many others around him, being one of the few pure al Bhed. He has striiking blonde hair that is seemingly never completely flat on his head. He also has slightly more tanned skin than many of those native to besaid and the safe zone. Another prominent Al Bhed feature Kries has is his eyes. He has bright green eyes that have the traditional swirling pupil of the Al Bhed. Kries does have a few tattoos on his back and chest, but not nearly as many as many other Al Bhed.
-
Height
: 5'11
-
Weight
: 153
-
Eye Color
: Green with typical al bhed swirled pupils
-
Hair Color
: Blonde
Theme SongsMain Theme:
The Resistance cover by 2Cellos
Fighting Theme:
Kickdown by Two Steps From Hell
Sad Theme:
Aiedmus by Karl Jenkins
Anger Theme:
Life or Death by Audiomachine
Theme of the Farplane:
Reset from the Okami soundtrack
Armor
:
Kries usually wears no armor and dresses pretty plainly around the safe zone. However he is also used to wearing light armor if he is working in dangerout areas. He has padded leather gloves with the fingers cut off to allow for him to work with his machina more precisely. He also wears a matching pair of well worn boots. When dressed normally he wears a plain white shirt that is loosely fit and olive green slacks with that. When exiting the safe area he puts on leather armguards and hardened leather plate.
Weapon
:
Red Dawn-Increases critical hit chance slightly.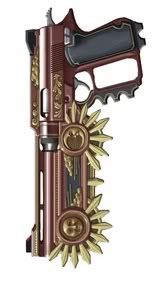 Skills/Magic
:
Aim- Next attack will have increased accuracy and damage
Use- Able to use specialty items such as grenades and machina
Override- Deals damage and has a chance to disable machina in one hit
Overdrive
:
Deus Ex Machina: Unleashes a flurry of well aimed bullets.
Personality
:
Kries is a laid back guy. He doesn't let many things get to him and is normally pretty level headed. He is very critical though of others and especially of himself and this makes him very much a perfectionist. This criticalness can lead Kries to get into minor scuffles with other strong attitudes, but at that point Kries usually backs off, seeing no point into getting into a fight. He will however get into a fight over a few things, such as for his family or if someone disrespects him or his machina. When dealing with others his age, Kries is normally quiet, as he is pretty socially awkward, and doesn't consider himself to have charisma of any kind.
Bio
: Kries had what you would call "a normal life" for most of his life. Well, for most of it, and in this era, he may even be considered lucky. Kries was born and raised on the banks of the Moonflow, in the small town that grew up around the ferrying of travelers across the famous river. But now, even this relatively small metropolis would be considered a megalopolis, as it was filled with machina like all other modern cities. And it was with this machina that Kries and his family found their home. Kries' family were one of the few Al Bhed families in the city and were prime machinists for all needs. Mostly they worked on maintainance around the city, but it was a life that Kries enjoyed, as he loved creating and working with machina. But when Malady finally turned its eye towards the Moonflow town after destroying most of the megalopolises of the world, the town fell to ruin. Despite Kries' father's stockpile of guard machina that he had been creating ever since malady had begun its rampage, the town was not saved. And neither was Kries' mother whom was killed during the attack.
After Kries and his father survived the attack, they fled. Partially for his father to escape the thoughts of Kries' late mother, and partially for shelter at the seemingly safe isle of Besaid. as they went, Kries continued to learn machina from his father, now learning how to make weapons and use machina weapons. As now, it was inevitable that they would need them. Finally, after a long travel the weary Al Bhed pair arrived on Besaid. His father attempted to keep his spirits high, despite still grieving over his dead wife, and the pair began a new life on the island.
That was two years ago that Kries and his father showed up on Besaid. Since then, both Kries and his father opened a machina shop in their home to repair machina and take commissions to create machina.