Name
: Perish Layoneil
Age
: 27
Gender
: Male
Aeon-Mark
:
Bahamut-marked
Class
: Paladin, upgrades into Templar
Job
: The odd monster hunting job, when he can get it.
Appearance
: Though Perish is physically fit he appears gaunt and bony. Scars cover his body including a huge one that runs down his left arm. His dark blue hair is mussy, his skin is pale, and his clothing is shabby. Despite this his green eyes burn with determination, and his bearing is of one who is on a mission.
-
Height
: 5'7"
-
Weight
: 145
-
Eye Color
: Green
-
Hair Color
: Dark Blue
Armor
: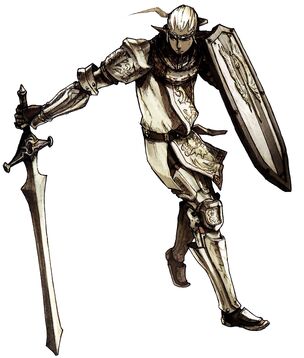 Perish wears scared and dinted armor gauntlets and leggings. He completes the look with a white doublet, and a plain leather belt. (Refer to picture, the race is wrong but the clothing is right)
Weapon
: Excalibur, Tower Shield
Skills/Magic
:
1.
Cover
: covers ally with low health and receives damage in their place.
2.
Shield Bash
: light damage but chance to interrupt action.
3.
Raise
: revive ally from KO and restore 1/10 of health
Overdrive
:
Holy Blade
: strike with light-infused sword. Does massive Holy damage. When upgraded to Templar this auto-casts Regen on self and allies.
Themes
:
fight sequence -
Saints vs Devils
sadness -
Night of Seclusion
anger -
Clamor of Heaven and Earth
general song -
Holy Orders (Be Just or Be Dead)
song while in the farplane -
FF I Theme
Personality
: In a word: driven. Before the 'incident' Perish was outspoken and brash, and was always quick to smile. Now it is like he is a totally different person. He seems as if he is on a mission and thus is abrasive and doesn't idly chatter. This coupled with his constant preaching tends to drive everyone away. Perish doesn't enjoy the solitude, but it is his norm. He constantly refers to the mysterious 'Light' as what guides his actions, and appeals to it often. He can often be found extolling the virtues of the Light to anyone who will listen.
Bio
: Perish used to be a soldier in a unit formed out of Besaid to combat Sickness. On a mission in a cavern Perish was separated from his unit and presumed dead along with so many others. However two months later Perish came strolling back into Bevelle without a scratch on him. Furthermore he had in his possession the legendary sword Excalibur.
Yet people began to wonder if Perish had actually come back at all. Other than his physical appearance this man had little similarity to the Perish they knew. People pressed him for what happened in that cave, but he always responded that he didn't remember. Indeed Perish claimed he remembered nothing of his old life. A rumor began to circulate that Perish had been possessed by Excalibur. This became believable because Perish would stare at Excalibur for long periods of time, and he was always ranting about the Light.
Shunned by people he no longer remembers, Perish carries on with single minded determination. He offers his services as a monster hunter, but barely scrapes by. People recognize his skill, but are loath to deal with him. So mainly he spends his days spreading the virtues of the Light to unwilling recipients.