Then...
Years ago, news spread about a rapid developing virus that was taking over the lands as they knew it. With nothing but speculation and no real explanation to how it originated, and critical details sparse, many people dismissed the warning. But what they displayed on the news fell utterly short to the reality and reality hit hard.

In a matter of weeks, chaos consumed the world. There was bloodshed and massive waves of suicides since many couldn't cope with the truth or they thought they were going mad - that it was a mental virus that they were infected with. The nightmare was at every village, town, city and home where the hordes of decay hunted the flesh of the living. Only the strong persevered.

Life continued in its own sick twisted way. The idea of salvation and innocence had been abandoned, and the living could no longer be trusted among each other. Everyone was doing what it took to survive, even killing their own if it was one less mouth to feed.

The survivors of Cheyenne, Wyoming were not the only living left. But they were the few that found enough distance between the virus, and strive in their beings to set-up camps from the state's trusted buildings. They created trade routes between them. They formed a new community, a safe haven for those who wanted to live. Together, the camps provided each other with safety, security, supplies and all manner of other things.

But of course problems arose, because safety was a notion only fools hung onto. Hoards started dwelling the routes and nearing the camps. It was deemed too risky, no man wanting to sacrifice the other, otherwise, being too keen to sacrifice the other, until the camps lost contact with each other.

Now...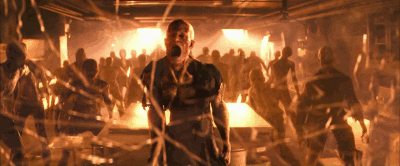 The majority of the Earth's population are the infected. They are restless and feed. Just always feed with an insatiable appetite, and the state now knows there are different classes of the infected.

It's a challenging thing to want to live in these conditions but sometimes survival instinct can be greater than fear. Some survivors choose to remain in groups. Others prefer the company of their own shadow. Sometimes it's hard to tell if an outsider is friend or foe.

An organisation is moving in to Wyoming, trying to claim the surviving camps as their own and take authority.

The origin is unknown. Perhaps scientist tried to play with life and death, manipulate matters they shouldn't have dared to touch. Perhaps it was airborne. Perhaps some darker unexplained force has put the end of the world nigh.

The infection is transmitted when a person or other living being is bitten by the undead. Their blood is not considered contagious, their saliva is. When contaminated a subject typically takes 12 -24 hours to change. The first few hours after being infected, the body experiences nausea, headaches, joint pain or stiffness, and an increased heart rate. [This stage makes it hard to distinguish other illnesses or if victim has been bitten.] The second stage entails a short fever that burns higher than usual. Few hours after the fever, cardiac arrest takes place, trauma to the brain occurs then blood flow, temperature and breathing plummet to almost nothing. The subject may be pronounced dead but in approximately an hour that follows, they awaken in a state of primitive savagery.

The undead do not sleep, and they do not tire. No matter the state of the body, the undead continue on with missing limbs and body parts. They do not feel pain. The only way to kill them is severe damage to the brain stem.


Classes
The virus has affected beings in different ways and survivors have identified "classes" of infected. All contain a contagious bite, but some are considered more lethal than others.
1. Zombies/Walkers: The normal walkers are considered slow and dumb, but are large in quantity and never alone.
2. Screechers: Are far more attuned to their senses including smell and sound. Will emit a shriek giving away your location to other nearby undead.
3. ______ : Able to run and are relatively agile. Runs on fours faster.
4.
5. Unencountered.
Cheyenne State Capitol:
The zombie hot spot rarely has a dull day. Fortunately, the most defensive camp has a weapons cache and has a high vantage point to defend the fortress. Though, food and water are in short supply.

Leader [1/1] | Owen Parker | 35 | Chris Pratt |SparxALot |

#d67e11





Second [1/1] | Graham Liath | 38 | Tom Hardy | SparxALot |

#653515





Carer [1/3] | Kea Parker | 21 | Rosie Huntington-Whiteley | xNocturnax |

#f64863


Carer [ /3]
Carer [ /3]



Healer [ /2]
Healer [ /2]



Hunter [ /4]
Hunter [ /4]
Hunter [ /4]
Hunter [ /4]



Patrol [1/4] | Austin Pierce | 18 | Alex Høgh Andersen | LawfulAnon |

#a93226


Patrol [ /4]
Patrol [ /4]
Patrol [ /4]




Trader [ /2]
Trader [ /2]
Medical Center:
Blessed with a spacious building and plenty of medical supplies and equipment, this camp used to be popular in trade and heavily relied upon. The rat warren of corridors, windows and doors make it overly exposed.

Leader [1/1] | Laralynne | 32 | Madeliene Mantock | TheCrimsonLady |

#8b4513





Carer [ /2]
Carer [ /2]



Healer [1/4] | Kylie Clifford | 17 | Zoey Deutch | xNocturnax
Healer [ /4]
Healer [ /4]
Healer [ /4]



Hunter [ /3]
Hunter [ /3]
Hunter [ /3]



Patrol [ /3]
Patrol [ /3]
Patrol [ /3]
Patrol [4/4] | Killed



Trader [ /1]
Cheyenne Country Club:
Food and water is just at the back door of this camp located by a big wooded area. However, it is the smallest building only able to host limited amount of people, and the trees surrounding it make for many blind spots.

Leader [1/1] | Natalie Pierce | 31 | Amber Heard | LawfulAnon |

#2ecc71





Carer [ /3]
Carer [ /3]
Carer [ /3]



Healers [ /2]
Healer [ /2]



Hunter [1/3] | Melody Stryder | 29 | Kate Beckinsale | FeistyDeadlySins
Hunter [ /3]
Hunter [ /3]



Patrol [ /2]
Patrol [ /2]



Trader [ /3]
Trader [ /3]
Trader [ /3]
Springhill Suites:
Another large building able to hold survivors and provide them with water and power. While it may seem luxurious, it has few exits and entrances for a fast escape and is running low on weapons.

Leader [0/1] |



Carer [ /4]
Carer [ /4]
Carer [ /4]
Carer [ /4]



Healer [ /2]
Healer [ /2]



Hunter [ /2]
Hunter [ /2]



Patrol [ /3]
Patrol [ /3]
Patrol [ /3]



Trader [ /2]
Trader [ /2]
Saddle Ridge Elementary:
The secluded camp has one thing the others do not, and that's fuel. Despite the many faults of the camp, Saddle Ridge and its occupants have always been able to hold their own.

Leader [1/1] | Leonora Eckheart | 30 | Gal Gadot | xNocturnax |

#580828





Second Requested [ /1] |



Carer [ /2]
Carer [ /2]



Healer [ /2]
Healer [ /2]



Hunter [ /3]
Hunter [ /3]
Hunter [ /3]



Patrol [ /4]
Patrol [ /4]
Patrol [ /4]
Patrol [ /4]



Grace Pierce | 10 | Kylie Rogers | LawfulAnon |

#6c3483



Last Trader Deceased.
Solos:
By exile, choice, survival instinct, these solo artists have managed to trudge the treacherous ground of zombie land and survive alone for as long as they have. Where they have come from, what they know or don't know, is their story.

Loner [1/3] | Brent Micheluzzi | 23 | Grant Gustin | SparxALot |

#E3DB05


Loner [ 2/3] | Lolly | 24 | Madeliene Mantock | TheCrimsonLady |

#000040


Loner [ 3/3] |Su-Yeoung |11 | Kim Soo-Ahn | TheCrimson Lady ||

#FF40BF
---
‣This RP contains blood, violence and profanity. If you can't handle that, it's not the RP for you.
‣ Executing the brain kills the virus host.
‣ The dead, unless devoured, shot or stabbed in the brain, turn. Weakened immune systems are also susceptible to the virus.
‣ Reserve in OOC/Discussion. Up to three roles at this time available per RPer. Provide your Face-claim, Role and Camp, Hex, Character Name , Age and if you're feeling super nice, a 225x225 image of them xD If you want to play a child just skip the role part.
‣ Don't be afraid to idea generate. I've got a few rough plans that should tilt the characters worlds, but I'm going to need more.
‣ The camps may have other cons than what is listed. You can get creative with it. Drama makes the RP go around after all.
‣ Wanna have a long lost sibling residing in another camp? Cool. Wanna kill all your healers? Awesome! Honestly, have fun with this. There are so many ways to keep the tension rolling. I would advise communicating little plot twists with your camp or group / characters relevant.
‣ Many roles will likely be NPC. That's fine. If you wanna create some drama and tension with that, I encourage you. Common civilians, travelers, the organisation officials are also NPC and can be jerks.
‣ And just to make sure you're up to speed, what are your chances of surviving a zombie apocalypse? Answer in the discussion with percentage.
‣ Character sheets are yours to make and beautify. Along with basics (name, age, personality, history) you should add their strengths, weaknesses and fears.
Taking place in...
There are no characters in this universe yet!
0 posts here • Page 1 of 1
0 posts here • Page 1 of 1
Arcs are bundles of posts that you can organize on your own. They're useful for telling a story that might span long periods of time or space.
There are no arcs in this roleplay.
There are no quests in this roleplay.
Here's the current leaderboard.
There are no groups in this roleplay!
Welcome home, Promethean. Here, you can manage your universe.
Arcs are bundles of posts from any location, allowing you to easily capture sub-plots which might be spread out across multiple locations.
You can create Quests with various rewards, encouraging your players to engage with specific plot lines.
Settings are the backdrop for the characters in your universe, giving meaning and context to their existence. By creating a number of well-written locations, you can organize your universe into areas and regions.
Navigation
While not required, locations can be organized onto a map. More information soon!
There are no groups in this roleplay!
There are no characters in this universe yet!
By creating Collectibles, you can reward your players with unique items that accentuate their character sheets.
Once an Item has been created, it can be spawned in the IC using /spawn Item Name (case-sensitive, as usual) — this can be followed with /take Item Name to retrieve the item into the current character's inventory.
Give your Universe life by adding a Mob, which are auto-replenishing NPCs your players can interact with. Useful for some quick hack-and-slash fun!
Mobs can be automated spawns, like rats and bats, or full-on NPCs complete with conversation menus. Use them to enhance your player experience!
Current Mobs
No mobs have been created yet.
Locations where Mobs and Items might appear.
You can schedule events for your players to create notifications and schedule times for everyone to plan around.
Add and remove other people from your Universe.
The Forge
Use your INK to craft new artifacts in Final Hour. Once created, Items cannot be changed, but they can be bought and sold in the marketplace.
Notable Items
No items have been created yet!
The Market
Buy, sell, and even craft your own items in this universe.
Market Data

Market conditions are unknown. Use caution when trading.

Quick Buy (Items Most Recently Listed for Sale)
There are no characters in this universe yet!
None
Discussions
Topics

Replies
Views

Last post
Most recent OOC posts in Final Hour
There have been no posts in the OOC topic for this roleplay!