Name: Kaylee Contessa Schaefer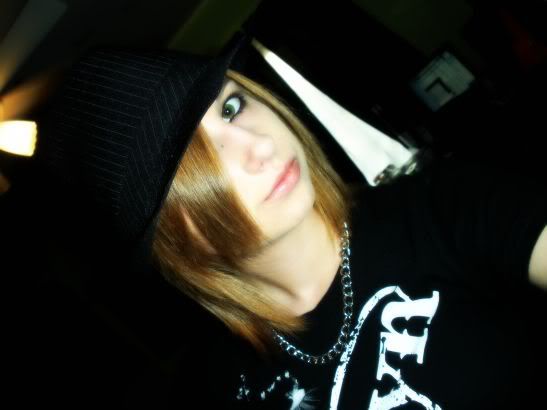 Kaylee stands at five feet tall, weighs about 100 pounds, is slim and barely muscled, and has light colored skin. Brown eyes, brown hair, and simple clothes all make up Kaylee. Her normal outfits consist of a light and airy pale blue dress with lilac streaks. It's a knee length strapless dress with a lilac cape attached like off the shoulder straps, and she wears white knee high boots. Her hair is normally in braids or down depending on the weather, but sometimes you'll see it in a ponytail. She often wears flowers in her hair as an accent, purple or blue being her favorite colored ones.
Class: Dancer
Age: 17
Sex: Female
Personality: Kaylee, is a very fun girl. She loves dancing and music, but unlike her twin brother, she doesn't like fighting. She isn't willing to do crazy things to make others happy, but she hates seeing others down. She is constantly dancing, whether it be in battle or just because she's bored. Kaylee is the type of person that when her parents told her to stop following her brother around she would stand somewhere and dance. She talks just as much as her twin does and in battle she prefers to stay hiding behind someone, only leaving them to dance for a tired fighter. Her moods seem to switch between calm and hyper, but she is always calm in battle. She freaks out if she can't hide behind anyone or if someone tries to attack her. Kaylee usually smells like flowers because she likes to lay in them and pick them when she comes across some. She can fight, but not very well. Her brother taught her a few of the basics of swordplay, but that's the extent of her knowledge, or in other word's she'd lose in a fair fight. Kaylee hates killing, and it's very far from the top of her favorite things to do.
Supports: Kayl. (May add more later)
Weaponry: N/A
Equipment: Two vulneraries.
Short Bio/History: Kaylee was overly happy as a little girl, always out following her twin, Kay. When they turned eight though, Kayl spent less time wandering the streets with her and more time with his sword. He convinced her to begin learning to fight some and she quickly refused. When she was fourteen she left her home in Gallia to become a mercenary with her brother. The duo joined one band after another, Kaylee staying close at hand for two years until they finally came across the New Grail Mercenaries, whom they have stayed with since. She's seen several people found and brought into the group, one of them even adopted by Tatiana and Boyd themselves.