---
---
---
---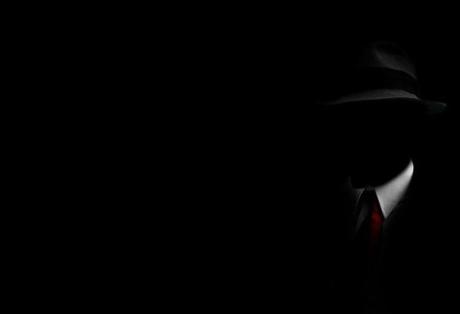 "Welcome to the underground."
[Basic Information]
Ghost is exactly what his public nickname entails.
He is a black cat, off the grid, and according to CoHRR propaganda he technically does not exist. The rumors that surround him are as ghastly as the secrets that squirm beneath his supervision. Some say he may be their savior. Some call him an enlightened individual, a folk hero, a vigilante to whom everyday miracles are attributed. Others whisper his sobriquet amongst hissed curses and livid threats. What is the fabled "Ghost" truly up to? Ganders at who the man is, or what his purpose is within the tangle of war between the Humans and the Hunter foe, fly from gossiping lips faster than a starving hybrid on a famished rampage.
Age:

No one is certain. Estimated to be anywhere between 25 and 40.

Gender:

Male

Human or Hybrid:

Human, as the rumors attest.

Appearance:

He rarely appears in public, and if in the extreme, brief chance that he does, his skin is shrouded from view.



The Ghost is of average stature, standing at 5'10." His carefully crafted words are known to resonate through different timbers and distinct vocal morphings. An observer would find the uncharacteristically graceful conduct of the colony reject odd; he is calm, commanding with ease and an air of confidence. No one to date quite knows who he is, or what, if anything, he wants. He holds those who care enough to speculate captivated. They do not realize his long fingers playing nimbly upon their heartstrings... their indiscretion. If one dared venture close enough for a look into the dusky blue eyes, they might just catch glimpse of what seems to be a churning, cold intelligence. Hypnotic and dangerous... almost inhuman.
Personality:



"The Ghost grants no requests and makes no demands."

The man is quite secretive, and deadly, as the gossips rant. He guards said secrets with a jealous zeal. The fruits of a cunning mind are hidden skillfully behind crafted falsities and labyrinths of lies. Ever watchful, the Ghost has been studying and evaluating those around him. He has been brooding. Sharp analytical skills, an intense drive, and an obsession with his own free will cumulated into the catalyst for the Ghost's desertion. He wants control over his fate… Something denied to him. Something that eats away at him.
"War makes warriors out of weeds; it seeds hatred within even the most tender of hearts."
To those trusted enough to manage his affairs, the Ghost remains an enigma, holding an air of subtle mystery about him. He is composed and refined when conducting business, yet there is always that slow burning passion for his work that cannot be hidden by any amount of gentility. His complicated track record and trail of propaganda confounds many and enamors most, but it is all just a show. A show to keep those who think they are so close, very very far away.
"I provide direction. A construct of the pain within your bosom into useful action."
Bio:



Call him what you will: a hero, a villain, a deserter, an entrepreneur. Ghost has what the CoHRR in their thousands lack, and that is both a executable purpose and a plan.



"It is true, humans are not "Weak," but neither should they be foolish enough to believe they stand strong in a utopian singularity against this… Pandemic."


A "Ghost" figure had once laid havoc to the internal workings of the budding city. In the beginning, those who believed Humans were to adapt clashed with those who believed that the Hunters and Hybrids were abominations. The stress and fear of the early days took heavy losses, and the latter opinion won out easily over the voices of those opposed. Hunting and killing Hunters and Hybrids was not an easy feat, but the humans have so far been successful in caging themselves away from the Mutation Pandemic of the world, and surviving off of their growing numbers. Only five winters ago, the Ghost threatened the very foundation of that last bastion of human society, or so the city claims.



"You will face the reclamation sooner than you think, and by who's winning hand - mutant or human - will be yours to decide. This world and your people are already altered. Act, or die."
The ultimatum was swept under the rug with the disappearance of it's prophet. Some say the Ghost was at first an acting official, having fled after discovering something sinister within the system. Others believe the deserter was an anarchist, intent on crumbling the last hope of humanity and society they all so desperately cling to.

All anyone can gather is that he operates in, or near, the colony of CoHRR, as the anti-Ghost propaganda still alludes to within the city.
EXTRA: Obviously, I will need at least one loyal hybrid to protect the entity and vision of Ghost. Preferably a strong, domesticated or civilized hybrid. Someone I can trust with some of Ghost's many secrets. Loyalty to a fault would be a good trait, as well as creativity. So, if you would like to play the "muscle" for my antihero, please hit me up.