Name: Feli (Fell-Lee)
Name Meaning: In the language of the Beastkin it means abomination.
Age: Physical age 24, true age 103
Gender: Male
Sexual Orientation: Bisexual
Race: Halfkin
Race Information: He is half Beastkin, half something else that he won't admit to being. The only things he gets from that second race are physical. He is a Beastkin through and through. The Beastkin's bodies stop aging somewhere in the late teens to mid twenties. With the oldest recorded stop being at twenty-seven. They have the longest life span of all the races. They are known for the markings spanning their entire bodies. These markings are entirely symmetrical, the ones on their backs are the same as on their chests, and the ones on their arms are the same as on their legs. They tend to be large and muscular, though Tamra isn't due to that second race. Well, he isn't large. They have tails that match the color of their hair, which is more fur like that actual hair. The are the only race to have exotic hair colors such as blue or green. They are a wild and slightly barbaric race, prefering to settle things through combat rather than talking. As such they don't get along very well with any of the other races. Instead of living in the towns with said races, they live in large groups, or packs. Protecting each other and constantly travelling.
Appearance: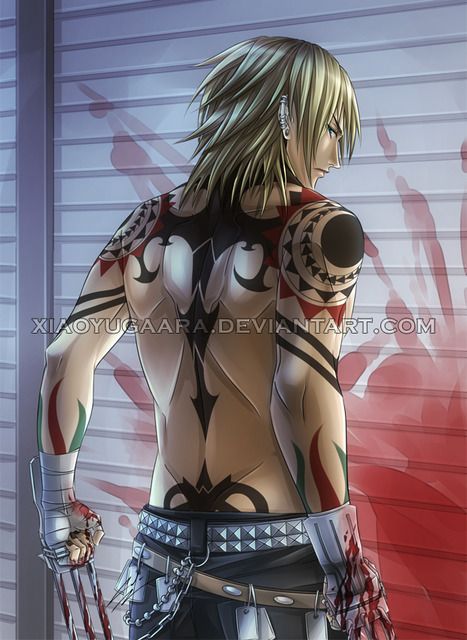 Combat Experience: He started fighting when he was seven. That's ninety-seven years of experience.
Weapon(s): Feli uses the same Beastkin claws that his kind is known for. Seen in the picture above.
Powers/Magic: He possesses the power known as Sight. The ability to see the taint that is killing the land. Though seemingly useless, since priests and priestesses can sense it, he can see the trails, leading him directly back to the source of said taint. At the same time he can also sense the taint, within about a twenty foot radius. Which is nothing compared to a priest or priestess. Like when a priest or priestess senses the taint, seeing it makes him ill, and since he senses it at the same time, it is even worse for him.
Other: Feli will not tell anyone what race he is mixed with to protect his mother, whom is of the other race. If anybody but his father knew, they would kill him. Both of parents agreed that is would be better for him if he was among the Beastkin, for he was more like them than of the second race.