"C'mon! I wanna see you smile!"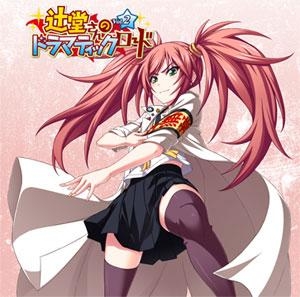 Renna Katase- The Road to Tsujidou-san's Love
Nicknames
She is called Aki by her father and "Drill Sargent" by people at school because of her knack for making her voice sound loud and commanding.
Gender
: Female
Character Type
: Student council president
Age
: 15
Year
: Sophomore
Hair color
: Pinkish crimson
Eye color
: Olive green
Height
: 5'3"
Appearance
Even though she's fairly short, Achillea stands proud and tall as if she'll never back down from anyone. She almost always wears her thick, red hair in high pigtails and wears a duster over her uniform. Her normal clothes are a little girly, but comfortable and easy to move in. She's not one to wear big ruffly skirts or dresses.
Positives
-Achillea is confident and isn't afraid to make mistakes. When she gets knocked down, she gets right back up again, ready to take on the world. She will never give up as long as there's still hope of success.
-She is kind and helpful to everyone she meets. She'll do anything to make the people around her smile.
-She's a great leader, able to bring people together to reach a common goal. If she wants something done, it's going to get done no matter what.
-For the most part, Achillea is level-headed and can take control of even the most difficult situations.
Negatives
-Achillea can often become very stubborn. Like I said, if she wants something done, it will get done. And if she doesn't want to do something, you bet your ass she's not gonna do it.
-Even though she is open to listen to everyone else's troubles and help them out, she hates talking about her own, mostly because she doesn't want people to worry about it. Because of that, unfortunately, few people get truly close to her.
-When Achillea gets focused on one thing, she can lose track of everything else, including her own state of well being.
Biography
Though her mom died when she was small, Achillea can't say she's had a bad home life. Her grandmother has always taken care of her, and her father absolutely adores her. Achllea's family owns the dojo they live in and she can often be seen there during her free time either training or giving lessons. She spends a lot of time with her father, whether it's training together or sharing a meal downtown.
Achillea's school life, however, started out a little poorly. Because of her background in martial arts, many other students challenged her, to which she often said to meet her in her dojo. It was rare that the challengers would take her up on her offer, instead luring her to the back of the school to gang up on her. Her training was almost always enough to earn her a win with very little damage to her own body.
By the time she was in middle school, Achillea found out that her grandmother's family, Yaiba house, was a sister clan to Akabari house, which is the clan in charge of the ninja in the area surrounding Syringa. Since she would be starting high school the year after the last Akabari heir graduated, she was slated to become the next student council president. Yes, of course the election was rigged. Could you imagine what would happen if a regular person was put in charge of a bunch of hormonal teenage ninja? Disaster, that's what.
And, so, we begin our story in Achillea's second year as student council president. Last year was pretty uneventful with only a few petty gangs to knock down, but with the recent threats to Akabari house, that is destined to change. It's up to Achillea and the rest of the student council to keep things under control, as well as keep their secret hidden.
Special Talents
-She is considered a prodigy in the ninja arts and has been said to be on equal ground with the Assault Branch elites.
-Surprisingly, Achillea plays violin as well as she wields a bo staff. Her music is enough to tug on the emotions of even the most battle-hardened men.
-Achillea is pretty good at cooking and often brings in meals to share with her friends.
Fighting Style
While Achillea is proficient in many different martial arts, she is especially good at Bojutsu, the japanese art of staff fighting. Not only does she have a fire personality, but she is very good at fire-based ninjustu.
Family
Mother
Lara Lorrainne (deceased)
Father
Keisuke Lorrainne
Grandmother
Kouhei Yaiba
Family Relationships
Achillea lives with her father and grandmother above their dojo and has been training in martial arts since she was five. Her mother died when she was only about a year old. No one really talks about it and it isn't clear what happened, but it doesn't seem to get Achillea down. Her grandma has always been there to teach her all the things a young lady needs to know, including manners and how to take care of herself. Achillea's father is a hard man, but not an unkind one. They are actually very close and spend a lot of time training together when they can.
Likes
red, cats, bugs, rodents, her bo staff, her violin, Cori's singing, sparring, fruit, military uniforms, cute things, cooking, and music
Dislikes
chihuahuas, crying, flashy jewelry, school mascots, clowns, arrogant people, people who hurt her friends, and those without honor