Character Name:
Adam and Steve Edenburg
Role:
Weapons
Gender:
Male
Appearance:
two tall slender boys, one with blue eyes the other with red eyes
Weapon apearance:
Soul Resonance form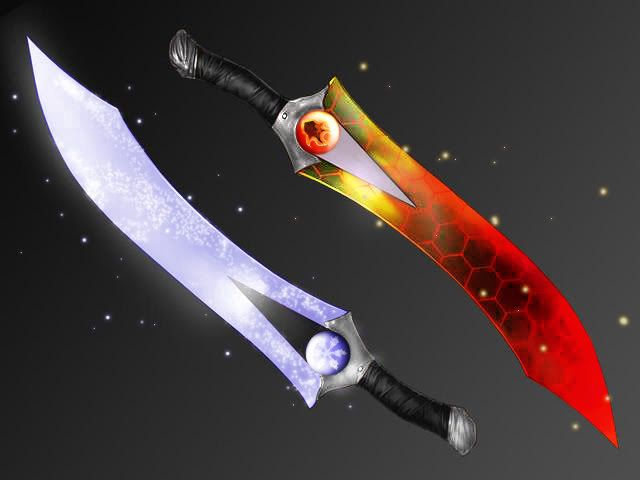 Soul Resonance Techniques:
Twin Hurricane - both blades are spun at a blinding speed creating two hurricanes made of their specific elements
Arctic Slice - Steve blade extends when swung to slice any opponent at almost any distance
Flaming Slash - Adam's blade extends when swung to slice any opponent at almost any distance
Deadly Frost - every cut made by Steve's blade becomes a growing frostbitten wounds
Cleansing Blaze - Adam's anti-madness wavelength cleanses the soul of his opponent.
Fire and Ice - the ends odf both swords connect and create a shield of ice that throws attacks back amplified by being set on fire
Dragon Blitz- the twins elemental powers are amplified and manifest in the form of massive fully conscious twin dragons mimicking their shoulder tattoos.
Smokescreen: it is what it says it is.
Soul of the Dragon: pushes all three souls above normal limitationso that they can fight for a little longer.
Age:
S:16 and two minutes & A: 16
Personality:
Adam is a very extroverted person, flirty, hot headed, and bratty . Steve is very introverted, harsh, honest to the point of being mean, distant, and accurate.
Likes:
A:spicy food, punk rock, Pop, skateboarding. S: Iced coffee, cold pizza, Metal, snow boarding.
Dislikes:
A:being separated from his brother, spiders, roaches, being alone. S: Hurting those around him, dying, heights, clowns(they're too happy)
Quirks:
Adam is a huge flirt, guys and girls. Steve is very disciplined and obsessed with the band NightWish.
Hobbies:
Adam plays bass guitar and the cello. Steve has been interested in business since childhood.
Goal:
To become as strong together as physically possible.
Friends:
None so far