Kami Afza
(formerly Kami Afza Albarn, If your wondering I made up the maiden name)
Role:
Meister, Teacher
Gender:
Female
Appearance: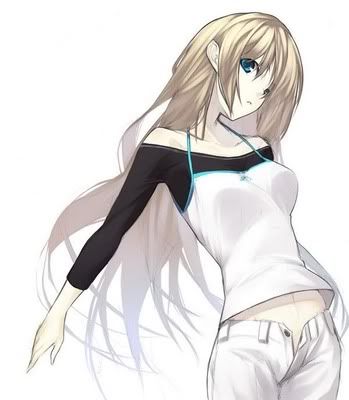 It obvious who Maka favors when you see Kami, the long blonde hair and slender frame is a dead giveaway. She has blue green eyes.
Age:
30
Personality:
Kami is Maka's mother and Spirit's ex-wife. She has not been seen in the series, only mentioned. Despite this, many know of her presence and her skills as a scythe meister. She is Spirit's second wielder, replacing Stein, and the one who made Spirit into a Death Scythe. She is shown to be very clever, as Spirit stated that she had always gotten top marks in class in the past, a trait passed down to Maka. She is also noted to be one of the few people who possesses a demon-slayer wavelength, a trait that she has also passed down to her daughter.
Likes:
* Warm weather
* Spending time with her daughter
* Taking pictures
* Reading
Dislikes:
* Cheating men
* Witches
* Overly flirty girls
* Being away from Maka
Quirks:
Kami like Maka is good at using her "Kami Chop"
(where do you think Maka got it)
, and it usually contacts with Spirits head. Another thing she does is twirl her hair around her finger when she's thinking.
Hobbies:
Reading, photography
Goal:
She was asked by Lord Death to come back to the DWMA, so she hopes that she can have a life in Death City without feeling the need to kill her ex-husband.
Friends:
Spirit -
(Even though she is divorced form him she still loves him. But she also feels utterly betrayed by him.)
Stein -
(She took over as Spirits meister when it was found that he was experimenting on Spirit. Despite this she still considers him her friend, one of the few people she can speak her frustrations with Spirit with)