Marie Mjolnir
Role:
weapon, death scythe, teacher
Gender:
Female
Appearance: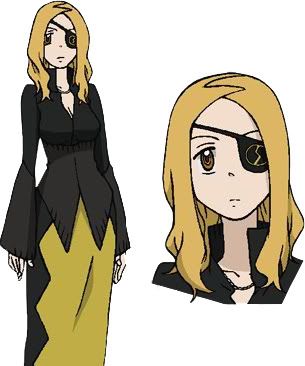 In her physical appearance, Marie is a young woman around the age of 25-30. She has large, caramel eyes, and long blonde hair. She wears her hair loosely with no bangs, and it forms a zig-zag pattern on her head.
In her attire, Marie wears a black dress with a large, golden, zig-zag pattern in the front from the waist down. Parts of the dress are made of a different fabric. These parts are located on the long sleeves of the dress from the elbows down, and a part below the chest that resembles a gurtle-like shape. She uses a pair of white, high-heel shoes that also appear to have a zig-zag pattern on them. Finally, her most iconic piece of clothing is her large, left eyepatch, which is decorated with a thunderbolt insignia that also appears in her Weapon form.
Weapon apearance:
Tonfa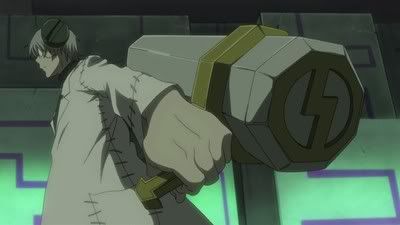 Age:
30
Personality:
Marie is an incredibly caring and gentle individual, and openly expresses her personality at all times. She shows great compassion in creating and maintaining a kind relationship with anyone she meets, and has yet to fail in doing so. Almost always being shown with a smile on her face. Whenever a friend is in need, she is always open to help in any way she can no matter the situation. In general, she is always concerned for the wellbeing of others
Likes:
*Tea/Coffee
(does she really know the difference)
*Helping others
*Cute things
*Stein
(shh... he has no clue)
Dislikes:
*Getting lost
(It doesn't matter cause it ends up happening anyway)
*Not being married
(The toilet is a cheater damn toilet!)
*Working to hard
*People being unhappy
Quirks:
She's is obsessive compulsive.
Hobbies:
"Ummm does getting lost count"
Goal:
To be a good teacher.
Friends:
Franken Stein, Toilet, Azusa Yumi,Crona, Ragnarok, Sid Barett, Spirit, Maka,