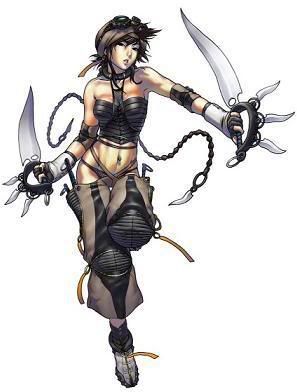 Character Name:Suzu
Role:
Weapon
Gender:
female
Weapon appearance:
Suzu is a ninja blade, she looks like the weapons she is holding.
She can also take the form of a smoke bomb and
Throwing Knives
Age:
13
Personality:
Suzu has an "I can do anything," perosnality, often seen jumping off high things and getting into places she should be. She only listens to her brother Harika, but wishes he would back off sometimes. She mouths off, and is loud.
When she is in battle she is the perfect ninja, with agility and accuracy she strikes. She can take the form of a smoke bomb, her assassin daggers, or a giant throwing star.
Likes:
~Candy
~Milk
~Winning
~Fighting
~Tea

Dislikes:
[i]~Coffee
~Black Licorice
~Anyone who thinks they are better than her
~cats
Quirks:
~she can be seen playing with the end of her long braid while she thinks.

Hobbies:
She loves to climb trees, and run through the forest. It's like a giant obstacle course as she sprints through avoiding trees, rocks, and drop offs.

Goal:
[i]She wants to make her brother proud, and find a boy who can handle her crazy family.
Friends:
Her brother Hariku
Other:
Haruka and Suzu are both weapons, but they can fight wielding each other.
her room