Kazami Ito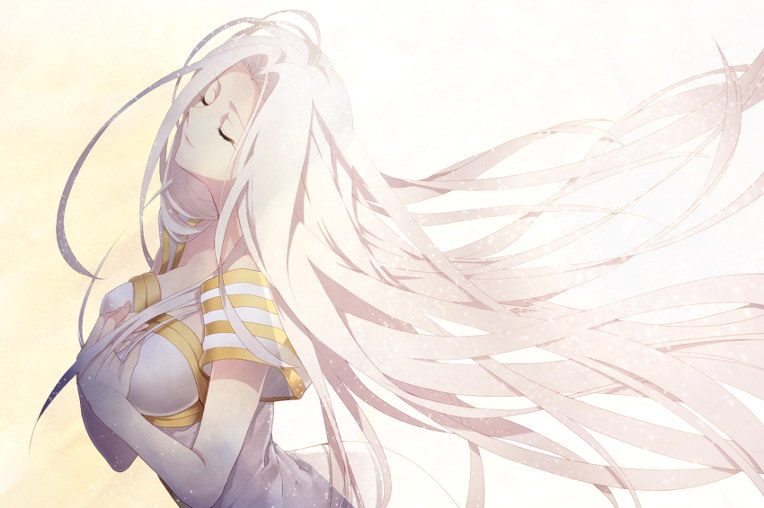 Age
16 (also the number that you skipped you skipper of numbers!! :P)
Role
Air Demon
Gender
Female
Partner
Taiki Fujimoto
Abilities/Skills
Kazami is good at keeping calm in any situation and doesn't rush into things without thoroughly thinking them through at first. Kazami normally doesn't use violence to fight an opponent but will first try to outsmart them and deceive them. Intelligence is her number one tool that she always uses. Her opponents always underestimate her because of her unwillingness to actually fight, but in the end she somehow ends up winning. She's not too good when it comes to fighting (like with fists or anything) and she doesn't like to use weapons either. When in battle Kazami uses her mind and elemental power. She can also create illusions from her wind power and the illusions are usually things that her opponent is either scared of or it's from their past (this lets Kazami get into their heads and control what they see and sometimes she can see their thoughts). Despite what people may think she can be very deadly in battle. She is very talented musically, and can play the piano and violin, she also sings. One thing that she hates is that she can't cook at all, she's not too good in the kitchen.
Personality
Kazami is mainly calm and quiet and easily understands others. She's very observant and things rarely get by her. She tends to space out a lot and day dream, but that's because she loves to take in everything around her. She's also very straight forward which surprises people. Kazami can also be very kind-hearted and because she has the ability to read people and their minds she can be very sympathetic and emotional. People normally see her as a quiet girl who never shows any emotion but she really is emotional and just hides it. The only reason why she tries to hide it is because she doesn't want to be seen as a weak person (even though she already looks kind of delicate anyway). When she is mad or sad she tries not to show it by just staying calm and collected. She likes helping others because she knows that if she were in a similar situation she would want help to. A lot of people think of her as an older sister because of how compassionate she can be but don't let her kind and quiet demeanor fool you because if you were to ever betray her or hurt someone close to her she would slowly and calmly kill you without hesitation.
Likes
-Earth
-Humans
-Beauty
-Kids
-People
-Wind
-Trees
-Piano
-Violin
-Singing
Dislikes
-Cooking
-Ignorance
-Violence without provocation
-Motorcycles (they're loud and they scare her)
-Violence in general (even though she still has to use it sometimes)
-Loud noises
Weakness
Kazami has a lot of weaknesses but two of them would be small children (because she absolutely loves children) and someone in trouble. Kazami can't help it but she loves helping people even if they give her nothing in return she feels likes she has to help people. When it comes to her powers she can become very deadly and if she is pushed far enough (like if they hurt someone she cared about) then she would kill them as slowly as possible and completely fuck with their mind. She is also easily scared by loud noises.
Appearance Description
Kazami has beautiful long snow white hair and vibrant ocean blue eyes rimmed with thick long lashes. She has soft ivory toned skin and stands out a lot. She mostly wears her hair down or puts it into two braids. She is also thin and very tall with long legs standing at 5'10 an a 1/2. She mainly wears jeans and shirts (nothing special) along with her black chocker necklace (that has a symbol on it meaning good luck and fortune).
Feelings about other characters.
Demons:

Kiera Katzubin: Kazami absolutely adores her and admires her intellegence.
Lidiya Ugov: Kazami finds her temper somewhat annoying but still likes her. She thinks her clutzy-ness is adorable and cute.
Feldt Bakuko: Kazami finds her extremely interesting and scary at the same time.

Humans:

Taiki Fujimoto: Kazami thinks he is a nice guy but is interested to see what his other pesonality is like.
Ginji Hegawa: TBA
Nadakai Takeo: TBA
Kensei Shimiza: Kamazi loves his witty humor and his open mindedness though she wishes he wasn't so reckless but overall she adores him as well.
Other
Kazami's name when translated means beautiful wind.
Winter Sonata
It's Instrumental there's no lyrics but it's one of the songs that Kazami always either plays on the piano or on the violin.