Kensei "Ken" Shimiza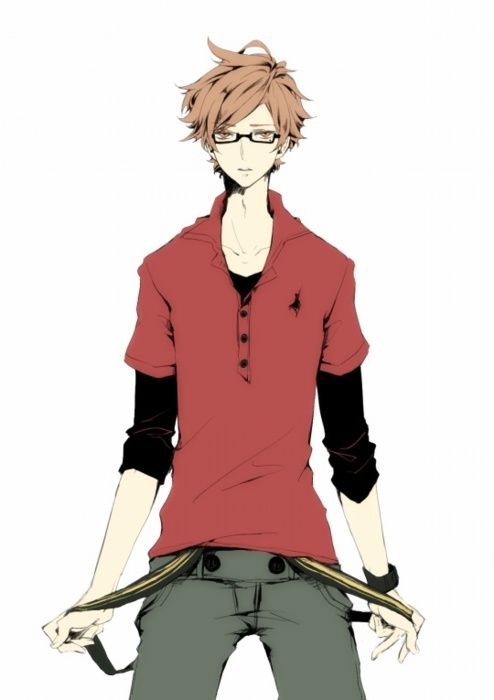 Age
18
Role
Fire

Male
Gender
Male
Partner
Lidiya Ugov
Abilities/Skills
There aren't many natural abilities, just skills that have been acquired throughout his lifetime. Kensei isn't much of an arts guy, but he excels in the field of music. Having a knack for keeping rhythm and setting a beat, Kensei found he was an excellent drummer. The nature of keeping the beat and having good rhythm only promoted his talent for dance. Having taken upon himself to learn proper ballroom dancing, he has immersed himself in music. It's more of an obsession than a skill, but Kensei is rather accomplished at pyrotechnics. He's especially proficient with fireworks, occasionally creating his own. Computers, and technology in general, have become some of Kensei's oldest and most cherished possessions. Although it really isn't a skill or ability, Kensei is color blind. He only sees various shades of grey, which can occasionally lead to great confusion when choosing his daily attire. Despite his inability to distinguish colors to a great extent, Kensei loves to piece together puzzles (which usually takes him significantly longer since he cannot organize pieces based on color).
Personality
One word: Colorful. Kensei is blessed with the grace of social butterfly. He loves to talk with people, loves making friends and loves hanging out. He doesn't have much fear for the unknown and will usually jump head first into many situations. Kensei is naturally fiery and occasionally explosive. He'll snap back witty remarks, as well as call someone out. He doesn't stand for injustice and will throw himself into the line of fire (unless it's the line of fire for a gun). His many burns have been results of firework accidents where he'd throw himself as a shield. On top of his feisty attitude, Kensei is pretty welcoming and understanding. He's been known to house people in his apartment and treat most everyone equal. Kensei is honestly just an open-minded guy.
He has his moods though, literally ranging from carefree and kind to angry and hateful. Kensei usually is in between the two, at his happy medium. Here, he's pretty much a fun guy; acting on a whim, not overthinking anything but not acting stupid. A major flaw is his common brazen attitude. He'll often overplay himself and act as if he was the best. He'll even go as far as to claim he's the "God" of whatever he's talking about. He also exaggerates everything he's passionate about; from fencing to drumming, dancing to fireworks. Kensei is often said to burn with passion, although he's only had one girlfriend and that didn't work out to well.
Likes
~Fencing
~Dancing (Specifically Ballroom)
~Bruce Lee (Idol)
~Technology (Computers)
~Fire/Pyrotechnics (Fireworks)
~Sushi + Tofu
~Cherry Blossom Trees (Sakura Trees)
~Music/Drums
~Perfume/Cologne/Candles (To Smell)
~Puzzles (Literal Puzzles; like the 500-Piece ones)
~Wearing Polo Shirts
Dislikes
~Being in the Middle of Arguments (Fights that he has to solve)
~Knowing Way too Many People (Being a Social Butterfly)
~Cigarettes/Smoking
~Wearing Pants (Not Perverted*)
~Prissy Women
~Coloring Books (He's colorblind)
~Sarcasm (He sucks at realizing sarcasm)
~Cliches (Especially Romantic Ones)
~Pictures (Either taking them or being in them)
Weakness
~Naturally Bad Eyes – Although it's been a factor of his life since his birth, his colorblindness has given him much more grief than he needs. He's also has great issue distinguishing objects in the distance and must wear glasses.
~Drowning – Having a nature that prefers to stand on solid ground, Kensei isn't much of a swimmer. On top of that, he doesn't know how to swim. He's not really afraid of water, just drowning in it.
~Firearms – Kensei has always been afraid of firearms, in general, being shot. He's heard stories, and his father being a former Police Officer, he learned what firearms can really do. Kensei is deathly afraid of firearms and has been known to completely lock up and pass out when having one pointed at him, even fake firearms.
~Awesome Sense of Smell – Man, smell is something that is a blessing and a curse. Kensei loves smelling everything… in secret obviously. He loves when women, and honestly men, wear perfume or cologne, respectively. He loves smelling various foods, but this enhanced smell has led him to some awkward situations. Especially those pertaining to the "Who smelt it, dealt it" joke.
~Multiple Colors – Due to suffering from colorblindness, Kensei cannot handle tons of colors all at once. The strain on his eyes will cause severe headaches and mental strain.
~Breaking a Limb – Kensei is absolutely terrified of breaking a limb and losing the ability to participate in Fencing, Drumming or Dancing. All three are major activities in his life.
Appearance Description
Kensei stands at 5'11" with flawless pale white skin. He weighs roughly 152 lbs. His hair and eyes are both hazel, although his hair is slightly lighter. Kensei's hair reaches just past his eyes and generally goes in every direction. The hair basically reaches down the back of his neck and covers most of his ears. His eyebrows are thin and his face cleanly shaven. Kensei is overall thin, being able to notice hints of his collar bone at the base of his neck. He almost always wears rather concealed clothing due to the multiple scars he's receives (mostly from fire accidents).
Feelings about other characters.
Demons

(3rd Person)


Lidiya Ugov

: Kensei would consider Lidiya someone he could get along with, just not live with. She smokes and Kensei hates smokers. Otherwise, she's a pretty cool chick. She likes fire, scented candles and most importantly music. Hopefully she'll understand Kensei's urges to drum on practically any surface at any given moment. He assumes that she'd take interest in his genius since she is also intelligent; nothing better than a pair of sharp minds.


Feldt Bakuko Seiei

: Feldt would make a real good friend being so outspoken and all. They both enjoy music, then again who doesn't? The only significant difference between them is that Feldt enjoys reading where Kensei isn't much into books.


Kiera Katzubin

: What can Kensei do about this Demon. She isn't into much of anything aside from fighting... She doesn't like children D: Children are fantastic! At least that's what Kensei thinks. On top of that, she's night owl... Kensei is a morning man. Enough said.


Kazami Ito

: It's rather interesting to Kensei that some people can be like minded but so different. Kazami is one of those cases and it's rather intriguing to Kensei. She's much more of a quiet observer where Kensei is that guy who'll jump right into any situation and get the details. Their big similarity is the understanding the two share of most everyone and that's saying a lot. Kensei doesn't always find his open-minded understanding to be a blessing, but he's lived with it and it seems that Kazami hasn't reached the point where she's been taken advantage of, yet. He could be wrong though.


Humans

(1st Person)


Taiki Fujimoto

: Well... Taiki just so happens to be an employee at the local grocery store. I see him working there quite often, scratch that, ALL THE TIME. I honestly haven't seen him outside of his job. Actually, I may have seen him once or twice in school or when I take walks, but it's pretty rare for me. So my impression isn't much of anything, just that he appears to be a good worker.


Nadakai Takeo

: This kid, Takeo... He's not someone I'd consider a good friend, but he's definitely not someone I'd call an enemy. He's just an acquaintance at best, simply because we don't share many interests. I've heard that he's an excellent swimmer and I've always assumed he was rather popular. I really don't talk to him, save a few times but he does appear to be a nice guy.


Ginji Hegawa

: Ginji, Ginji, Ginji. We're probably THE best pair of best friends in existence. We met way back in grade school and have basically been inseparable ever since. My family has taken him on many vacations and I've joined his for some too. He happens to be the physically dominate character of our pairing while I'm the thinker. It definitely makes us an interesting pair. I can remember all through our childhood watching Bruce Lee movies. We were probably the biggest Bruce Lee fanboys* ever, just saying. I mean, Ginji went out to learn Jeet Kune Do while I stuck with Fencing, which isn't nearly as cool, but it's still awesome. Even though we are best friends, we have plenty of differences. Mainly on trivial aspects like warm weather of cold weather, reading or playing video games, and the best debate we've had was between Fencing and Jeet Kune Do. That silly Ginji is determined to prove to me that Jeet Kune Do is so much better, what he hasn't realized is that multiple stances in Jeet Kune Do are derived from Fencing. Overall, I'm glad we're best friends, it's definitely made life a whole lot easier being able to rely on Ginji to back me up when I got bullied.

Other
Kensei is naturally color blind. His father is dead and his mother left him for a life of drugs. His only other family is his Aunt and Uncle who treat him like their own son. Kensei has accidentally called them mother and father multiple times before, it usually causes him much distress. *Pertaining to the Disliking of pants… Kensei flat out doesn't like wearing pants, he finds it uncomfortable and will remove them whenever possible. He wears boxers, so it's not like he likes walking around nude. He just doesn't like wearing pants.
Nothing Else Matters - Metallica
So close no matter how far
Couldn't be much more from the heart
Forever trusting who we are
And nothing else matters

Never opened myself this way
Life is ours, we live it our way
All these words I don't just say
And nothing else matters

Trust I seek and I find in you
Every day for us something new
Open mind for a different view
And nothing else matters

Never cared for what they do
Never cared for what they know
But I know

So close no matter how far
Couldn't be much more from the heart
Forever trusting who we are
And nothing else matters

Never cared for what they do
Never cared for what they know
But I know

Never opened myself this way
Life is ours, we live it our way
All these words I don't just say
And nothing else matters

Trust I seek and I find in you
Every day for us something new
Open mind for a different view
And nothing else matters

Never cared for what they say
Never cared for games they play
Never cared for what they do
Never cared for what they know
And I know

So close no matter how far
Couldn't be much more from the heart
Forever trusting who we are
No nothing else matters