Name: Theo
Age: 18 years old
Gender:Male
Human/Mermaid: Merman
Apperance: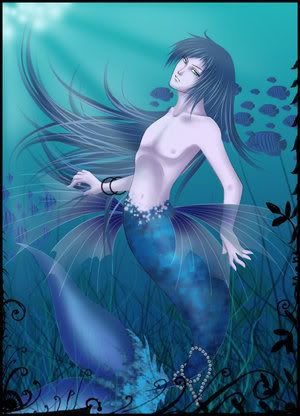 Personality: Theo is a calm guy and loves to talk and exchange ideas when he needs too. He also has an amazing sense of humor and it actually doesn't take much to make him laugh or anything. Theo is very knowledgable on all types of coral and fishes he won't hesistate to give you a lesson on such things. He's very helpful but also curios on alot of different things.
Likes:
Coral
Fish
Warm water
Humans
Dislikes:
Hooks
Bullies
Sharks
Being ignored
History: Theo lived with his parents for about 14 years of his life until he went off on his own in search for something more. He traveled to warm waters such as carribeans, Australia and Florida. As he traveled he watched the humans that lived in these areas they were so fascinating to him he couldn't help but want to learn from them. While on his travels he became friends with a few other Mermaids and a Merman. They hung out and travled together for awhile.
When the sudden storm blew in from no where. Theo and his friends were pushed by rushing water into the cove. During this time Theo hit his head and became unconscious when he came to he was on damp floor of the cove. Theo managed to get himself into one of deep pools where he looked for an escape but the coves pools were dark and he figured he couldn't get out.
When humans had appeared he figure this was the best time to learn from them he introduced himself. Although the humans were shocked he decided that if he grant a human a wish they would help him learn about them. Theo hopes he can learn from them as much as he can in a way he secretly want to be human, but won't tell his friends since he knows they would get upset.