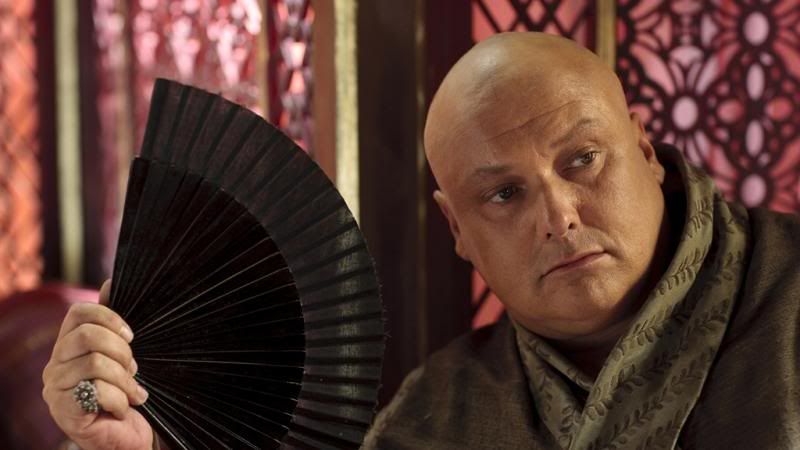 "He is a self-made man and he worships his creator." – John Bright
---
Role:

Lord Regent of the Valley of Knives.
Gender:

Male
Age:

39
Nicknames:

Daevon has no flattering nicknames, only nicknames most would not speak out loud while Daevon is within earshot. Lord de Gold Fort is one of his more popular nicknames amongst the commoners and nobles alike.
---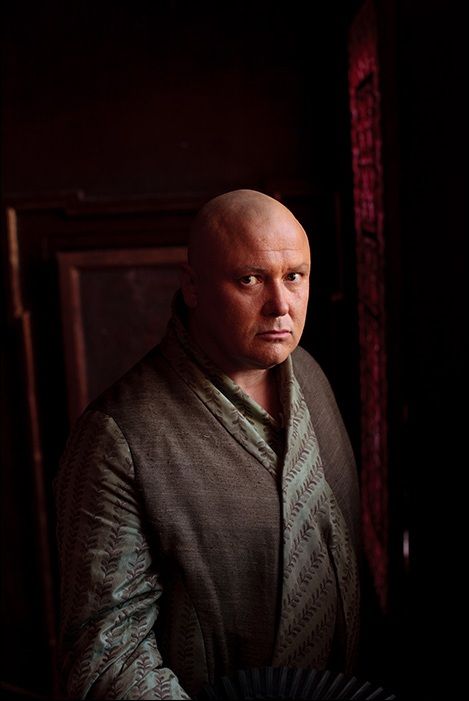 Height:

5ft 7in.
Weight:

217 lbs.
Build:

He has the build of a man who clearly enjoys the finer things in life and quite dislikes the tiring things.
Hair Colour:

Black, although his completely shaven head makes it hard to tell.
Eye Colour:

Brown.
Scars?:

None, Daevon's skin remains pristine, something he takes quite a bit of pride in.
Brief written description:

Short and clearly on the rounder side of things, Daevon typifies quite a few things that most consider to be wrong with the nobility. He enjoys the finer things in life, especially food, and disdains exercise, preferring to avoid it whenever possible. This is portrayed in his physique as he is on the hefty side. Supposedly, he also shaves his head, though there are some rumours he is actually bald. Similarly he shaves his beard religiously and he is never seen with a unkempt stubble. All in all, he enjoys keeping himself neat and tidy, never letting others catch him at a time he is not looking his finest. For the most part his looks have not made him the kind of lord most young maidens would spent sleepless nights fantasising about.
Clothing preference:

Although a unimportant lord of an even less important spit of land, Daevon wears the finest of clothing, each piece custom made especially for him. His clothing is made of the finest materials, all made by greatest of couturiers in the world. To say Daevon has expensive tastes when it comes to clothing would be an understatement. Daevon only wears the finest, made by the greatest. Daevon's wardrobe is sometimes jokingly referred to as being worth more than Daevon himself.
---
Skills and Assets:

+ Intelligent and educated. Daevon has enjoyed the privilege of a good education and has the mental faculties to make the most of it.
+ Rich. Despite being only a minor lord at best, Daevon is rich. Very, very rich. In fact, he may just be one of the richest men, if not the richest man in Saebel.
+ 'Friends' in high places. Many a lord, knight and merchant has a significant debt to Daevon. Daevon uses these debts strategically, using his power over these other important figures to manipulate the court and kingdom of Saebel to his will.
+ 'Friends' in low places. Whether they be smugglers, mercenaries or assassins Daevon has many a shady 'friend'. There are even many rumours Daevon himself is a smuggler and has earned most of his wealth through shady dealings and even more fantastical ones that he is the master of an assassin's guild. Of course, no one has ever proven this.
+ Economic Wizard. They say that the economy bends to the will of Daevon de Guiffort. Whether or not he is an actual wizard remains to be seen, but the simple fact that gold seems to appear when he claps his hands might prove some credence to the rumour. What is certain is that Daevon knows the ins and out of the economy and knows exactly what strings to pull to make it work in his favour.
+ Businesses. Daevon is the owner of several well-respected businesses throughout Saebel and the owner of several other "Businesses" as well. His collection of both legal and illegal enterprises have given him a significant amount of wealth and influence throughout Saebel.
Quirks:

+ Daevon is well known for keeping a small fan on him at all times and to use it whenever he gets hot. Which is all the time, even in the colder regions of the north.
+ Daevon often uses a handkerchief, but never the same one twice. As a result, he has a very large collection of handkerchiefs.
Likes:

+ Politics.
+ Falconry.
+ Economics.
+ Business.
+ Debts.
+ Trade.
+ Intrigue.
+ Gold.
+ Merchants.
+ Banks.
Dislikes:

+ Horses.
+ Knights.
+ Warriors.
+ The poor.
+ Religion.
+ Other lords.
+ Noble ladies of the court.
Fears:

+ Losing his gold and influence.
Written description:

On the surface, Daevon is almost the perfect lord. He is always polite and never fails to take an opportunity for a little civil discourse. His sense of dress is impeccable and his clothes never have a smidgen on them. He even enjoys some of the more stereotypical 'masculine' endeavours such as falconry. But what lies underneath the surface is what one might call the 'true' Daevon and the reason why Daevon is the current cause for quite a bit of the rumours concerning corruption in the king's court.

Although rumours have tarnished his reputation somewhat, Daevon never fails to live up to the ideal of a noble lord. Polite and humble, wealthy and good to his people, educated and intelligent. This is the public persona of Daevon. But his true self is quite different. His politeness is merely a cover for a more aggressive and power hungry side. His wealth is amassed through ruthless and often time shady business deals. He is good to his people, but is also known to be unforgiving to those who get in his way. And he uses his good education almost entirely for the purposes of manipulating others or manipulating the numbers of his many ledgers.

Rich beyond belief, despite being a minor lord from an out-of-the-way and utterly uninteresting spit of land, Daevon has come quite a ways from his original station. His wife's father had not been rich and all of the money that came into the fallen lordly family came from the daughter's marriage to Daevon. Rumours have it that when the father died, Daevon took over as lord and began using his connections to smuggle all sorts of things in and out of Saebel. Whether any of the rumours are true or not, the fact that Daevon deals in many a shady affair is a simple fact, even if copious bribes and rumours of webs of corruption with Daevon in the centre have kept such affairs under lids.

Politically, Daevon finds himself in a precarious position. Although he is technically the lord regent of a spit of land known as the Valley of Knives, his position has been threatened ever since his wife passed away. His position as lord was only in effect due to his marriage to his now deceased wife. Daevon was originally a third son of a branch house of a branch house of a noble family, making his own noble status nebulous at best. Because of this, there are many who feel the regency of his holdings should fall to the closest living relative of his late wife. Fortunately for Daevon, such a relative has been hard to find, although those of questionable blood relations to the former ruling family have been many. Currently, he holds his position by cleverly leveraging the power he has over lords indebted to him to ensure they vote for keeping him as lord of the Valley.

Similarly to his position as an actual lord, his position on the war is equally nebulous. Although he has considerable power within the court, none of it is official, as his influence stems from the lords indebted to him that he can manipulate. Strategically, his lands hold barely any value, being out of the way and only possessing a few small towns and a small port city. But his immense wealth have made him a valuable asset for either side. Although Daevon has always been a firm supporter of Lancaster rule, it is no secret that often times he has helped the people and lords of the south financially. For many, Daevon's position on the war and who he will support remains a mystery.
---
Relationship Status:

Widower.
Family:

None, though there are rumours that two boys in his service are actually his bastard sons.
---
Secret Word:

This is war.