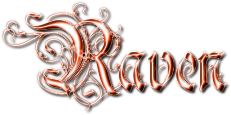 Appearance::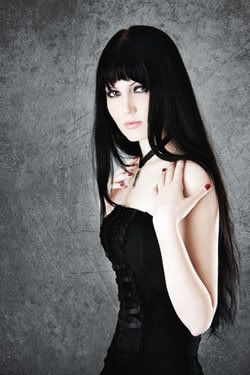 Discription::
Raven has a deep gothic look about her. Her stature and clothing really tell of strength and darkness. Raven has long, pitch black hair that reaches just to her waist. It is layered slightly, and dead straight, hanging with seemingly no life. Her hair also frames her face, with a quite a large front fringe, which helps give her a dark, rather intimidating look. Her facial features are actually quite delicate, with only slight lips and a small, soft nose. While they are delicate, Raven manages to distract from the seemingly "weaker" elements in her face by highlighting and darkening her eyes. Her eyes are also quite small, yet intense and with the help of darkened make-up, Raven manages to make them successfully intimidating. They are a deep, dark brown, however in most lights appear black and cold, much like the rest of her appearance. Both eyes also have a sort of depth to them which is enhanced by her ability.
Standing in stark contrast to her dark hair and eyes, Raven's skin is a white, porcelain colour, which if it ever saw the sun would burn quite effectively. While her skin appears flawless (just as she likes you to think), it's unnatural white colour actually has a lot to do with her unhealthy love of the dark. Raven has a very slim figure, which, as she loves to let everyone know, is hour-glass. Raven also dresses to impress. She prefers tight black corsets that manage to work with her thin figure especially with the boning of the corset panels. Depending on her mood, Raven has an assortment of skirts. Most are long and reach to the floor, with thick volumous black fabrics which mask the thinness of her legs. The others are short, poufy skirts which reveal her knees, and then the rest of her legs are covered in lace stockings or striped socks. Almost all her clothing is black with small strips of red or white. The only other colour found on her body is her dark red nail polish, which she likes as she claims blood red or scarlet is the colour of revenge.
Name:: Raven Umbra
Nickname:: None
Age:: 18
Gender:: Female
Role:: Female 7
Crush?:: Jack Kingsley
Gf/Bf?::
Weapon(s):: She considers her main one as her mind, however she also has two small throwing knives. The only other thing she carries is a small needle which is dipped in poison. She prefers light travel.
Extra Skill(s)::
Raven considers her other skills as her smooth tongue. She tends to make people believe what she wants them to and can get her way out of almost any situation.
Talents/Powers::
Raven can speak to animals. She also has a rather unnerving talent of talking in people's minds. She can't read them, but only speak into them and if they direct their thoughts to her, hear those. These are the easier to use of her talents, but she also has a few more dangerous, yet also more difficult abilities. Raven can also create illusions and project feelings. She can worm her way into the deeper part of a person's mind and allow them to see things she wants them too while also projecting feelings she wants to use to manipulate them. This however takes more effort, and if her concentration slips she can lose them, and have to start all over again
Strengths::
- Her manipulative personality
- Her appearance
- Skill with knives
- Knowledge of the mind
- Her imposing and strong aura in which she carries herself
Weaknessess::
- She has a strong fear of electricity and water
- Her strong emotions that can suddenly change
- Her hunger for power and vanity
- Her weak physical side
- She doesn't accept help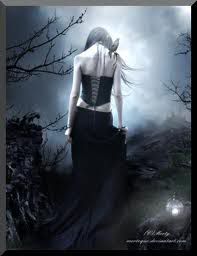 Personality::
Raven has a rather complicated personality, due to having a few almost insane parts to her. Originally, Raven was an average girl, though she did suffer from depression when she was ten due to a sudden change of scenery. A few years later, Raven's powers became far more apparent (her illusions now added to speaking into minds and talking with animals). Her parents thought she would sink back into her depression however instead she seemed to grow more bitter and determined, with deadly hatred building to a need to survive and even dominate. She kept this under lock and key however, preferring to appear brooding and rather silent. This was quite unnerving as she also had a nasty habit of pressing feelings of fear and even admiration for herself onto those around her. However due to her weakened state this did not last as long as Raven as she would like. She has a dark and deadly personality, though she herself believes herself to be in the right.
She claims that while she wants revenge (to those who label her a freak), the revenge would take the form of justice. Those that meet her at first are often charmed by her words, and she has a kind of snake tongue that can really make people believe what she wants. When you first talk to her, she seems to be quite sane and even intelligent with seemingly fair and also well-thought out schemes and plans for what she will do once she gets out. She claims that it is only fair that humans get their own justice, though of course fair and in her silky voice explains that even those seemingly innocent people should have supported herself and the others and therefore probably should pay some sort of compensation. Of course it wouldn't be too much, she is fair, and as she keeps talking you eventually realise that she is more twisted and too full of bitterness to truly seek justice. She is almost delusional, truly believing she is just and would be a good person to keep justice on the world. She claims money and power are not the main reason, but just so happen to be a side line to what she truly wants- justice/revenge.
She also struggles with vanity, and loves to spend time straightening out her hair and organising her clothes in order to give the most stunning and startling effects.
Raven, like her personality, also has a rather dark and twisted sense of humour with a streak of sarcasm here and there. She also is quite negative in the way she thinks, though also over ambitious. The strange thing is that she also has a soft heart for certain people, yet finds that she easily is hurt or angered by them. Once a wrong has been committed, Raven has a hard time fixing the relationship and prefers to break it off and make sure the other person will never do it again. Due to being constantly hurt by those around her, Raven is more of a solitary person, and prefers to either work alone, or as a dictator where she can make sure people do what she wants and won't be able to hurt her emotionally. Overall Raven is really an emotionally broken girl.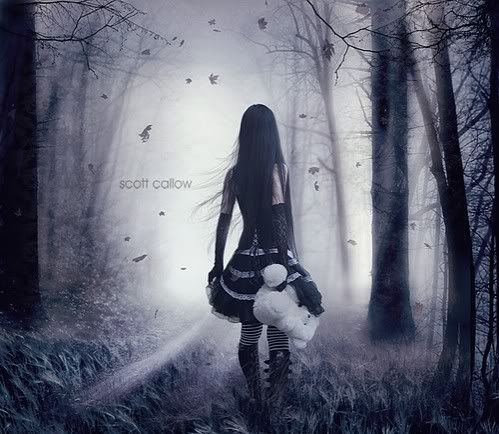 Likes::
- Gothic fashion
- Money
- Jack
- Darkness
- Strong personality
Dislikes::
- Light
- Obeying orders
- Working as a team
- Owing someone
- Water
History::
Raven was originally named Melissa by two loving parents. In her very early childhood, Melissa had been in the bath. Unknown to her mother, she'd had her stereo playing next to her. As she was hopping out, she accidentally pushed the device into the water. The electrical current went straight through the water and into her body.
She was rushed to hospital, and fortunately survived with nothing too severe in terms of injury, yet a harsh memory that stayed with her for life. She was an only child and went to a private school and was bestowed many gifts, however was not overly spoilt. At school she had some good friends, however due to her father's job was forced to move to a new city. There she went to a public school, and struggled to fit in. She was thought of as a snob and her bubbly personality was crushed and she suffered a mild depression. During this, her parents grew quite desperate and used lots of different medications. A lot were newer designs with little testing and mixed with certain other ones creating strange hallucinations and seemed to give Melissa severe headaches and migraines. Throughout it all, her parents continued to support her, believing the medications were last resorts for their precious daughter. Five months after her fifteenth birthday, Melissa came through the depression, however seemed to have an enhanced mind.
Originally she had always been able to speak to animals and talk to others minds, though she kept this a secret. When she began to notice that she could form illusions and emotions, she had tried it on her mother…
This did not end well. Her mother freaked out and her and her husband began to fear Melissa. They often kept her in her room, not daring to come into contact.
Room looks::
Other:: A jet black raven she calls Nightlock.
[IMG=http://img411.imageshack.us/img411/9788/raveninfo0.gif][/IMG]