Everybody in your town is a fairytale character, but the evil queen sent all of them including her self to a new world (Earth) here there was no happiness and happy endings. Only one person can change it back... Snow White and Prince Charming's Daughter Emma. Will Emma Be Able to save them in time.
The actual spread and scope of the Enchanted Forest is not currently known. So far in the series, it has been hinted that there are several kingdoms and lands that are beyond the scope of the Enchanted Forest. Established realms in the Enchanted Forest include the one ruled formerly by King Leopold and now by the Evil Queen, King Midas' Kingdom, King George's Kingdom, Cinderella's Kingdom and one seemingly ruled by Belle's father. It was shown in "Fruit of the Poisonous Tree" that Agrabah is also a kingdom in this reality. There were also a few wars known as the Ogre Wars at different points in time, which had implications for many of the kingdoms. The effects of the Dark Curse are not fully known either, in that if the effect extended beyond the Enchanted Forest and into other realms of the fairy tale world.
Storybrooke, Maine, is depicted as a typical oceanside small town. Although it has a "trapped in time" factor (1980s-vintage cars on the street, and 1980s-vintage comic books for sale in the corner store), modern conveniences such as the Internet and TV broadcasts are available. It is established in several episodes, however, that residents affected by the curse are unable to leave the town limits of Storybrooke. A notable exception to this is Henry, who is able to leave Storybrooke to retrieve Emma from Boston in the pilot episode due to him not being part of the original curse. It is unclear at present what happens to the characters if they do leave. For characters that have attempted to leave, their cars break down and they get into some sort of danger. On one occasion, after Kathryn disappeared, the gym teacher can be seen driving away for no apparent reason suggesting that people do attempt to leave. Since Emma's arrival, the curse has begun to weaken, with clocks now moving forward and Regina's apple tree showing signs of spoilage.
Trailer for the show
http://www.youtube.com/watch?v=pCDDwx1Njn0
Characters
The Queen
Red Riding Hood
Taken by SlightlyInsane
Snow White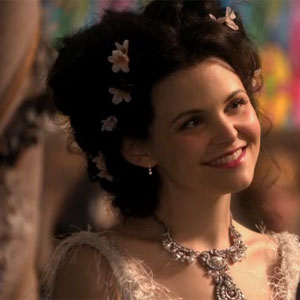 Emma
Taken by Miss_Dreamer
Prince Charming
Taken by TeenTitans
Henry
Taken by Miss_Dreamer
Rumpelstiltskin
Taken by SlightlyInsane
Rapunzel
The Blind Witch
The Huntsman
The Mad Hatter
Taken by BewareofDanGIR!
Taking place in...
1 posts here • Page 1 of 1
1 posts here • Page 1 of 1
Arcs are bundles of posts that you can organize on your own. They're useful for telling a story that might span long periods of time or space.
There are no arcs in this roleplay.
There are no quests in this roleplay.
Here's the current leaderboard.
There are no groups in this roleplay!
Welcome home, Promethean. Here, you can manage your universe.
Arcs are bundles of posts from any location, allowing you to easily capture sub-plots which might be spread out across multiple locations.
You can create Quests with various rewards, encouraging your players to engage with specific plot lines.
Settings are the backdrop for the characters in your universe, giving meaning and context to their existence. By creating a number of well-written locations, you can organize your universe into areas and regions.
Navigation
While not required, locations can be organized onto a map. More information soon!
There are no groups in this roleplay!
By creating Collectibles, you can reward your players with unique items that accentuate their character sheets.
Once an Item has been created, it can be spawned in the IC using /spawn Item Name (case-sensitive, as usual) — this can be followed with /take Item Name to retrieve the item into the current character's inventory.
Give your Universe life by adding a Mob, which are auto-replenishing NPCs your players can interact with. Useful for some quick hack-and-slash fun!
Mobs can be automated spawns, like rats and bats, or full-on NPCs complete with conversation menus. Use them to enhance your player experience!
Current Mobs
No mobs have been created yet.
Locations where Mobs and Items might appear.
You can schedule events for your players to create notifications and schedule times for everyone to plan around.
Add and remove other people from your Universe.
Orphanage
By marking a character as abandoned, you can offer them to your players as pre-made character sheets.
1 sightings
Regina
played by TeenTitans
The Queen
The Forge
Use your INK to craft new artifacts in Forgotten Fairytales. Once created, Items cannot be changed, but they can be bought and sold in the marketplace.
Notable Items
No items have been created yet!
The Market
Buy, sell, and even craft your own items in this universe.
Market Data

Market conditions are unknown. Use caution when trading.

Quick Buy (Items Most Recently Listed for Sale)
None
Discussions
Topics

Replies
Views

Last post
Most recent OOC posts in Forgotten Fairytales
If this is still going, I would love to reserve Doctor Hopper.
Yes you may reserve the Mad Hatter
I've never seen the show... But I will do some research on it.

Meanwhile, may I reserve the Mad Hatter?
Sure ok, right now there aren't any forms to fill out so you can just make them with a picture and maybe a little description and then just submit it. Thanks guys and Miss_Dreamer you can have them both.
Count me in as well. I would love to reserve Red and Rumpelstiltskin.
I LOVE ONCE UPON A TIME! I HAVE SEEN EVERY EPISODE OF SEASON 1
I would love to reserve a Emma or Henry
This is the auto-generated OOC topic for the roleplay "
Forgotten Fairytales
"
You may edit this first post as you see fit.