Name : Miranda Eden
Nickname: Mira
Race: Human
Age: 16
Gender:Female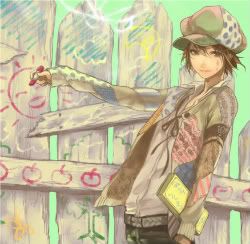 Appearance: Miranda is almost always seen with her painter's hat and chalk. She is tall and lanky, standing at about 2m in height. She often wears a patched jacket as she says she feels comfortable in it, and hardly wears any other clothing unless it is to formal locations. She has messy brown hair and prefers to dress and act boyishly despite her name, so many often mistake her for a boy.
Occupation: Artist
[/b]Personality:Miranda chooses to act like a boy as she thinks that they have more freedom over the female gender. Her mischievous personality also enables her to blend in quite well and many of the town's boys knows her as a daredevil, almost always up to no good. She enjoys art as a form of expressing her feelings, and therefore chose to be an artist. She is very talented in art as she has a wild imagination, and often dreams up mystical creatures. However, she herself did not believe them, thinking them as only existing in fairy tales, and believes that science has an explanation to everything. She also has a form of Synesthesia, which allows her to see colors every time she hears sounds. She has a friendly and cheerful personality, so people often forgive her for her pranks.
Skills: Given the necessary materials she can craft or draw anything.