Jacob Warden
The Protector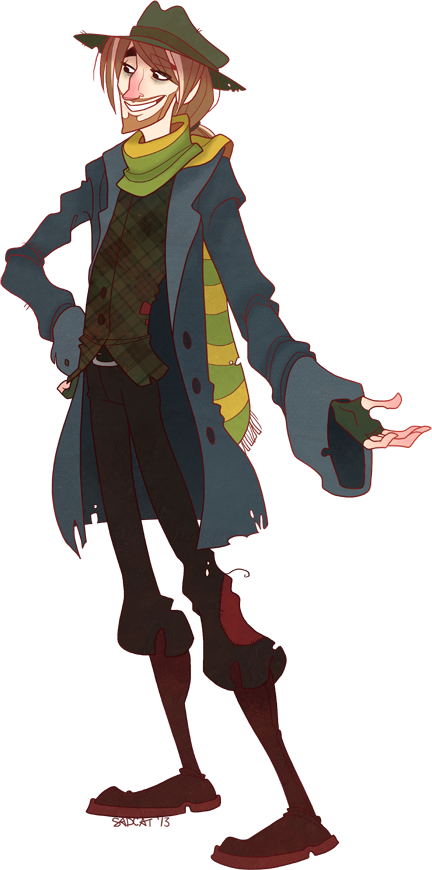 Age: Appears to be in his late 20s/early 30s
Gender: Male
Height: 6'2"
Weight: 140 lbs
Physical Description: Tall and lanky with pale skin and long, light-brown hair (with streaks of silver; generally kept in a loose ponytail). Crooked nose, easy smile, dark brown eyes, and a short beard. His time without the creator has left him rather haggard and scruffy. Once posh and prim, he doesn't pay nearly as much attention as he once did to proper grooming, hygiene, and wearing clothes that aren't full of holes. Jacob has the secondary forms of a fawn and a raven, both white and flecked with brown.
Personality Description: Once very proper, even bordering on uptight, he's now much more jaded. He tends to sit back and observe, though given the opportunity he will talk on end until told to stop. Has more or less decided to cast away all responsibilities and let the world fall apart, not caring to fight or fret or do much more than wander in isolation. Can have a temper if pushed, but tries to hide this with a forced nonchalance. Left to think too much, he can be twitchy, nervous, and a bit paranoid. Despite being something of a wreck, he is still capable of loyalty.
Relation to the Creator: Was once her primary protector--following her in each adventure to assure her absolute safety.
Notable Powers: Can transform into a fawn and a raven (used to be able to change into many animal forms, but no longer).
Brief History: Jacob was created as a result of a chance encounter when Victory was very young. Spending the day with a friend's family for an arranged playdate, Victory followed after a pigeon whilst her friend's mother window-shopped. Unaware of how busy the downtown street could be, the little girl chased the bird into oncoming traffic. Seconds before a fatal impact, she was scooped out of danger by a bedraggled man. Too surprised to say anything, Victory only managed to glimpse the man's smiling face before he disappeared. Jacob (named after the neighbour's golden retriever, Jake) was one of the first to appear by Victory's side in Precaria; always there to assure her protection. He dressed in fine clothes and scouted for dangers on each new adventure. He was stuffy and strict in his duty, ever suspicious of anyone who tried to come near Victory, but to the girl he was always kind.

As the years passed, Jacob began to resemble less the well-groomed fatherly figure and more the homeless man who saved a little girl's life. Victory's visits became rarer, and though Jacob waited eagerly to see her each time, His personality and appearance faded with every encounter, until eventually Victory stopped coming. Jacob waited for years before his memories of past adventures faded also. He now wanders, looking for something he just can't recall.