Nicknames: (her name is pronounced like add-a-lee) Not Many people know her real name. Everyone calls her "Rag doll" Because most people that see her only see her silhouette and a tattered rag doll in her hands
Age: 5 years old
Gender: Female
Race: Psychic
Psychic Powers: She has the powers most other psychics have. Se can talk to other people in their mind - often driving people insane sometimes. She has sent several of her victims onto the verge of insanity before killing them, just by talking to them with her mind. She can not, however, control their mind our read their thoughts. She also has Telekinesis, using this to kill people. By carrying around several small throwing knives, her minor telekinesis has turned into a lethal weapon. She also has very minor visions into the future. She only catches glimpses into the future as she kills someone, in that few seconds when the are passing over to "the other side" Sometimes she even gets visions of the past.
Eye Color: Blue
Hair Color: A golden Blonde, with nice curls
Height: 3 foot, 2 inches
Other features: She has a birthmark in the shape of a crescent moon on her chest
Clothing: She is normally wearing a very tattered, very dirty white dress
Equipment:[/b} She carries around 5 small knives, tucked into the folds of her dress. That and her rag doll.

[center]
Rag Doll is a very creepy girl. She doesn't talk aloud much. She prefers to talk to people in their head. She comes off as sweet an innocent at first, ut then a wicked smile will curl across her face and before you know it, she will kill you. However, she only kills people who are mean to her or the people that she likes. So don't ever get her angry. She is very protective of the people she likes, for example she used to protect her sister.... until her sister took one of her toys one day and then that was the end of her. It is said that only a select few people she will like, and of those select few, a chosen one will be the only one she would consider listening to besides the voices in her head. She is actually very clever, but also rather unpredictable and, well terrifying. She has become addicted to seeing the future, and therefor continues to kill people.
[b]Favorite Color: Purple
Likes:
-singing
-reading
-drawing
-killing
-the voices in her head
dislikes:
-mean people
-tight places
-men
-people who touch her rag doll
-dogs
Weakness:
-is just a little kid
-weak
-young
Fears:
-claustrophobic
-men
-werewolves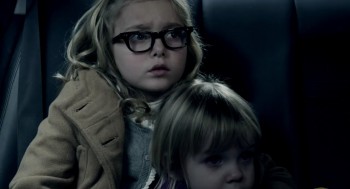 When Adalie was born her parents knew there was something different about her. She grew up alienated by her own parents, who thought of her as a freak. She started hearing voices in her head. She didn't know where the voices came from, but without caring parent figures, she followed the voices to a letter. When her sister was born, she loved her very much. One day her parents became very mad at her, because she had killed the pet dog because the voices told her too. It was then that the voices told her to kill her mother. And so, she did. It was then that she got a glimpse of the future, what she would grow up to be, how much her mother actually loved her. All this information. At first it sickened her, but then she yearned for it. Soon she killed her father and sister. She then ran away, finding shelter whenever she could. Families always took her in. And before they could send off to a foster home or anything, she would kill them. When she learned that there were other supernatural beings like her, she grew afraid.

She decided to hunt them down. She viewed them as a threat, so she started killing them off. And now, her main target, the foster home, has come into view, and she will do anything she can to kill every last one of them. Because, of course, the voices told her to.