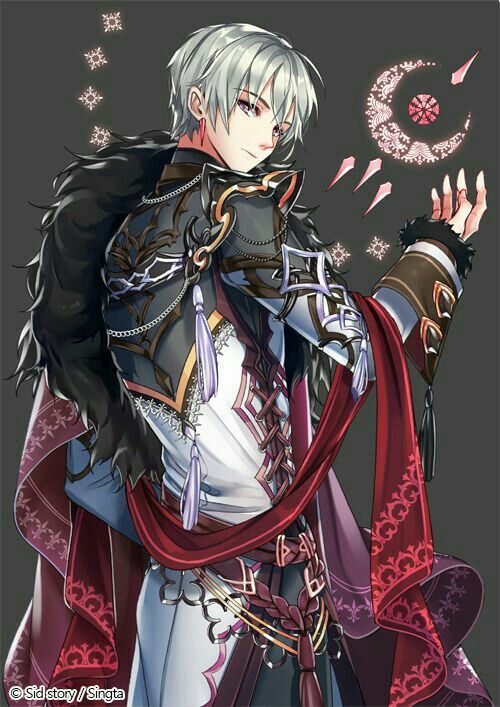 Silver Falcon || 23 || Bisexual (prefers men)
Nullify. He seals other's soul power. It freezes them where they stand and weakens them. Victims of his ability become violently sick afterward and it can take days to recover - if they survived an encounter with him. Liao rarely ever uses this ability - in fact his guards have only seen it in use twice before in the past.
A long sword. Silver in color and design.
He is without his soul, therefore he is physically weakened and unstable. He cannot fight for long periods of time. He will often need rest, though he won't admit to it willingly. Liao is known for pushing himself to far and even now when he is injured without his soul, he still will push himself to the point of collapsing. In short, he does not know his own limits.
Naturally, should he have his soul power, his weakness is that of guarding his right side. Though proficient in sword play, Liao has an old injury that prevents him from twisting too far to the right and thus that side is often exposed when practicing his sword skills or if a real fight were to happen.
Kind and caring, Liao puts others before himself. He dislikes seeing anyone suffering and will do what he can to help. He enjoys conversation and is more than willing to lend an ear to anyone who needs it.
He is driven to do what's best for his country and has often faced many hard decisions that he does not take lightly or without thought and advice from those beside him. Determined to see his lands prosper, Liao will do whatever it takes to achieve that. He will not allow Noria to fall into darkness so long as he lives.
Liao likes listening to music, or simply listening to his personal guards chatter (or bicker) while he simply sits and smiles in silence. He enjoys steamed buns, and the occasional sweets. He dislikes sour things and the sight of blood sometimes makes him nauseated though he manages to pull through. He dislikes acupuncture - more specifically the needles. They unnerve him.
Crown Prince to the country of Noria he is the youngest son to Lady Nimya Xinyi and Lord Hyun Xinyi. He doted on his brother for the majority of their youth. Up until both Mother and Father died in a carriage accident when Liao was 12. No details about their deaths were spared, and thus nothing else was found out about it. Liao and Cai mourned together for a time until Cai distanced himself and spent all of his time away from the capital; immersing himself in the military might of Noria.
Whatever happened during his time away may be part of why Cai has turned on Liao. Liao is determined to find out why Cai attacked and what it is he truly wants.