If You Look In This Cage, You Will See
Grimewater Croaker
.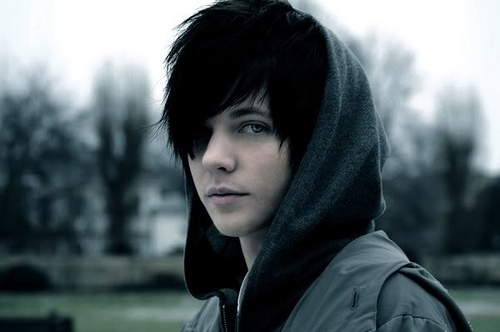 They Were Born Under The Name
Tagonoly "Tag" Croaker
.
They Are
Nineteen
Years Old
.
They Are A
Male
.
They Are Here Because
he has the mutation's of an amphibian. His legs are rather long and bendy which can propel him really high up into the sky, but he has a hard time standing straight up. He's usually crouched down as it's more comfortable for him. He has a few boils here and there, and his skin is slippery and slimy, but that doesn't really take up a lot of attention as with his extra long, sticky tongue, he can pull himself places and also pull things towards him. Also in water, he has the strange capability to breath through his skin, and therefore can stay in the water for lengthy amounts of time. Reasoning behind better capability in water was developed by webbed hands and feet, helping to accelerate in water
.
They really enjoy
meeting people who don't really mind the fact that even when standing normally he doesn't really look normal. He also prefers spending time in the water than he does just wandering around. He loves jumping, eating, and looking at the night sky. He actually loves warmth, even though he's cold blooded. Something about it just feels nice to him. He has a sweet tooth, and loves communication with others. However, this said, he does love peace and quiet. Being alone sometimes can be calming to him, and when left alone, he can just chilll
.
They Really Hate
Seafood, being stared at, being within the cage and having to do a silly little routine. He'll quite often hide in the water of his cage, eyes peeking out the top every so often, but when too many people come nearby he'll go right into the water. He really dislikes The Owner and anyone who tries to take control over him...
.
What Really Scares Them Is
Being dissected, like a frog. He also has a terrible fear of the circus. Ironic when this Zoo has its similarities... He went when he was younger and the clowns just really freaked him out.
.
Their Story Goes Something Like This.
Tagonoly hasn't been in The Zoo. A few of months at most. He's still not used to it. He had grown up always being different. He was worked hard for keeping posture and such but it never worked. He always went wobbly legged and 'weak in the knees'. He was put in a wheelchair for a while because people thought there was something wrong with him. But then, he was introduced to the water.

Automatically, he felt freedom and a new love. Swimming became a love to him and it was rare to see him doing other things when he wasn't at school. A natural born swimmer and a real leaper. He'd do flips out of the water, going high above houses and much more. He was seen, even by his parents, as weird. He would lay objects that float in the water and then rest on top of them in the typical 'froggy' position, it was most comfortable for him. Tag soon discovered his many other amphibian traits and was soon becoming known as 'frog boy'. He developed a lack of friends for becoming a freak and soon his parents even abandoned him. They heard about The Zoo and donated him to it. Tagonoly of course didn't want to go, being locked away and then paraded about like some sort of circus freak, living in fear. But... he didn't exactly have a choice. He was forced here, and he can't get out...
.
Even If They Are Freaks, They Have Personalities...
Tagonoly is a typically shy and quiet guy. He's a bit of a loner and isn't really that much of a social man. Being in crowded places or having crowds around him can disturb him and irritate him, making him go quiet and stubborn. However, he's actually a very kind and sensual man who's very trustworthy. Although he doesn't get much human contact, he is appreciative of it. Unless it's an audience member who's trying to see what his skin feels like or how stretchy his legs are... if you were to do that, expect a tongue on your face...
.
Moving on to our next freak...
Writing Sample?
Drip, drop, drip, drop.
His moss green eyes gently opened to the sound of droplets of water, one after the other making contact with a small pool. His fuzzy vision gently cast to the things around him, confusion clear in his misty eyes. He pulled down the hood of his grey hoody, black hair falling out messily as he blinked at his surroundings. It was like he was in a small nature reserve. Well, a tacky looking one anyway. There was a small pool that was deep enough to swim around in, but not deep enough to dive down into. By it was a small boulder that had very
very
fake looking moss in it. There was a certain pond-like smell in the air, and he could only imagine it was from the filthy water with a few green bits of moss floating on the water. There were a few leaves draping around him, and after turning a little more, he noticed that there were bars around him. All around him. The area he was in wasn't small, but it wasn't like hell that big either. The small pool took up most of the cage and there was only the bare ledge he was on, and a small floating object (Shaped like a lillypad) On the water. He felt a pat on his shoulder through the bars and turned quickly, seeing a small boy holding candyfloss shoving his hand through the bars. "Icky! He's all slimy and sticky! Like a frog!" Tag pulled away from the boy, though accidentally fell into the pool. He frowned a little, feeling his feet touch the bottom and then leaping back up, head touching the ceiling of the cage (just about) and he landed on the lillypad in hid crouched position, coming face to face with a crowd of kids staring and gawking at him with beady little eyes that were looking for a freak show. He wasn't a freak show... was he? He never thought he was. He croaked a little and then his tongue snapped to the ceiling, pulling himself up and then leaping to the bars, his feet coming in contact and making the crowd 'oooh' and 'ahhhh'. He sighed, doing the rest of the routine that The Owner had so thoroughly gone through with him, before diving underwater and staying there, eyes peering out over the surface as people started to leave.
He sighed. This was the life he now had to lead. A freaky toad boy with boils on his face that wasn't caused by puberty. He sunk under the water and closed his eyes. His only friend was the water. His only friend was always the water. No matter how much he wanted to change that... "Looks like I still feel like a freak, even in a home for freaks...