Alyce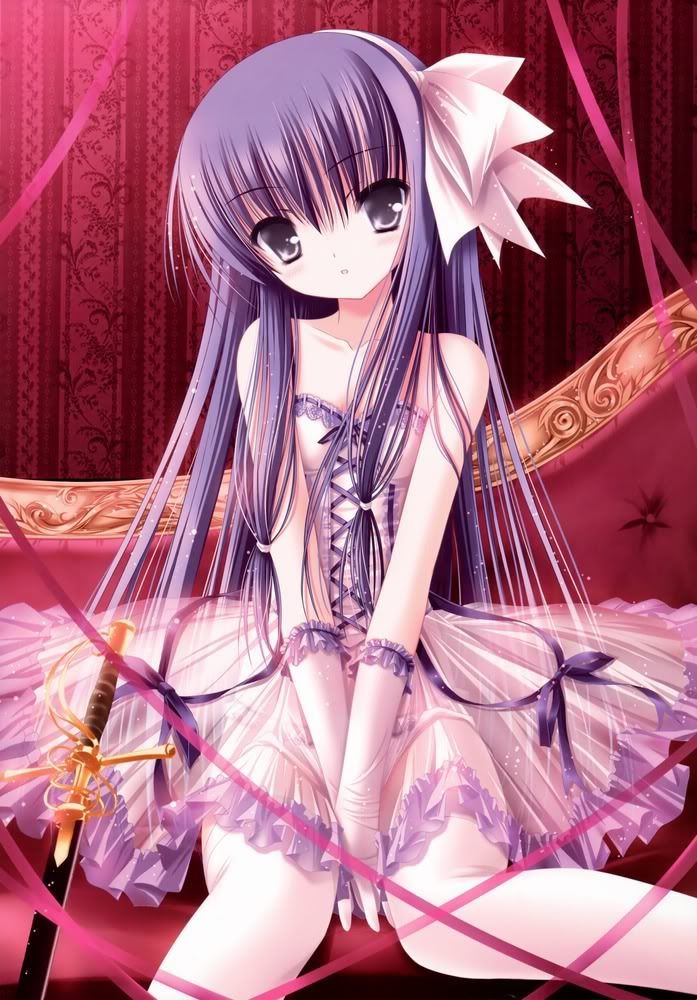 (I don't know how to insert an image into this...)
"I'll do whatever Mama says, because she loves me."
Alyce is a mama's girl, constantly trying to be near her and hold her hand.
Name: Alyce
Nickname: Aly
Human/Freak: Human
Visual Age: 14
Gender: Female
Sexual Orientation: Not Determined
Role: Ringmaster's Daughter
Hair: Purple-Black
Facial Hair: None
Eyes: Gray-Purple
Eye Brows: Thin, Tapered, Nice
Ears: Small, Cute, Almost Elf-Like, Pierced
Nose: Button
Lips: Plump, Kissable
Build: Slight, Athletic
Skin Tone: Porcelain Fair
Height: 5 feet
Weight: 103 pounds
Voice: Bell-like, Sweet
Handed: Ambidexterous
Body Markings: Birthmark on her left hip
Scar Tissue: Has many small, faint scars on her legs
Unique Body Features: She looks older than she is, and often looks cruel when she doesn't mean to.
Alyce would do anything to make anyone, especially her mother, praise her and love her. She constantly searches for other people to care for her, and wants to be taken care of.
Quirks: She sings quite constantly, if only very quietly and to herself, and loves to dress up in her mother's ringmaster clothes.
Creed (motto): "Mama told me to."
Goal(s): To make her mother proud, and to run the circus after her parents pass.
Motivation: To make everyone see she isn't just a frail little girl.
Fear(s): Spiders, Being alone, Normalcy
Likes: Horses, Dancing, Music, Acrobatics, Travelling, Making her mother happy
Dislikes: Being in one place too long, Making her mother upset
Strengths: She is even-tempered and thoughtful, often thinking things through before speaking. She is loyal, and a good person to lean on if you have troubles.
Weaknesses: She cries fairly easily, and can be frightened quickly.
Physical Description (summary): She is small and compact, and sometimes likes to dance and play with the acrobats. She is tall for a girl her age, but still very small. She can tuck away into the smallest spaces very easily.
Personality Description: Open to anyone, and if she finds someone she likes, she follows that person around without fail. She is like a small puppy, and likes to sleep with her head in someone's lap. She does not believe in bad people.
Cute, frilly dresses, knee-length, and pretty gloves and stockings, with boots.
Head: Sometimes wears a circlet with a pretty turquoise gem that sits in the middle of her forehead.
Neck: Choker necklaces and a Celtic cross on a chain
Torso: Frilly dresses, usually purple, blue, or soft pink.
Arms/Shoulders: Hand-to-Elbow gloves sometimes, and a shawl if it is chilly outside.
Right Hand: A leather wristband given to her by her father
Left Hand: A small band on her middle finger
Right Accessory: Something that connects her gloves to her hands
Left Accessory: Something that connects her gloves to her hands
Waist: A pearl rope that she drapes around her waist and slim hips
Legs: White or silver stockings
Feet: Boots or delicate silk slippers
Alyce was born into the circus life, and loves every minute of it. She wouldn't trade her life for anything in the world.
Marital Status: Single
Relatives: Her mother, the Ringmaster, her father who she isn't very fond of, and a brother
Birthplace: She isn't sure, she thinks she was born sometime while traveling with the circus, on April 16th
Occupation: General Helper, Mascot of the Circus