"Some secrets need to be told. And these are often the hardest to tell."
The Kill | 30 Seconds To Mars
||
Take Me To Church | Hozier
||
Breathe Easy | There For Tomorrow
---
---
Name:
Callum Watson

Nicknames:
Cal

Age:
18

Gender:
Male

Sexuality:
Closeted homosexual
---
---
Callum is gay. However, having been raised in quite a religious family that is notoriously homophobic, coming out isn't an option for him. He's scared of what his father will do and doesn't want to upset his mother, but at the same time, not being able to be who he is is starting to tear him apart.
---
---
Likes
Rock music
Listening to his music loudly
Freedom
Tea
Mints
Driving
Salty things
Sour things
Coffee
Dislikes
Sour things
Cheap coffee
Feeling trapped
People crying in front of him
Church
People using religion to defend their ignorance
Homophobia
Hip-hop
Keeping secrets
Talents
Lying: God knows, he's told enough.
Intelligent: His good grades are part of the reason he remains in good favour with his parents.
Athletic: Being forced into sports as a kid worked out in his favour, really.
Weaknesses
Emotions: Callum sometimes struggles to express his own emotions and often cannot deal with other people expressing theirs.
Easily Stressed: Callum gets overwhelmed easily and ends up getting stressed.
Secretive: He doesn't particularly like sharing things about himself.
Fears
He's terrified of being outed without his permission- as bad as it would be coming out to his parents in person, he knows it would be much, much worse if they found out from anyone else.
He's also quite claustrophobic.
---
---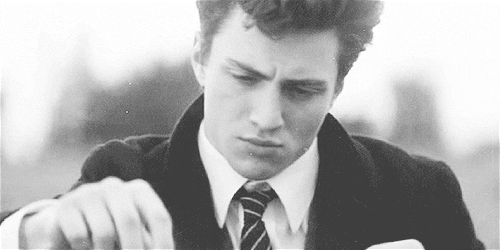 If you were to ask his peers which one of their classmates they most want to be like, more than a few would say Callum. He's intelligent without being nerdy, athletic without being a jerk, friendly without being sickening and, of course, attractive. It takes a lot to get Callum worked up- at least, visibly. He can be panicking on the inside and make it to the bathroom without anyone noticing how he was feeling, have a mini breakdown in the bathroom, then go back without anyone able to guess what happened. He keeps up this cool facade, knowing that people think he can't possibly have any problems. He's invited to just about every party that happens and attends most of them, relishing in the freedom it brings. He'd rather do that than face and possibly have to deal with his problems.

However, beneath this, he's not as cool as he seems. The constant anxiety of having his parents find out about his sexuality has left him anxious about just about everything. A test that he should be able to ace without any study has him panicking and pouring over his books for hours, terrified of failure. He has been known to have panic attacks before big baseball games or races. He can't handle these emotions and they just make him feel worse about himself, trapping him in a vicious loop. He knows that he needs to tell someone, but the thought of that makes him panicky again and he can't. He knows that his friends would support him but he just can't.
Growing up, the Watson family was a good, Catholic family. They went to church every Sunday and said grace over their meals. Arthur Watson, Callum's father, had a nasty temper, and while he never laid a finger on his wife or son, he often got into bar fights or just fights. Mary, his wife, had to patch him up in case the hospital suspected anything. In a steadily increasingly liberal world, discussions about LGBT rights often came up in conversation. His father, rather angrily, would express exactly what he thought, while his mother would give her views as well. When Callum had his first crush on a boy at the age of eleven, it felt like his world was crashing around his shoulders. He thought that he was imagining it, but as he grew older and only ever had crushes on guys, he became terrified.

When Arthur found out that one of Callum's friends was bisexual, he went on a rant and told Mary what he'd do if his son was gay. He didn't know, but Callum overheard this. It confirmed to Callum that he couldn't come out while he was still living with his parents. It was after that that Callum's problems with anxiety started. They were mild at first, but steadily got worse the less he spoke about his various problems.
---
---
Other:
He's currently crushing on one of his friends, which is complicating the whole matter even further.
Face Claim:
Aaron Johnson
Hexcode:
#064700