"We do not remember days, we remember moments."
~Cesare Pavese
If There's Time| ODESZA
||
Can I| Alina Baraz
||
Inside Out| 999
---
---
Name:
Tyler Brent

Nicknames:
Ty

Age:
24

Gender:
Male

Sexuality:
Heterosexual
---
---
Dating a student:
While professionalism has never been his thing, he still doesn't want everyone to know he's dating a student. For obvious reasons. He's never been one to really get the whole teachers can't befriend students thing, and has been known to have a very laid back attitude even at school. But with one particular student, they just seemed to get on really well. So they started dating secretly.
---
---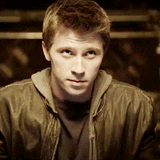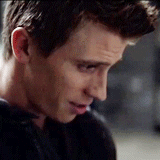 Likes
+Jogging
+Electronic Music
+Cigarettes
+Black Coffee
+Books
Dislikes
-Arguing
-Orange flavored anything
-Being lied to
-His boss
-Yelling
Talents
+Runner and kick-boxer
+Writer; he writes a lot in his free time
+Adaptable; he finds it easy to adjust to different situations
Weaknesses
-Forgetful and not very reliable
-Laid-back to the point of just plain laziness
-Has hard time taking anything seriously
Fears
~Not making the most of his life
~Flying
---
---
Generous|Carefree|Aggressive
Tyler is, for the most part, a genuinely nice and relaxed person. Even when trying to be taken serious he finds it hard to keep a straight face, preferring to be happy when he can. He has an easy smile that he wears even when no one's around to see him. Along with being very laid-back, he's not very good when it comes to things like being on time or reliable. He often forgets things easily and has a hard time keeping track of his life, especially things having to do with work.

Though being a kind person at heart, Tyler has a temper that can get very out of control very easily. He finds exercise, specifically things like running and kick boxing, help him work out the aggression and help him stay calm the rest of the time. He also is kind of a chain smoker, as cigarettes seem to mellow him out. As of right now, the habit isn't that out of hand, but it's working its way toward being a problem. While Tyler likes fighting in a controlled setting, he hates hurting people outside of it. He hates having to raise his voice or argue, and has never been the best at things like debate. While he himself has a hard time arguing with people, he usually doesn't have to often because he finds it very easy to adapt to whatever situation he's in. Usually, he'll be the one who agres to change his mind just to be able to move on. He does have quite a bit of pride, he just doesn't believe allowing someone else to 'win' as something that should hurt his pride.

Tyler, above all, likes being around people. He's friendly and fun-loving, wanting to just have a good time. He leans more to the 'law abiding', upstanding citizen attitude, but at the same time doesn't really care about breaking rules here and there. He believes everything should be judged in the moment, and therefore is a more "roll with the punches" kind of guy.
Though he's had his fair share of bad moments, Tyler has a pretty positive relationship with Mountain Brook and all the memories he has there. He was born and raised there, only leaving for a few years to go to college before deciding to come back. When he was younger, he was known for getting into trouble a lot but never anything that serious. Really, it was more playful mischief than anything else. As he got older he matured a little bit, but really he just got better at not getting caught.

He originally wanted to become a professional fighter and only went to college on a whim. He made friends there for sure, but none that he had wanted to keep after leaving. Really, the only thing that came out of going to college was debt and a change in career paths. He found himself finding the whole fighting thing too much work to be bothered with. Instead he did the stereotypical thing and became a teacher. 'Those who can't do, teach,' as they say. He decided to move back to his home town, only being a substitute teacher now and then at first before becoming a full-time gym teacher. Despite the fact that in high school the thought of being a teacher seemed horrifying, he found he actually enjoyed it. Maybe it was because he was still young so he didn't find it hard to get along with students. Maybe it was because he was a shitty teacher and never really did anything other than give vague instructions at the start of class before letting the kids do their thing. Either way, he enjoyed his job, and saw no reason to change what he was doing.
---
---
Other:
High school gym teacher
Face Claim:
Garret Hedlund
Hexcode:
#008000