FC: Emily Browning
---
---
Full Name:
Clea May Korin
Nickname:
Cleo - she hates Clea
Age:
17
Birthday:
August 30th
Sexuality:
Heterosexual
Relationship Status:
Single
Family & Friends:
Fiona Gallivan - Mother
Harry Gallivan - Stepfather
Ashley Korin - Father (deceased)
Bob Korin - Younger Brother (13 years old)
__________ __________ - Best friend
Orchid Whitlock - Best friend
---
---
Height:
5'7"
Weight:
128 lbs.
Body:
Tall but skinny, with wide hips and small chest.
Hair:
Naturally blonde, but dyed brown. A little past shoulder length, and usually kept
in a ponytail.
Piercings and/or Tattoos:
Has the general ear piercings. Has a tattoo on her right shoulder blade of her fathers
name that she got when she was 15.
Style:
WIP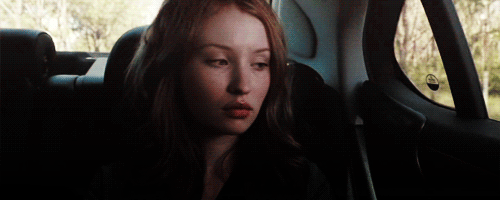 ---
---
Personality:
Cleo gets what she wants. It's almost always her way or the highway. She is easily excitable,
and very dramatic. She doesn't like to be alone, and she is good at motivating others,
although it's hard to motivate her. She's an average student, but she's very strict on herself
when it comes to her tennis. She is super protective over her mother and brother. Cleo
is very sensitive, and doesn't taking constructive criticism well. She is very extroverted,
but it's hard too crack the deeper shells.
Background:
WIP - if you are my male "partner", message me. I have some ideas.
---
---