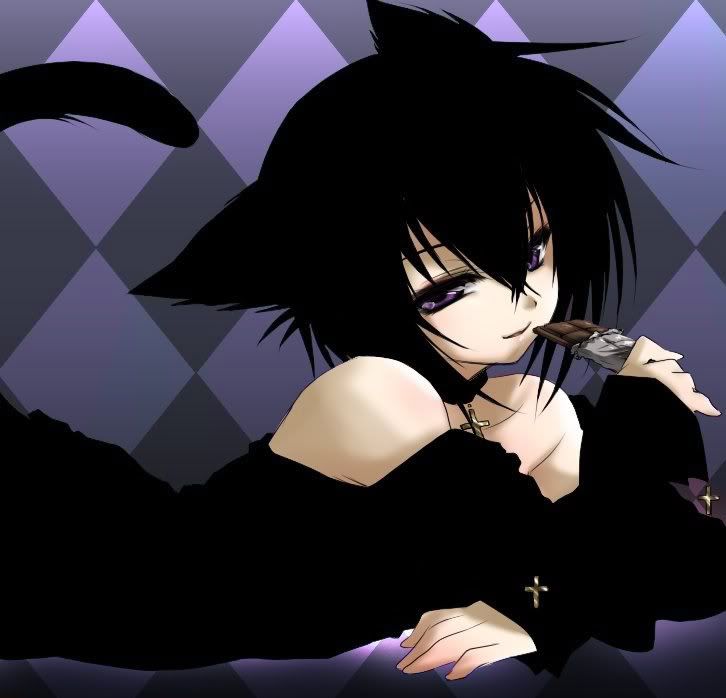 Name:
Blackie
Nickname:
"Since I have the lamest name in the history of names, why don't you call me Kuro instead?"
Age:
Looks 16, about a year in cat years
Gender:
Male
Species:
Neko
Likes:
Bossing other cats around
Yarn
Being petted (secretly)
Dislikes:
The Dog, Pudding
His owner (but only because she's always playing with "that d**n dog".
His twin brother, Fluffy.
---
Personality:
"I am not a lowlife from the streets. I'll have you know I'm very well taken care of, thank you. Now buzz off."

Despite his cute looks, Kuro isn't the type of kitty to play nice. He often calls the dog he lives with 'that d**n dog', simply because he doesn't like him. Kuro is a kitty with an attitude, and doesn't really care what others think about it. However, this is mostly Kuro just putting on a face. He tells himself that he'd rather play by himself than bother with a bunch of losers, when really he wants to be friendly. He's terrified of rejection, so instead he acts like a 'badass' to cover up for it. Deep down, he's really a sweet and honest kitty, but he hates being ignored.
Crush:
"That's none of your d**n business."
Bio:
(IC response)

(Bio)
Theme Song
---