Xander Ozzick
Words carry weight, mine far moreso than yours
---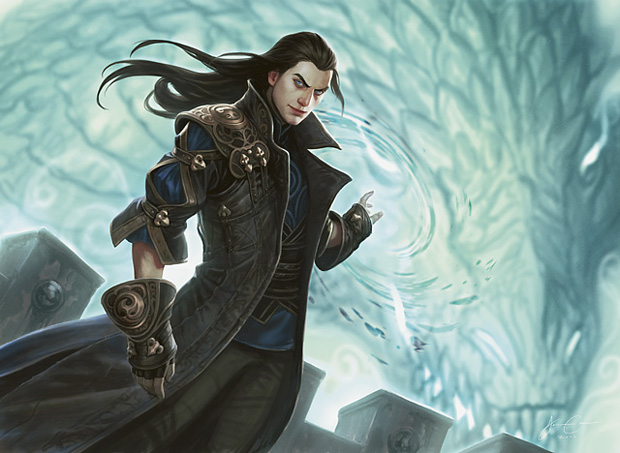 Species


Raconteur



Age


25 Years of Age



Sexuality


Heterosexual



Appearance


Xander appears to be about average in terms of stature for those of his kind, bearing about 5'10" or so. His build is relatively befitting of his choice of activities, lean muscle and an even stride are cornerstones of his appearance. His face is fair, shaped comparatively well, with a strong jaw, shining blue eyes, and a straight nose. He sports a head of long, black hair that is well-kept and he often considers cutting due to its absurd length. His choice of clothing is very much utilitarian, with everything having a real use, oftentimes he will choose clothes with a number of pockets, exposed and if possible, concealed, to hold things.
---
Personality


Xander is very level-headed and clear in terms of his speech, and the way he enunciates his words. He is often extremely specific, and if he speaks vaguely it is usually cause for worry when others are concerned, as he often doesn't speak like this unless he's either trying to be careful, or deceptive. This reflects well with how he is as a person, much of the time he is very calm and cool, rarely opting to panic when a situation seems desperate, he is also very straightforward with much of how he acts, either speaking his mind, or opting to not speak at all in certain situations. His mentality does not hamper his ability to lie, though it does demand that he avoid doing so on-paper unless he wishes to risk the hazards of doing so. He dislikes others who lie, and often chooses not to lie unless the situation is desperate or the lie is a gamble to get some sort of advantage. However, when confronting people he sees as 'belligerent' or 'unreasonable' he will often be sharp and short, as he has little patience for those who do not care to listen, and choose to act without thinking. He will often attempt to take time to deliberate on a given course of action, and weigh the odds, though this does not always work out for the best.
Likes


Xander is fond of a number of things. Literature of all variety is a given, but he has a few preferences in terms of the people he associates with. He prefers that they be willing to listen, or to wait when there is a choice with clear opportunity to balance the answers. He enjoys people who act with discretion, and do not just charge into a situation recklessly. In terms of physical materials, he often prefers things that are useful in a variety of situations, such as a pair of leather gloves he keeps with him at all times.



Dislikes


Xander, as a person, has a few things he doesn't like. One of these things is people who are impatient, or refuse to wait, as this is often hazardous or just flat-out annoying. He also hates people who don't listen, people who don't pay attention to their surroundings are infuriating to him, as if you don't pay attention, you can miss many important details. He's also not a big fan of things that seem untrustworthy, and traps. He hates traps to a degree beyond understanding by most who don't know him well.



Equipment


Xander carries a variety of items on his person, he carries quite a few books, blank or otherwise pre-written with a variety of choice phrases for him to read in case of an emergency. He also carries a spare dagger and a variety of other materials for writing, such as a carving knife, a chisel and hammer, and other such tools for carving/writing words into various materials.



Abilities


Xander is capable of varying degrees of usage with his words, but he is also very good with implanting the words onto objects, exceptionally so when it comes to weapons or the environment. His usage has almost defined him as a wanderer.



Strengths


Fast Hand: Xander's hands are lightning fast on a page, capable of bringing numerous words to the fore in a matter of seconds. His speed at this is warranted from years of practice and understanding, to the point where his hands move at an almost supernatural rate, provided he is well and has yet to take a debilitating injury.
Hand-to-Hand Combat: Xander is a capable combatant, having learned and practiced it often to make up for a lack of close-range fighting without a weapon. He specializes in techniques that capitalize on either aggressive attackers and wait until they overextend themselves to open for a counterattack, redirecting techniques to avoid injury altogether, or to flat-out disarm opponents, bringing them to his level to strike out at them in an aggressive return-attack.
Agile Eye: Xander's eyes are quicker than his hands, letting him take in his surroundings quickly and keep track of fast-moving targets much more easily than others of his kind.
Guarded: Xander is exceptionally skilled at fighting defensively, due to his constant need to protect his hands. He will often take the time to make subtle movements that, while under an aggressive assault, aid him in either rolling with a blow that gets through to minimize its impact, or redirecting it toward less vital portions of his body to avoid more debilitating physical injuries.
On-the-Fly: Xander is very capable of changing things up seemingly at random during a fight, oftentimes using words to either lay traps in the environment, or triggering a variety of different hazards that the environment itself often presents him with. On occasion, he will employ this alongside his acrobatic abilities, allowing him a greater range of movement while he sets up these points to capitalize upon.



Weaknesses


Distrustful: Xander does not trust easy, and does not lose old preconceptions easily. It takes him time to adjust, and this could often cause conflict among his travelling companions.
Stubborn: Xander does not move often, but when he does, it is simply to rise to his feet. He is far more stubborn than most of his kind, or people in general.
Slow Approach: Xander will often choose to err on the side of caution, which makes him appear slow to many, and he often times makes an effort to be patient and wait for others to act before he does. Therefore, he rarely acts first, and this means opponents will likely get an attempt at a hard sucker-punch.
Guarded: Xander protects his right hand in an almost religious fashion inside and outside of combat (despite being one of the rare few who is ambidextrous), and will often keep himself on a more guarded approach, making him less prone to act first or expose openings elsewhere if necessary to protect his writing hand.
Betrayed: Xander, after his time spent in the midst of deception and revelation, has grown a fear of being betrayed by those he trusts. This fear is not crippling, but is certainly a trauma worth watching out for.

Slenderman
---
Home
Xander rarely fits in anywhere for too long, and opted in his early youth to wander. He has roved Nominum for the past five years, and has explored a lot of the area around his home.
Relationships
Xander has chosen to maintain a suitable distance to his family. His father and mother live soundly, and his brother and sisters have all spread to the winds, just as he had. He chose this life to maintain his sanity, more than anything else.
History
Xander displayed his abilities at a very young age. He and his family lived in a small estate outside of a local town, where his parents raised Xander and his siblings to adulthood. His parents held a decent position in government, having managed to work their way up to said point through deception and the clever use of some scribes. He excelled in wielding words, getting far greater amounts of attention and training than many of his siblings, who oftentimes resented him for it. However, they often found his stubbornness and the degree of patience he had far more valuable than his hatred-inducing traits. Before long, Xander had learned everything his parents could teach him, and began to study on his own, learning the practical applications for his abilities, learning the limitations, and the various hazards of using his powers around others. After this, he decided to gather up some crucial supplies, and strike out on his own. He explored for a while, taking in many different experiences. One of the most notable experiences he had was the time he traveled with a Bellatore, and hadn't revealed his identity as a Raconteur until they were attacked by wild animals. He used one of his words to shred a beast, and after the fight, he was questioned. He explained what he was, and was surprised to find that the man he was traveling with had turned on him, sword in-hand. They fought for a brief engagement, before Xander managed to trap his feet and run. After that bitter encounter with a man he believed he could trust, Xander started to grow distant. Over time, Xander had come to try and trust others, and much of the same happened. He was attacked, verbally, physically, or magically, depending on his companion at the time. But every time, he managed to escape, and those assaults warped his personality, making him distrustful and often keen to observe his own preconceptions more than anything else. At first, these attempts on his life made no sense to him, he had been told that people outside his sheltered home were more than a little biased against his kind, but he didn't realize just how far that went until those attacks.
---
Theme Song
Castlevania: Order of Ecclsia - An Empty Tome