⌈
"Let me touch your face."
⌋
---

She is a Venefici, though significantly shorter and more sickly looking than other members of her race.


She really does look like a child, doesn't she? Would it shock you to discover she is actually 27? "Magic made me this way." So she'd say.


100% OBSESSED with the Bard. There is no one else that could steal her eyes away from him.


Standing at the astonishing height of 3'7", she likes to compare herself to a small ball of fluff... who never quite reached the growth spurt everyone else did. Consider it a side effect of her anemia. She has hair that has prematurely whitened, bangs cut at jagged, straight edges right above her eyes. She has two longer strands that fall on either side of her face and brush the area right below her shoulders. Her eyes are a cross between lavender and violet, though alternate to a more goldish hue when she is casting her magic. This change is instantaneous and is usually hard to catch. She has black sclera, another side effect of her anemia that has robbed her of the possibility of ever having the whites of her eyes return.

Her skin, while at one point had probably been a healthier caramel, has now taken on a permanent, pallid, blackish hue. Her blood circulation is really bad and her control over the proper doses of melatonin have somewhat... ceased. She wears a combination of white and black, and that same cross of lavender and violet that compliments her eyes. Her outfit is adorned with sufficient amounts of fluff (to her) and make her incredibly soft to the touch. It can be difficult to discern how large she actually is but it can be assumed that she must have a very small figure hidden away beneath all those layers. Her outfit is never complete without her hat and she is rarely seen without it.
---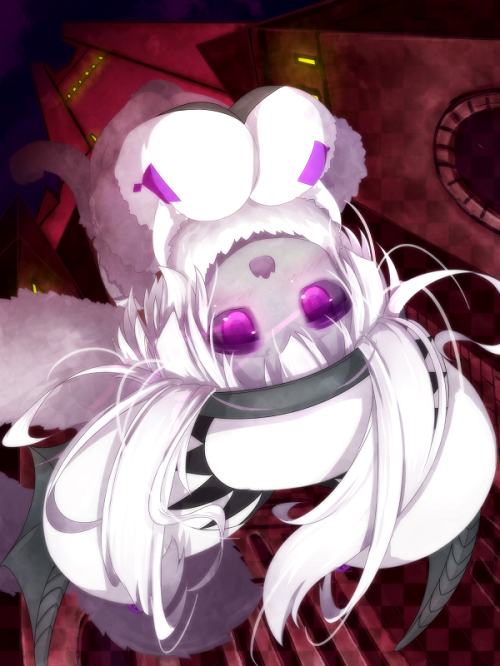 Upon first contact, she will appear to be very withdrawn and shy. She does not do well when thrown into social environments on a whim, that is why she prefers to take a back seat for a few moments to assess the scene properly. This can give the rather common misconception that she is a girl that needs to be drawn out of her shell. And it is easy to be drawn in because she does not look very threatening at first. But she only uses that as a lure to get people closer to her. Initially, this is done without mal-intent. Once she has adapted to her surroundings and the people in them, she will turn more playful and become more willing to converse.

She is best described as someone who can immediately shift between two extremes. If she becomes even the slightest bit uncomfortable, she can shut down in an instant--and this can be triggered by the arrival of someone she doesn't like or being put into a situation she didn't expect. And by that token, she can suddenly be seized with a passionate frenzy of friendship and want to divulge all of her secrets because she couldn't imagine trusting anyone else in the world more than the person she is talking to at that time. To put it simply, she has borderline personality disorder--which contributes to her intense fear of abandonment and her need to be clingy to those she is fond of. If she is alone for too long, she might snap and that usually means that she gives into violent, destructive tendencies which result in her powers rippling from her.

She is not overly conscious of how these extremes effect people, or even how confused it can make them. She often thinks they are just dazzled by her cuteness. She has a little bit of an ego going on and takes her size with some pride, and often uses it to her advantage when she wants to coax something out of someone. She radiates a strong sense of childishness, prone to temper tantrums when she is unable to figure something out and (if made to speak in the presence of someone she dislikes), will blatantly ignore that person and only focus on whoever she is fond of. She is impulsive and emotionally reacts before she thinks all the way through. However, there do come times when she has become "emotionally spent". During these moments, she will feel rather empty and bored and wander around aimlessly, trying to fill the void that is within her. This leads her to become lost and without direction and it takes some reminding to have her believe that she is cared for and has purpose.

It doesn't take much to amuse her but this should come with a forewarning. Make her laugh too much and she might just think you're her friend... and she likes her friends... a lot. In fact, one might go so far to say that she becomes obsessed with them. Her amount of dedication and passion for another individual can be frightening, especially when she realizes they don't return her emotions on quite the same level. Best not to let that happen, of course. (The only one that ever seems to be able to talk her down from "fits" is the man she has deemed worthy of receiving her love) When flustered, she speaks in rhyme and will seek an alternative means of escape so that she can calm down again. She really wants people to like her and sometimes, there is a rare instance where she is aware that her bizarre behavior makes people afraid of her. But that moment soon passes and she slips back into her delusions.

She judges people's emotions based on their facial expressions so watch out. She's rather touchy feely in that department and will reach for anyone's face to see what they are feeling. The eerie part is, most of the time, she's correct.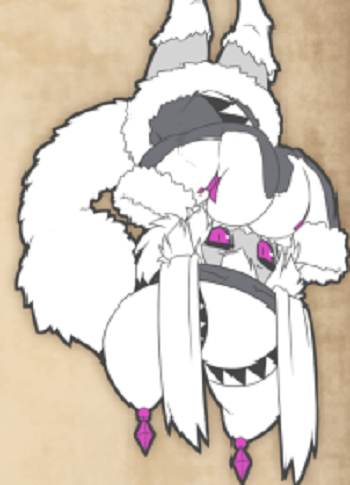 ~She adores dancing, in fact, it puts her in a state of "euphoric high" and this is the best state to talk to her in since she is at her most rational.
~She likes being presented with new riddles and has a collection of her own--all of which make absolutely no sense.
~She enjoys bringing herself to the edge of spell-casting and often has no consideration for the needs of her body
~She will always hang upside down off of ceilings or walls when given the opportunity--this is a constant quirk of hers


~She hates it when people interfere with her desires and will attack them on impulse
~She is disgusted by her human body, to the point where she will ignore its' pleas for care
~She dislikes being interrupted, for any reason, and cannot stand to be talked over or yelled at
~She's claustrophobic and enclosed spaces terrify her


She has an assortment of knives and circular blades, her favorite piece of weaponry being the kusarigama--a chain with a curved blade at the end of it. This weapon actually isn't used for offense--it's used to latch onto higher surfaces so that she can propel herself upwards and hang upside down. In essence, just for climbing. All of her knives are organized within the confines of her furs by which will pierce her from least to most and draw up blood. She keeps them ordered so that she knows what blade to use for which spells. She views her weapons as extensions of herself and won't go anywhere without a single one. Each of them is beautiful, after all.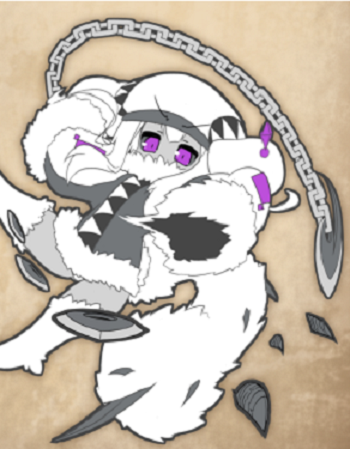 Her magic is best defined as "alteration of perception". Perhaps fitting for one such as her, who teeters on the edge of losing her rationality. Her powers are subtle but can create a gap between what the mind is telling a person and what the rational is telling someone. This can be equated to the slow progression of possible insanity if she were to keep it up. A warping of an object to perception would mean for a splilt second, it could appear to be an enemy creature--maybe an ally--an item that is longed for. A double take confirms it is a normal object but these instances can increase in frequency and take whatever shape she wills it. In a sense, it is illusion work and mind play because she excels in distortions. She plays upon how delicate reality is and over time, can make the extreme seem acceptable and the illogical completely sane.

She can drive people over the edge, if given enough time, since her magic is released in short bursts and does not need to be in constant effect. Large influxes to her illusion work, to the point where it is no longer just a split second object but an actual image that needs to last for an extended period of time, requires much more effort on her part. She not only as to make the illusion believable but battle the will of whoever's mind she is trying to manipulate. She is under the theory that if she can get someone to believe less in themselves and have less sanity, then their stories might get weaker and possibly give her more strength. Her magic can be applied to both the material realm and the immaterial one, for she can materialize her illusions within the minds eye--raise doubt, fear, and levels of sanity. And if those levels of rationality were already low to begin with, it's very easy for her to step in and give another nudge--plant a thought, a seed of doubt. Because her illusions can become the new reality of the weak mind, and that's probably what makes her the most dangerous.





Her mental weakness is what she is good at projecting on to others and making them believe all of her internal paranoia's. She possesses quick wit, which has actually helped her on numerous occasions and the amount of aspiration this girl has to achieve her goals can sometimes contradict the evidence that maybe she should've collapsed already. She has phenomenal will and never knows when to give up--her tenacity has been of aid to her. She has surprisingly quick reflexes and always is full of new ideas and has a vivid imagination... which helps her find creative displays for her powers. She's also an excellent hider.


She is not stable mentally or emotionally at all. In fact, the Bard is the only stable part of her life and she relies on him to keep her world in perspective. Without him, she would quite possibly break down and be unable to function. Her reliance on him is astounding. She cannot tolerate the idea of being left behind and she must constantly verify to make sure everyone else is real... because her illusions get to her and she sometimes thinks her lies are the truth. She has night terrors and gets terrible sleep, which in turn makes her body even weaker than it already is. She never gives herself enough time to replenish all the blood she lost so she is always in a semi-weakened state. This leads her to be tired and even unresponsive to stimuli when she grows exhausted.
---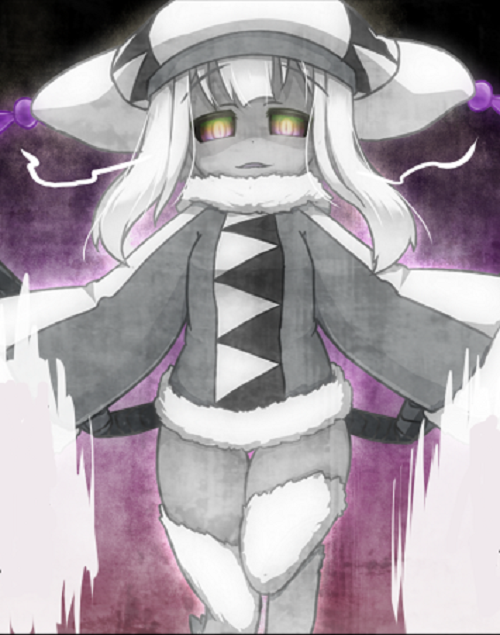 Well, she did have a home, at one point. But she convinced herself that she was being abused to she drove each of her family members to insanity that ultimately (and literally) destroyed her home.


With no family or friends to speak of, there is only one person in her life: the man she is convinced she is going to be with for eternity. He is her entire world and she loves him with her entire being. She is loyal to him and would do anything he ordered her to.


Her story began 27 winters ago, in a small village that she used to call home. At that point in her life, she had two older siblings and two parents--all of whom shared a living space that was actually only suitable for maybe half its' occupied size. It was a slightly uncomfortable but cozy existence. However, as the venefici began to get older, it became clear that while she retained the ability of blue-bloods, there was something mentally... off about her. She remained oblivious of her mental condition as her family sought ways to make her more socially receptive and, in turn, less likely to give into her odd quirk. (At that point, she had already developed her tendency to hang upside down or climb to high places)

However, the voices--yes, the voices, the voices of her blood told her that her family was in to get her. They were fooling her with their kindness--they wanted to ruin her, take away her gifts, and had been the ones that cursed her with this pitiful human form. She wanted a different one--she wanted a different body, and they were the ones stopping her from taking what should've been hers. She began to manipulate her magic taking lessons from her older siblings on how to control the flow of mana with blood. She was dedicated and learned that her abilities were within illusions and perceptions. And it was with this knowledge that she began to hatch a glorious plan. She'd send them all to insanity, she'd get them out of her hair--in fact, she'd make them think she never existed.

And so it began, her small tricks here and there building up over a few years. It started with little pranks but eventually grew and grew, the girl expending more and more of her blood to keep the lie going. She didn't care that she was driving herself to anemia, that her skin was turning paler, that her eyes had lost their whiteness. None of that mattered--her body was just some temporary sack that she was stuck in anyway. It took her 3 years but finally she did it. She made them think that she had never been there--that she was one of the creatures from the outside. Fearful of this "enemy", her family turned on itself and the influx of magic caused her home to deteriorate. She was left with nothing but she was happy. She was free. She left them behind. She didn't care if they were alive or dead, it was time to leave the village.


From the moment of her departure, she was left to her own devices. Stealing was never below her, being an unwanted guest in households was necessary. She could lie to them, make them believe the sweet tale that she was some long lost sibling--they'd believe her illusions, they'd believe her new reality. But all of this magic usage was taking a toll on her body. It ceased developing and she never quite made it through the growth spurt of puberty. She retained the body of a child but she didn't mind--she figured she could use it to her advantage anyway. She forgot that she hadn't been born with black sclera, that her skin hadn't always been such a pallid black-gray. That her hair hadn't always been white. She fell further and further into her delusion--she had to find a new body. Then she'd be more powerful.

Her beliefs were completely false, though--she ignored the fact that she couldn't just "get a new body" and that "sucking blood" was a poor alternative to that whole plan. (Every time she did, her body would fall even more ill and vomit up what she had drank) It was around the time she reached her mid-twenties that she first encountered the Bard. He was being hazed out of a town, the people all congregated around him in attempt to kill him out of blind hatred. She didn't understand exactly what was happening but she decided that it looked wrong, so she had to help him. She planted the seed of doubt in the minds of those terrorizing the young boy, making them believe the illusion that the town was surrounded by a fierce group of creatures.

Thrown into a panicked frenzy, the group disbanded, leaving a quivering Bard on the ground. After he had been given some time to recover, he expressed surprise that she had not also joined the fray, all racial things considered. But she didn't care--she never really cared. Because to her, his abilities were a lot like hers. Except she created illusions of the mind, he created realities of words. But both were transforming the immaterial into something interactive. And that was what caused her to experience great fondness for him. It did not take long for this fondness to turn into love--she didn't care he was several years younger than herself, he was going to be hers. She got rid of his pesky sister quick enough overnight, those townspeople had been on the edges of sanity anyway--driven mad by their own fear. She played innocent, deciding to travel with him. As they began their journey, she made sure to keep a firm lookout for ways to gain a new body and expand on her magics and shed her horrid human form.

---



Was I born to be in love with you?
Through this thin wall I mumble alone, "Love me."
I keep hunting out your personal love information
In the closed door of myself
I wish I could touch your face, stroke your face, my sweetheart

Oh my, my, you have a guest?
What a pretty girl she is!
Tell me how much you love her
I'll kill her and pack her up

Burning photos of that girl
I wonder what she is doing now LOL
You can do anything you want to me
Because I love you this much, you see?
I wanna keep you completely riveted and I wanna have a collection of you

Why are you crying?
What's wrong? Oh, this one?
I'll affectionately hold a cardboard box that you'll be put in when you're dead
I'll put a present behind the door
A kitten head every single day for you, a cat lover

Burning photos of that girl
I wonder if she'd ever existed LOL
"I love you" Such a cliche doesn't satisfy me
But makes me wanna puke
"I will eternally love you...←"