⌈
"Please don't hate me..."
⌋
---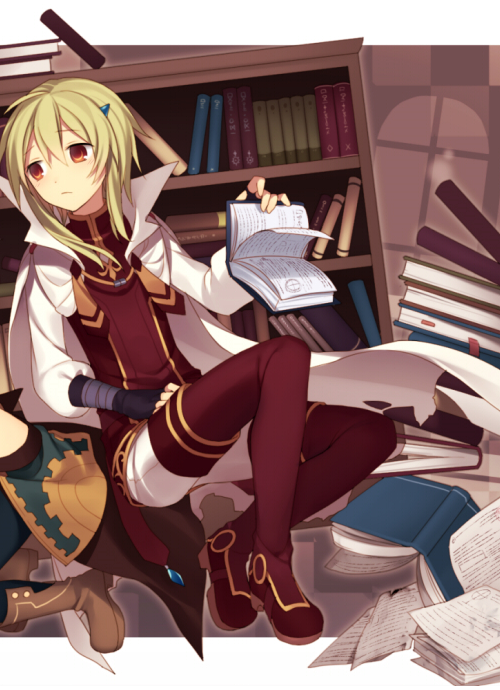 He is a raconteur, an un-willing product of his race and a tad more androgynous to boot.


He is quite young, barely even 20 years old and his baby face doesn't help much either.


He doesn't seem to mind either way and he is open to attraction--in fact, he welcomes it. He wants to feel loved and accepted and unfortunately, just isn't romantically attracted to his venefici companion the same way she is to him. Regardless of gender or race, none of that really matters to him--he's a bit naive in this sense.


Falling on the more vertically challenged end of the spectrum, he reaches about 5'5" in height. His weight isn't much to speak of as well--but he's healthy, so that is what's important. His appearance leaves much to be desired in terms of confirmation of gender, and his voice doesn't do much to help elude to either or. He has a soft face, rounded cheeks, and a thin nose. Additionally, very small ears. His eyes are a little wider than normal and are closer to sunset red in color. His hair is a few shades off from blond, registering closer to a very washed out, pastel green. But the hue contrast doesn't seem to cause him to be offensive to the eyes and his color pallet compliments his skin tone.

His hair is mostly cut evenly, falling neatly behind his ears. However, he keeps two strands longer than the rest and lets that fall past the sides of his face. (Often times, this section of his hair will end up being braided by his companion). He likes to wear hues that really accentuate his features--so he sticks to whites, reds, and sometimes, dashes of navy blue. On the rare occasion, he may dabble in brown and tan but he finds those colors to be a bit too constricting. He is extremely conscious of his appearance and of what colors he is presenting.

He tends to stick to vests, tailcoats, and a cloak that he can wrap around himself should he become cold. Shorts and high-rise boots are how he finishes most of his outfits. (He actually despises pants because he finds that he just can't breathe or move with the same kind of litheness he can when part of his leg is exposed).
---

Quiet and passive, he comes with a gentle appeal that can generally meet the approval of others. (That is, when he is shielding his origins) He's never one to instigate an argument and would much rather offer a silent nod towards the one he agrees with. If put into a situation of conflict, he usually doesn't speak and looks down at his shoes until it's over. Because if he remains completely still, normally, other people will get bored of yelling at him and they'll leave him alone. He doesn't possess any sort of overwhelming presence, which gives him many opportunities to just sink into the background and not be noticed by others. He likes it better that way anyway. He doesn't need to put up with anyone when they aren't paying him any heed. And it makes it easier for him to think.

He is mild-mannered and soft-spoken, and polite to a near fault. He will typically refer to others by using "titles" of some sort--this can range from something as small as "Lady" to something grand like "Queen". If this quirk of his is watched close enough, it actually reveals how much he is fond of someone. The more grandiose the title, the more respect he has for them and the more he is willing to acknowledge that they are someone of merit. He uses a royalty ranking system for titles. Despite his politeness, he suffers from some social awkwardness that causes him to stutter whenever he gets nervous. That, unfortunately, tends to happen a lot in large groups. He doesn't do well when faced with large numbers of people because he is an introvert by nature and there is only so much socialization he can take.

If he experiences an overload, he immediately seeks solitude. This is an easier task to achieve than is conveniently plausible, for he is also unused to conversation with anyone besides his companion and after a brief interaction, may feel dizzy and overcome with the need to escape. If he forces himself to stay where he is socially unprepared to, it is quite possible he will faint and be unresponsive for a time. He's a lot weaker than he wants to be and he's aware of it. He tries very hard to ensure that he won't be judged for it but the effort can wear on him. It doesn't help that he gets embarrassed frequently.

He is an empath by nature and is in tune with the emotions of others--and with their aura's. This is part of what weakens him so much in social interaction because there is a lot of unspoken energy that is being projected towards him that he is picking up on. While he does find people interesting (in this respect) and even views them as works of art to be studied, he is also haunted by a deep-rooted paranoia that people don't like him. This causes him to be very insecure and not know how to articulate his thoughts the way he wants to.

Now, even though he is indeed a very sweet boy and even charming in some respects, he's gone through his fair amount of suffering. In fact, nearly all other interactions with people have ended violently or with extreme amounts of hatred directed towards his person. This has caused him to build up sufficient amounts of rage over the years and his own version of hatred. In an attempt to make sure he is not constantly angry, he keeps a "hate journal" where he writes down all his ill-wishes every time he is offended. This process of writing it down helps him re-direct his negative emotions. (He also paints to alleviate the pain). The journal in his possession has highly creative and often vicious and torturous methods to get back at everyone that has wronged him. He has sick, twisted fantasies about getting revenge, about watching them suffer--all of which leads him to have a hidden sadomasochistic side. (In a non-sexual way of course)

~He loves to paint and considers it a soothing stress reliever
~He likes to observe other people and uses the information he gets from his empath link with them to create stories
~He enjoys telling epic poems that he makes up on the spot and embellishes a lot to make it sound like a battle of nobles or some-sort
~He is fond of organizing. And by fond, he is obsessed with it.


~He hates his powers, he wants them to go away and he wants to hide them as much as he can from others
~He dislikes himself, more-over, the part of himself that can weave and wishes he could change that
~He doesn't actually like reading, it's very difficult for him considering his dyslexia
~He is scared of big words, all things considered, understandable due to his limited vocabulary


He has become proficient with a blade, well, all part of the ruse of him being a "bellatore". He can hold his own in a fight surprisingly well and he keeps his blade safely at his side when not in combat. He also carries with him an assortment of paints, inks, and parchment so that he can have access to creating whenever he pleases. All of his inks are color coded based on positive or negative "energy oriented words" (he'll write certain words with certain colors) and also by offensive and defensive magic. His parchment is size-ordered too. His journal is kept in a secret compartment in the pouch on his belt and he never lets it out of his sight. Ever.


He is a weaver, a story-teller, a raconteur. He expresses himself through poetry and prose. In order to activate his mana, he will begin to write an epic poem and proceed to read it out loud. He excels at the "fantastical" element of everything and often comes up with very creative combinations for words when he is comforted by what he is creating. This comes with caution, however, since he will never read anything "on command". When he weaves, he judges words based on "positive" or "negative" energies and even if he does not know the complete end result, he will know if it will be "good" or "bad" respectively.

His weaving lasts for as long as he can create the effect of the words--that is why he writes in epic poetry. See, there are no periods for long stretches of time and as such, his sentences keep winding and winding. The effects of his magic will keep lasting because grammatically, the "command" has not come to a close. He uses this to his advantage and likes to spice it up if he has been incited to be on the offensive. He plays with the semantics of grammar and language, and often raises the question "what is the meaning of a word"? If the recipient of his magic has a different interpretation of the word, he can potentially use his empathic link to alter the form the words take to match the interpretation rather than the direct meaning. Semantic nonsense is fun to play around with and if it confuses people, all the better for him because he's figuring it out as he goes along.




Despite his short-comings, he actually has superb understanding of the english language. He can manipulate sentence structure to his advantage and knows all the forms of speech, grammar, and word usage. In addition, he has an outstanding memory, something bordering on eidetic. He's good at replicating strokes of words via stroke order so even if he doesn't know what it means or says, he can still write it out from memory. Potentially, this gives him the ability to gaze upon any text and make it come to life (to a limited extent). He plays around with tenses when he summons his magic and the effects may not always be directly and presently related.


He suffers from three things that make his abilities extremely unstable. The first is his rejection of self. He is afraid of his magic and detests it--and often wishes there was a way to make it all disappear. That being said, he does not have very good control of it because he refuses to practice. He understands that he needs to be precise with the words but that won't stop him from getting flustered in the heat of battle. Which leads to his next flaw. He has "condition-induced" dyslexia. If he is put in an emotionally strenuous situation or he picks up on large quantities of negative emotion, or even if he becomes angered or irritated, the words become more and more difficult for him to read. And by this token, it makes it even harder for him to summon up his magic. If he somehow manages to, the results will be out of his control and even he won't know what will come about from it... or who it will be directed at. Lastly, he has a very limited vocabulary. This causes him to speak in broken english but also means that his ability to be precise is somewhat lacking... and he doesn't have the exact means to use his powers properly without having the words to express his desires. While he can understand language when it is spoken to him, he can't really talk back all that well. This leads him to mix in other languages to fill in the gaps for what he does not know in common... and often has unexpected results when summoning up his magic.
---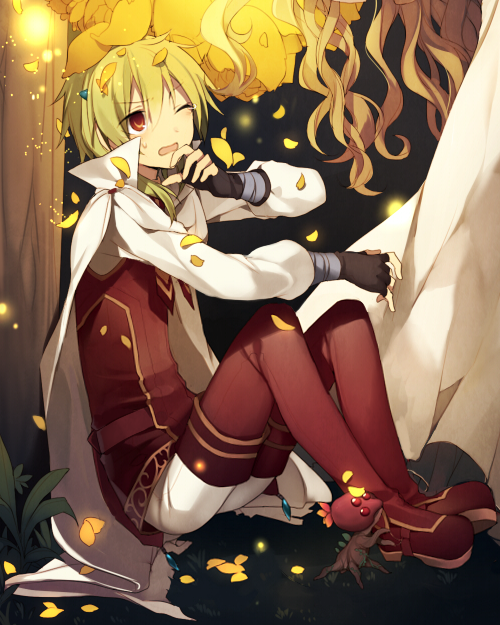 His abilities make it impossible for him to have a stable home because it's only a matter of time before something goes awry... and his powers fumble.


He has never been able to keep a friend longer than what appears to be a few moments before they discover what he is... and then he loses them and gains an enemy instead. He used to have a sister before she disappeared--he is unsure of where she went. The only person that currently stays with him is the venefici, but he's aware that she's not all the way there.


Barely 20 summers ago, his birth was seen as another "blight" upon the land. He was born into a race almost as badly stigmatized as the Umbri--though he had no way of knowing at birth the kind of racial hatred he was about to receive. In order to keep him safe, he was taken care of by his older sister who separated him from his parents. He was kept well-shielded from the crux of the it for the first handful of years of his life--that was until he witnessed his sister being beat up by a group of bellatores. He had yet to learn that the females of his race weren't as hated because they didn't have any magic--but they were still despised for propagating the continuation of the race. He didn't know how to help her so he stayed hidden until it was over, approaching her to see if she was okay.

It was then that he was told the truth--that raconteurs were not looked kindly upon others. Maybe it was due to fear of their power, whatever the reason it was, he was told to expect maliciousness from others. This was around the time he first began to develop his paranoia about others and his fear of people. In order to ensure that they would be able to live in semi-peace, his sister began to help him learn how to pretend to be a bellatore. She couldn't offer him any formal training to actually control his magic but he never had an incentive to learn. He limited himself, choosing to ignore vocabulary and instead focus on grammar more so that he could apply proper boundaries to his story-telling. Over the course of these sessions, he also learned of his own dyslexia. This made reading difficult, and the more flustered he became, the worse the dyslexia became as well so he began to become more withdrawn (as a result) to keep his disorder under some control.


He learned that he had a great love of epic poems and decided that if he was to use any medium for story-telling, then that would have to be the one. He lived in isolation with his sister, migrating from town to town when they had been residing there too long. His empathy made it impossible for him not to be receptive to the aura's of the people around them and their malice scared him--even if it wasn't directed at him. He was fearful one day it would be. And he had to get good at weaving the lie--that he was a bellatore. That way, they would never attack him. He learned to live the "lie of the bellatore", picking up proficiency with the blade in an effort to defend himself. While he wasn't able to acquire any outstanding skill, he learned enough to hold his own in a fight for a bit.

The years of interaction began to take their toll on him and he began to feel large amounts of rage directed at those that wronged them. He hated the arrogance of other races, the ones that bullied them, put them down, feared them. Part of him wanted to make them scared, wanted to make them suffer for as much as he had. His sister gave him a journal to help channel these negative thoughts. He wrote down all of his sick desires, all the dark fantasies he wouldn't dare enact. It helped keep his anger under control but allowed another side of his to grow--a sadomasochistic side that scared him as much as his powers did.

It was his mistake that caused his sister to disappear (at least that is what he thinks). He accidentally released his magics when gathering food for the two of them, causing the townspeople to begin yelling at him with the familiar sounds of horror. This hazing turned out to be different from the others, though, as it was stopped with the arrival of a young girl. She was able to somehow scare them away and, incredibly, didn't run away from him at all. He was shocked and didn't know what to make out of her--she looked sickly and pale. However, she insisted that his magic was beautiful and that it was like hers. It was then that she whispered the secret of what she did to everyone else--and it was also at this moment that he realized, with some dread, that he wouldn't want to make an enemy out of her.

She seemed to like him well enough and he brought him back home with her. His sister was hesitant to receive the guest but the girl promised she would be gone in the morning. But when he awoke, it was his sister that had disappeared, the girl sleeping in the corner. The two of them searched all over for her but were unable to locate her--eventually forced to leave the town because of the previous days' incident. Somehow, seemingly overnight, the venefici had taken an almost unnatural liking to him and, without much of a choice, he began to travel with her. He wanted to find his sister but he also wanted to find a way to seal off his magic for good. She didn't protest when he voiced his desires to her and he felt a small amount of comfort since she was the first person, outside of his sister, to not judge him for his talents. He didn't know what her story was but she seemed content to be with him--though her growing obsession was starting to worry him somewhat...

---
⌈
Theme Song
⌋